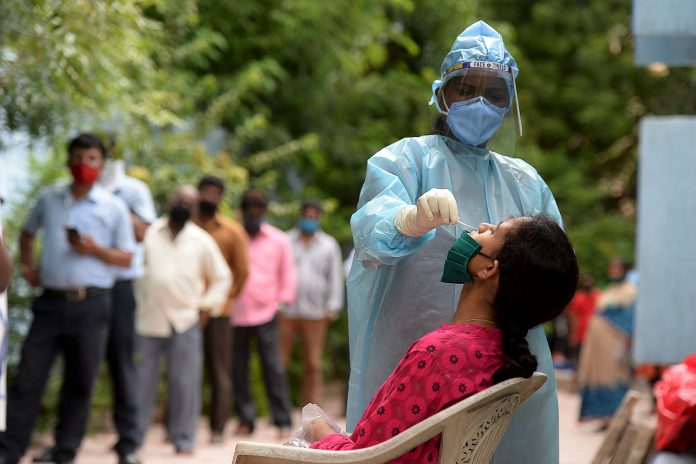 The Union ministry of home affairs (MHA) said on Saturday the Indian Council of Medical Research (ICMR) has increased RT-PCR testing capacity from 27,000 tests per day to 37,200 in Delhi on the directions of Union home minister Amit Shah.
On Saturday (November 21), 6,608 new cases of coronavirus were registered in Delhi, taking its total tally to 5,17,238, including 4,68,143 recoveries and 8,159 fatalities.
"ICMR has increased RT-PCR testing capacity from 27,000 tests/day to 37,200 RT-PCR tests per day on directions of HM @AmitShah. 30,735 RT-PCR samples collected in Delhi on 19 Nov as compared to 12,055 RT-PCR samples on 15 Nov," MHA tweeted on Saturday.
Advertisement
Also read: A COVID-19 vaccine will be ready in 2-3 months: Health Minister Vardhan
On November 15, Shah had announced a number of measures to bring Delhi's coronavirus situation under control. He said RT-PCR tests will be doubled and mobile testing vans belonging to the Union health ministry and ICMR would be delpoyed in high-risk areas in Delhi.
The government has said that the total number of COVID-19 tests conducted in the country have crossed the 130 million mark. The last 10 million were done in the last 10 days. "India has crossed the landmark milestone of 13 crore tests. The last 1 crore tests conducted in just 10 days," the ministry of health and family welfare (MoHFW) tweeted on Saturday.
Also read: COVID vaccine developed completely in India may be ready by February
Shah also said doctors and paramedical crew from the Central Armed Police Forces will be flown to Delhi to enhance capacity. In cases of severe COVID-19 infection, protocols are to be prepared to allow plasma donation, he said.
The MHA said that 125 ventilators from BEL have reached Delhi to ramp up the medical infrastructure to deal with the coronavirus surge.
Amit Shah said the Centre will provide Delhi with oxygen cylinders and high flow nasal cannula, among other essential health equipment.