Prime Minister Narendra Modi appears to be advocating gimmickry to handle an international health emergency like the COVID-19 pandemic.
After ringing bells amid a 21-day lockdown intended to curb a grave global crisis, the next item on the to-do list during this period has turned out be lighting lamps and switching off lights.
In what came as an unexpected and slightly bizarre move, Prime Minister Modi, while addressing the nation in a video message on Friday (April 3), asked people to turn off all their lights on Sunday (April 5) for nine minutes and light lamps, or switch on their torches or cell phone torch lights from their houses amid the 21-day lockdown to "display their solidarity in defeating the coronavirus".
While this move is seen by some as a way to banish lockdown blues and keep people's spirits up by making them feel that they are a part of something meaningful, most others have expressed disapproval.
Netizens posted various trolls and memes on social media, hinting at the fact that Modi had not mentioned anything about the downward spiralling economy, further details about COVID-19 itself, or the measures the government plans to implement to bring the disease under control. It can be noted that he had also not spoken about ways to help healthcare workers, law enforcement officials (policemen), and migrant workers for different reasons.
Under the given circumstances, the question on everyone's minds would be, "What next?". However, no one could get an answer to the question in the address by the Prime Minister on Friday.
Here are a few examples of how people have been responding to Modi's speech.
Modi had earlier suggested people to express gratitude to healthcare workers by clapping hands, ringing bells, or banging plates from their house balconies. This too was thrown in the mix by users on Twitter while discussing the idea to switch off lights.
That was quick – here's the scientific explanation of lighting candles at #9Baje9Minutes

Hats off to BJP IT Cell.#मोदी_मदारी_बंदर_कौन pic.twitter.com/1jnCgSbx09

— Rofl Republic (@i_theindian) April 3, 2020
Here are a few comments on Twitter:
I Am Glad to Announce That The @PMOIndia has Discovered that Corona Virus has "Night Blindness". ?#ModiVideoMessage#9Baje9Minutes

— ShahFad Khan (@shahfad_khan) April 3, 2020
A few jokes that appear to be "conspiracy theories" are circulating on WhatsApp:
Another one for which we do not know whether to laugh or cry:
Light & Sound show for virus be like..#ModiVideoMessage pic.twitter.com/1hJ2ex1e9I

— Sapphire (@Aryavrat_Bharat) April 3, 2020
Next comes a meme that has been making its rounds on Twitter: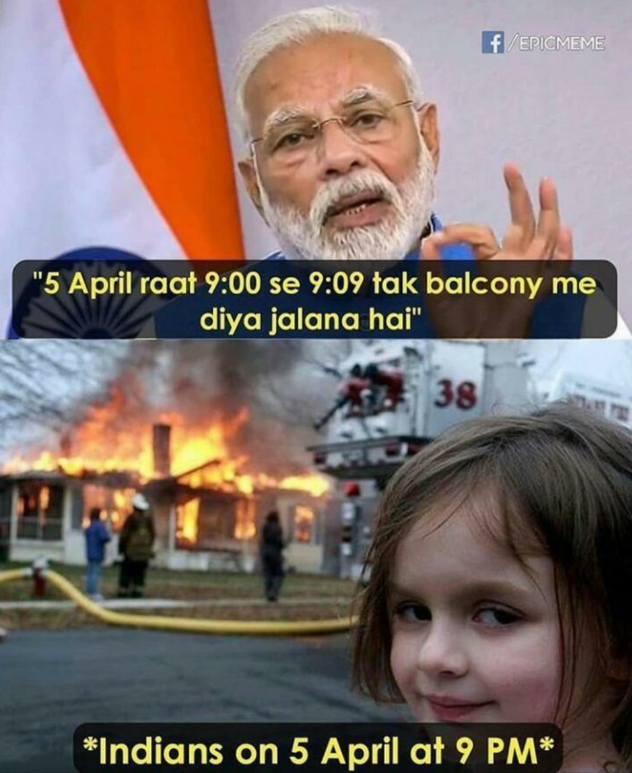 We may have to rethink our ways to express solidarity during a crisis.