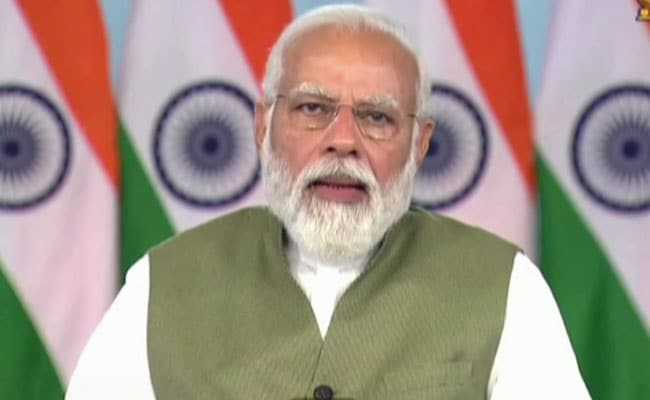 Prime Minister Narendra Modi on Wednesday (April 27) said that India is doing a good job in containing the spread of COVID-19 infection, but the battle with the pandemic is not over yet and people need to follow COVID-appropriate behaviour.
Modi was speaking at an online COVID review meeting with chief ministers of states. "We have definitely managed the COVID crisis well when compared with other countries, but an uptick in cases in states is visible. We have to stay alert," Modi said.
The PM further said: "We know what Omicron and its sub-variants have done in Europe. In the last few months, several countries have witnessed a rise in cases, owing to these sub-variants. Compared to other nations, India has kept the situation under control."
Addressing the chief ministers, the Prime Minister said that ensuring every eligible child gets the vaccine should be on top of our agenda. Notably, Covaxin recently got the permission to manufacture vaccine for the 6-12 age group while Corbevax is now available for 5-12 year olds.
Speaking at a meeting with Chief Ministers. https://t.co/WyeQyQS0UQ

— Narendra Modi (@narendramodi) April 27, 2022
He said it's a matter of pride for every Indian that 96% of our adult population has been vaccinated with the first dose of the vaccine and 85 % of the eligible population above 15 years of age inoculated with the second dose.
On the successful handling of the third wave, Modi said, "The three COVID waves have taught us a lot. We did not panic and fought it unitedly. We strengthened the health infrastructure and oxygen supply capacity in the country. As a consequence, no state reported the situation going out of hand. Our vaccination programme also helped."
Also read: Covaxin gets approval for 6-12 age group
The PM said the instances of children getting infected with COVID at a time when schools have just reopened are worrying parents. "However, we are bringing the maximum number of children under vaccine coverage. In March, we started vaccination for kids aged 12-14. Yesterday, Covaxin jab for kids aged 6-12 was approved," he said.
Asking people to remain alert, Modi said that people need to be pre-emptive, proactive, and collective in the fight against COVID. "Testing, and tracking need to be effective. Serious patients of influenza need to be subjected to RT-PCR test and all positive samples need to be sent for genome sequencing," he said.
Modi also asked all states to "get safety audits of all hospitals done on a priority basis to prevent fire incidents which have been increasing amid heatwave".
On Wednesday, India reported 2,927 fresh cases, taking the active case count to 16,279. The daily positivity rate now stands at 0.58%. A total of 32 deaths were reported in the last 24 hours.