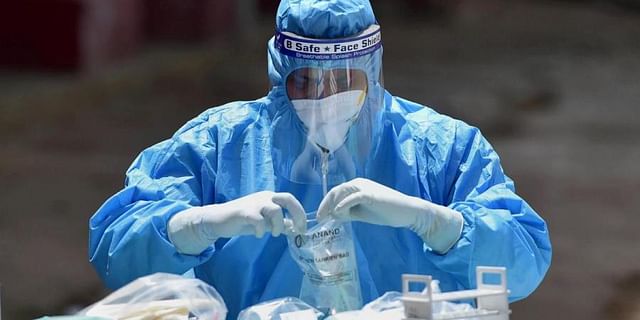 As per the Brihanmumbai Municipal Corporation, the patient is a 50-year-old woman, associated with the Hindi film industry. She had returned from South Africa in February. She has recovered completely. | Representative image.
The Union government has belied the Mumbai municipal corporation's claim of detecting the first XE variant case.
INSACOG, a Central government agency, stated that the sample will be sent to National Institute of Biomedical Genomics (NIBMG) for genome sequencing and will also be looked in for multiple exposures, if any.
Earlier, the Brihanmumbai Municipal Corporation (BMC) stated that a case of XE variant has been detected. The patient is a 50-year-old woman, associated with the Hindi film industry. She had recently returned from South Africa, the BMC stated.
According to Mumbai civic body officials, the woman reached Mumbai on February 10 and initially tested negative for COVID. However, in the second round of testing on March 2, she tested positive.
Mumbai municipal commissioner Iqbal Singh Chahal said there is no reason to worry because the patient has already recovered.
The public health department of Maharashtra said that the lab sample was sent to Kasturba Hospital central laboratory for whole-genome sequencing, which confirmed the presence of the XE variant.
Also read: Diverse and versatile fungi risk causing the next pandemic
INSACOG, however, said the case is not confirmed yet and the result of the Kasturba Hospital central laboratory came out positive for the XE variant due to "inadvertent errors in the automatic system".
Meanwhile, the World Health Organisation (WHO) stated that the XE recombinant (BA.1-BA.2) – detected first in the United Kingdom on January 19 – was being tracked as part of the Omicron variant. The global health body has warned against a recombinant virus of the Omicron, Delta. There is nothing unusual if it happens because both Omicron and Delta had circulated on a large scale.
The WHO has labelled the XE variant as more transmissible than other COVID strains found so far. In fact, the WHO says it is 10 per cent more transmissible than BA.2.
More than 90% of the COVID cases in 2022 can be attributed to the BA.1 and BA.2 sub-variants of the Omicron variant. In India, BA.2 was the dominant strain during the third wave.
At present, China is reeling under the influence of the new variant with Shanghai under lockdown. The city reported about 16000 cases in a day.