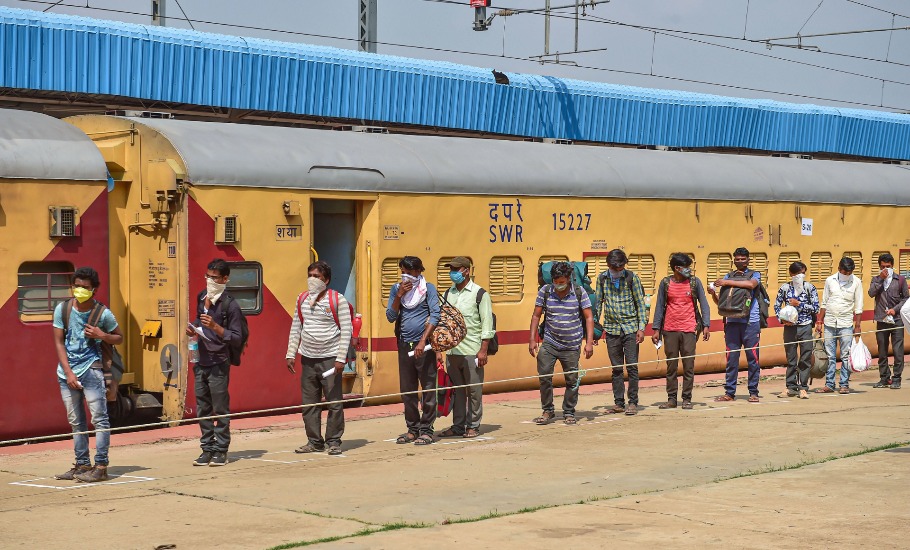 Migrant worker's body found inside train toilet after 4 days in UP
A body of a 38-year-old migrant was found in the toilet of a Shramik special train in Jhansi Railway Station, Uttar Pradesh, on Thursday (May 28) evening.
The deceased has been identified as Mohan Lal Sharma, a resident of Basti district in UP.
According to police, the body had likely been lying there for several days. The workers, who came to sanitize the train, found the body and informed the officials.
Reports claimed Sharma might have been a daily wager working in Mumbai and due to the current lockdown, he could have been travelling back to his hometown like other migrants.
Officials said a post-mortem will be conducted on the deceased and further investigation will be decided based on that.
Jhansi GRP Inspector Anjana Verma told The Indian Express that they were informed about the incident on May 27. "We immediately rushed there along with a medical team. The body was found in the toilet of the Shramik train and it had decomposed and was smelling. His face had swollen and we had kept the body at the mortuary. We found an Aadhaar card with the body and identified him as Mohan Lal Sharma, resident of Basti district."
"Jhansi police called the village chief and we got to know then that Sharma had been carrying ₹28,000, a bar of soap, and some books. He wanted to come home because there was no work," NDTV quoted Kanhaiya Lal Sharma, a relative, as saying.
It was also found that after reaching Jhansi from Mumbai, he had gone to Gorakhpur in another train. Officials found a ticket from his pocket, which was meant for travel on May 23.
"He had left at 11.40 am on May 23 and the empty train returned to Jhansi on May 27 at 7.30 pm. The door of the toilet was also not locked properly and we have also found ₹27,000 cash from the body," police officials added.
However, it is not clear if the cause of death was murder or suicide. Investigation is underway, claimed officials.