The nationwide shutdown due to the coronavirus outbreak has its justifications, but the poorest of the poor are the most hit. Reports of hapless migrant labourers walking hundreds of kilometres to reach their villages is pouring in from various parts of the country.
Even when India went the extra mile to evacuate people stranded in other countries, we ignored those inside the country.
State governments could have deployed vehicles to transport them to their respective states – a relatively easier proposition compared to the massive exercises carried out using the IAF's largest plane, the Globemaster. It is a walk that every one of them would remember for a long time – may not be for the hardships endured but for the insensitivity with which the country treated them. And, they could be sad – for the nation let them fend for themselves in this time of crisis.
Related news: Food, shelter assured, but not livelihood for migrant workers in TN
The Federal could not but recollect the most powerful elegy, the 'Elegy Written in a Country Churchyard' – for it beautifully brings about the loneliness of the man's larger solitude and desolation.
"The curfew tolls the knell of parting day,
The lowing herd wind slowly o'er the lea,
The plowman homeward plods his weary way,
And leaves the world to darkness and to me…"
Here are a few hapless ones found walking hundreds of kms to reach their hometown:
Name: Narendra Shelke
Route: Nagpur to Chandrapur (Maharashtra)
Distance: 135 km
Profession: Labourer
Foot travel time: 33 hours
Narendra Shelke, a 26-year-old daily wager, walked over 135 km without food from Nagpur to his home in Chandrapur in Maharashtra. Shelke worked as a labourer in Pune and he was en route to his native Jambh village in Saoli tehsil of Chandrapur district.
He managed to catch the last train from Pune to Nagpur, but as the government later enforced restrictions on all sorts of travel, he got stranded in Nagpur.
Unable to find any assistance and left with no other option, Shelke started a foot march on the Nagpur-Nagbhid road on Tuesday to reach his village in Chandrapur. He walked for two days without food and survived only on water.
On Wednesday night, a police patrolling team spotted an exhausted Shelke at Shivaji square in Sindewahi tehsil, located around 135 km from Nagpur.
Related news: Free rations, cash dole outs: States go all out to insulate the poor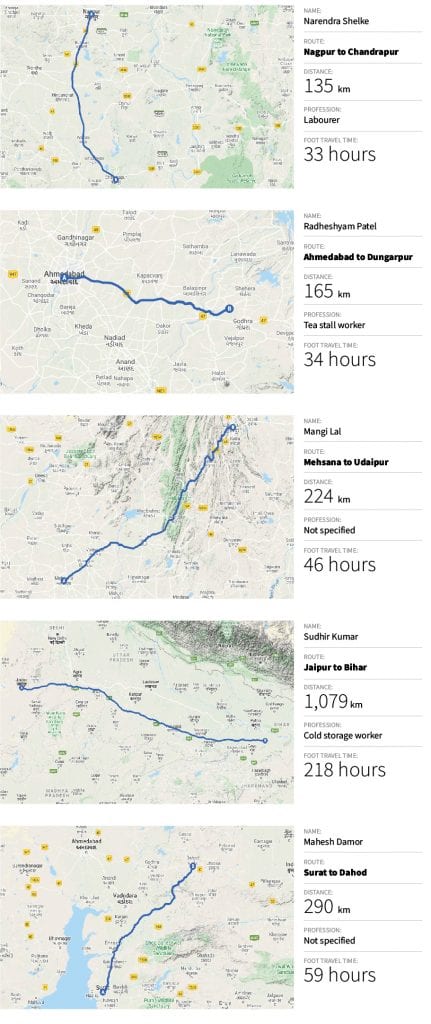 When the police asked Shelke the reason for violating the curfew, he narrated his ordeal and told them that he was walking since the last two days to reach his home, Sindewahi police station's assistant inspector Nishikant Ramteke said.
Shelke was immediately taken to a rural hospital in Sindewahi. After his medical checkup was done, a police sub-inspector brought a dinner box from his house for Shelke.
Later, after getting nod from doctors at the hospital, the police arranged a vehicle to take the man to Jambh village, located around 25 km from Sindewahi, Ramteke said.
Name: Radheshyam Patel
Route: Ahmedabad to Dungarpur (Rajasthan)
Distance: 165 km
Profession: Tea stall worker
Foot travel time: 34 hours
Radheshyam Patel, a native of Rajasthan's Dungarpur district and working in Ahmedabad, was part of a 50-member group that started its journey on foot on March 24 night from Ahmedabad's Naranpura area to reach the Ratanpur border.
He said there is no point in staying in Ahmedabad without any income. "Most of us work here at tea stalls or food joints. Since everything is shut, our employers have asked us to come back only after things get normal, as they don't have money to pay us," he said.
"Since buses and other modes of transport are not available, we have decided to walk to reach home," said Patel.
Name: Mangi Lal
Route: Mehsana (Gujarat) to Udaipur (Rajasthan)
Distance: 224 km
Profession: Not specified
Foot travel time: 46 hours
Mangi Lal was a part of a 100-member group who left from Gujarat's Mehsana district to his native in Rajasthan's Udaipur district.
"I know there is the threat of virus, but we are helpless. How would we survive without any income for three weeks? We don't have money to pay to our landlord. It is better we move back to our native places," said Mangi Lal.
Gujarat Migrant Workers' Congress president Ashok Punjabi claimed that over 50,000 workers left on foot from Ahmedabad alone to reach their homes in Rajasthan.
Name: Sudhir Kumar
Route: Jaipur (Rajasthan) to Bihar
Distance: 1,079 km
Profession: Cold storage worker
Foot travel time: 218 hours
Sudhir Kumar and 13 of his friends started walking back to their native in Bihar after the cold storage they worked at in Bihar was shut in view of the lockdown. A report claimed their owner gave them ₹2,000 each and asked them to return to their hometown.
"In Jaipur, it was a curfew-like situation. No vehicles were plying. There was no transport. So we had no other option and we started for Bihar on foot," he told a vernacular daily.
He said most of the roadside dhabas were shut and they ate whatever they was available. Latest reports suggest they crossed Uttar Pradesh after walking for five days. It was not clear where the group was headed to in Bihar.
Name: Mahesh Damor
Route: Surat to Dahod (Gujarat)
Distance: 290 km
Profession: Not specified
Foot travel time: 59 hours
Mahesh Damor, a 23-year-old migrant worker working in Surat, walked back to his native in Gujarat's Dahod district along with five other workers, covering nearly 300 kms.
"There was no work. They were no buses or trains too. So we decided to walk back to our village," he said. He returned to his family with ₹1,000 in his pocket, and is now facing stigma in his village.
"Our neighbours in the village are saying I have returned with the virus. They are not letting me in," he said.
Sources: PTI, New Indian Express, Deccan Herald