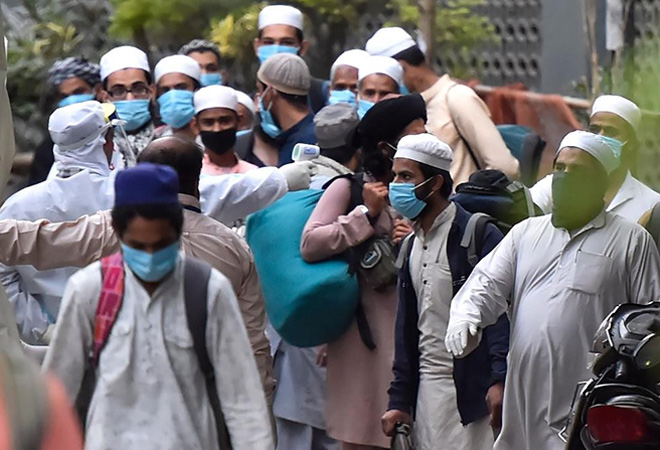 A religious congregation organised last month in Delhi's Nizamuddin Markaz by the Tablighi Jamaat, an orthodox Islamic missionary groups, has emerged as the largest hotspot of the novel coronavirus, triggering a high rate of infections across the country.
Thousands of people had participated in the congregation, and thereafter, travelled to different parts of India for the purpose of preaching. The attendees included a huge number of foreigners from Malaysia, Thailand, Nepal, Bangladesh, etc.
This triggered a major concern, especially after many people in the Nizamuddin area showed symptoms of COVID-19, and several other cases and deaths from across the country were linked to the gathering.
Here are the latest updates about the event:
9,000 attendees identified
The Union home ministry has identified nearly 9,000 people – at least 7,600 Indians and 1,300 foreigners – having links to the Tablighi Jamaat. The Centre had earlier said 2,000 foreigners from 70 countries had arrived in India to attend the Jamaat, and 1,000 of them got stuck at Nizamuddin due to the lockdown.
Area being disinfected
Delhi Fire Service (DFS) was on Thursday pushed into service for disinfecting the Nizamuddin area. Atul Garg, director, DFS said the fire brigade personnel involved in the process have been provided with masks and gloves.
21 cases in Andhra
Andhra Pradesh reported 21 more positive cases on Thursday, all of which were related to the Tablighi Jamaat congregating. SPS Nellore district alone reported 17 new cases overnight. The state's total count now stands at 132, according to an official. Test reports of 493 cases are yet to come.
8 foreigners quarantined
Eight foreigners from Iran, Afghanistan and UK were quarantined at a Kanpur hospital and their passports confiscated as they had attended the event. Police said they were staying at a local mosque since their arrival in Kanpur on March 21. Kanpur DIG Anant Deo Tiwari said their passports have been confiscated.
Manipur man tests positive
A man who attended the congregation last month tested positive for COVID-19 in Manipur, taking the state's tally to two, said Chief Minister N Biren Singh on Thursday. The state control room said 10 people returned to Manipur after attending the congregation and eight of them have tested negative.
3 more cases in Assam
Three persons tested positive in Assam's Goalpara on Thursday, all of whom had attended the gathering. On Wednesday, 12 attendees of the event had tested positive. There are 347 people now in Assam who returned from the event by March 16, and 230 of them have been traced so far while the rest could not be reached, said health minister Himanta Biswa Sarma. The state count now stands at 16.
First case in Arunachal
A 31-year-old man, who had attended the congregation in Delhi's Nizamuddin, tested positive for COVID-19 in Arunachal Pradesh's Lohit on Thursday. This is the first case in the state. Six others who attended the gathering were located in Namsai district and have tested negative for COVID-19, an official said.
3 new deaths in Telangana
Three persons, who had attended the congregation, died due to COVID-19 in Telangana, taking the state's toll to nine on Wednesday. Further, 30 new cases were reported in the state, said a CMO release on Thursday. All of them had attended the gathering. Earlier six fatalities had also attended the congregation.
Related news: Another sanitation worker tests positive for COVID in Mumbai