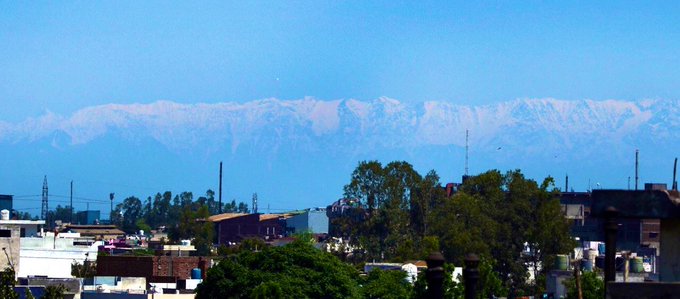 With the 21-day lockdown in place, the nature is unravelling its beauty in places.
For the first time in decades, the residents of Jalandhar have rediscovered the beauty of Himachal Pradesh's Dhauladhar mountain ranges that are 213 km from the city.
Since the air pollution levels dropped due to the lockdown, residents were able to witness this spectacular view of the snow-capped mountains from the city.
IFS officer Parveen Kaswan shared an image of the Dhuladhar range on Twitter stating that the mountain range lies at a distance of 213 km from Jalandhar.
Cricketer Harbhajan Singh too shared an image of the mountain range from his house, writing that he could never imagine that it would be possible to see the mountains from his house. "Clear indication of the impact the pollution has done by us to Mother Earth …this is the view," he wrote.
Rajya Sabha MP Jairam Ramesh too replied to Kaswan's thread writing that nature protects those who protect her.
When people of #Jalandhar saw #Dhauladhar range first time ever. Dhualdhar's mountain ranges lies at a distance of 213 kms from Jalandhar. This is how pollution made us blind !! PC Net. pic.twitter.com/Q0qNmaybJw

— Parveen Kaswan, IFS (@ParveenKaswan) April 3, 2020
While the residents also shared the pictures of the rare beauty on their social media, with a few going live on their Facebook.