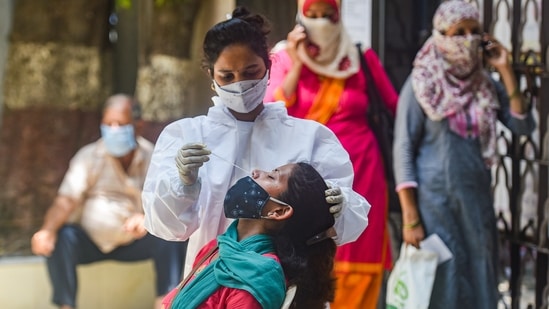 India reported 2,183 fresh COVID cases in a day, an 89.8 per cent jump from Saturday's case count of 1,150 cases, raising fears of another spike in infections.
The death toll climbed to 5,21,965 with 214 fresh fatalities, including 213 from Kerala, according to the Union Health Ministry data updated at 8 am on Monday.
Although the death numbers include a backlog of 62 from Kerala, it is still a huge spike from the just four deaths reported on Sunday.
The daily positivity rate increased from 0.31 per cent on Saturday to 0.83 per cent, while the weekly positivity rate stands at 0.32 per cent, according to the ministry data.
Also read: India refutes WHO claim of 40 lakh COVID deaths, says methodology is wrong
However, there has been a decline in the number of active cases in the country, which stand at 11,542, a decrease of 16 cases in 24 hours.
"The active cases comprise 0.03 per cent of the total infections, while the national COVID-19 recovery rate remained at 98.76 per cent," the ministry said.
The number of people who have recuperated from the disease surged to 4,25,10,773, while the case fatality rate was recorded as 1.21 per cent.
The cumulative doses administered in the country so far under the nationwide COVID-19 vaccination drive has exceeded 186.54 crore.
Delhi has reported the highest number of 517 COVID-19 cases in a day, taking the active cases in Delhi to 1,528, the highest since March 3 this year.
Also read: COVID infections among children are mild, no need to worry about it: Experts
With these new cases, the city's infection tally has risen to 18,68,550 while the death toll stands at 26,160. Delhi has been witnessing an upward trend in daily COVID-19 cases positivity rate in the last few days.
(With inputs from Agencies)