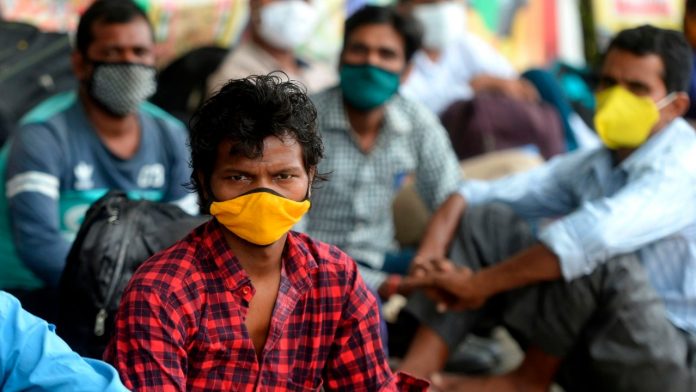 With 56,786 new COVID-19 infections reported over the last 24 hours, India's COVID-19 tally crossed the 30-lakh mark on Saturday (August 22), taking the total to 30,30,155.
Meanwhile, the recoveries surged to 22,64,192, while the death toll climbed to 56,696 with 768 fatalities being reported in the same period, according to the data by covid19india.org.
There are currently 7,08,718 active cases of COVID-19 in the country.
India's COVID-19 tally has crossed the 30-lakh mark just 15 days after it crossed the 20-lakh mark on August 7.
Advertisement
It can be noted that India took 158 days to reach the first five lakh cases-mark, but just 20 days to record the next five lakh cases.
India tests more than 10 lakh samples in a single day
A cumulative total of 3,44,91,073 samples have been tested up to August 21 with 10,23,836 samples being tested on Friday, the highest done in a day so far, Lokesh Sharma, scientist and media coordinator at ICMR said.
"Although higher number of tests will initially lead to a rise in the positivity rate, it will eventually lower when combined with other measures such as prompt isolation, efficient tracking, and timely effective and clinical management," the health ministry said.
Union Health Minister Harsh Vardhan said, "Keeping to its promise of exponentially increasing daily COVID-19 tests, India has crossed a significant milestone of testing more than 10 lakh samples in a day."
From the states
Maharashtra
Maharashtra on Saturday reported 14,492 new coronavirus cases, matching the highest single-day spike witnessed only two days ago, which took the case tally in the state to 6,71,942.
With 297 COVID-19 patients succumbing, the death toll rose to 21,995.
On August 20, the state had seen a record rise of 14,492 in the cases of the viral infection.
COVID-19: When will it end? Two months or so, says Levitt's Model
There are 1,69,516 active cases as 4,80,114 patients have been discharged after recovery in the state.
So far, 35,66,288 tests have been carried out in the state.
Tamil Nadu
Tamil Nadu on Saturday recorded 5,980 new COVID-19 cases, taking the tally to 3,73,410 cases, while 80 fatalities pushed the death toll to 6,420.
After reporting more than 100 fatalities daily since August 3, the fresh death cases in the state was in double digits on August 22.
Active cases stood at 53,710 with 5,603 discharges from various health care facilities and in total 3,13,280 have recovered.
According to the bulletin, 73,547 samples were tested today, taking the tally to 41,36,490.
Related news:

Andhra Pradesh
Maintaining the steep ascent, Andhra Pradesh's COVID-19 tally on Saturday touched 3,45,216 as 10,276 more cases were added in the last 24 hours.
The coronavirus toll mounted to 3,189 as 97 fresh casualties were reported. According to the latest numbers, 8,593 COVID-19 patients were cured and discharged from hospitals across the state in the last 24 hours.
After showing a declining trend for three days last week, the number of active cases once again saw a spike and now stood at 89,389 after 2,42,638 patients had recovered.
Delhi
Delhi recorded 1,412 fresh coronavirus cases on Saturday, the city's biggest single-day spike in infections this month, bringing the infection tally to over 1.60 lakh while the death toll rose to 4,284.
Fourteen more fatalities linked to the novel coronavirus were recorded in the last 24 hours.
According to the Delhi government's health bulletin, a total of 19,435 tests — 6,090 RTPCR/CBNAAT/TrueNat tests and 13,345 rapid antigen tests — have been conducted in the last 24 hours.
So far, 14,12,363 COVID-19 tests have been conducted in Delhi while the number of tests per million population stands at 74,334 in the city.
Related news: Russia looking for partnership with India for producing COVID-19 Vaccine: Official
Delhi has seen a fluctuation in the number of coronavirus cases since August 1. On August 1, the number of cases was 1,118 while for the next three days, the number of infections reported in a single-day stayed below the 1,000 mark.
From August 5 to August 9, the number of fresh COVID-19 cases again stayed above the 1,000 mark only to come down to 707 on August 10. As many as 1,404 cases were recorded on August 8, the previous highest single-day spike of August.
Three days between August 11 and August 22 saw less than 1,000 fresh cases being reported — August 13 (956), August 16 (652), and August 17 (787).
With the 1,412 new cases, the tally has now risen to 1,60,016.
The active case count stands at 11,594, up from 11,426 the previous day, while 1,44,138 patients have either recovered from the infection, been discharged or have migrated out of the city.
Kerala
Kerala recorded 2,171 fresh COVID-19 cases on Saturday, taking the infection count to 56,353 while 15 deaths took the toll to 218.
Fifty four health workers, including 14 from Palakkad and 11 from Malappuram, were among those who tested positive. Of the positive cases, 52 had come from abroad and 102 from other states, state health minister KK Shailaja said.
As many as 1,964 people were infected through contact and the source of infection of 153 was not known, the minister said.
As many as 36,539 have recovered from the infection, including 1,292 who were discharged on Saturday, while 19,538 people are undergoing treatment for the pathogen.
So far, 13,86,775 samples have been sent for testing which includes 37,027 collected in the last 24 hours.