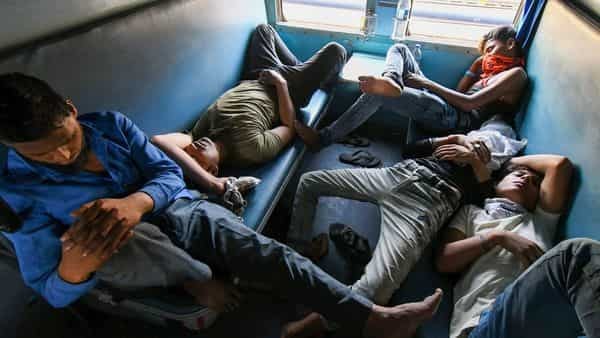 Days after the Union government failed to provide number of migrants who died during the lockdown, the Railway Minister on Friday told Rajya Sabha that a total of 97 people were reported dead till September 9 while travelling on-board Shramik Special Trains.
The special train service was started by the Centre to ferry migrant workers to their home states during the lockdown.
Union railway minister Piyush Goyal gave out the numbers in response to a question raised by Trinamool Congress MP Derek O'Brien in the Rajya Sabha on Friday. Goyal said: "Out of these 97 cases of death, State Police sent dead bodies for post mortem in 87 cases. 51 post mortem reports have been obtained from respective State Police so far, in which the reasons for deaths have been shown as cardiac arrest/heart disease/brain haemorrhage/pre-existing chronic disease/chronic lung disease/chronic liver disease etc."
The railways minister's response is significant in the backdrop of an uproar in both houses early this week after Labour ministry told the Lok Sabha that no data is available on the number of migrant workers who lost their lives during the 68-day lockdown enforced on March 25 to check coronavirus disease (Covid-19) pandemic from spreading.
The Shramik Special Trains started on May 1 with an aim to take migrant labourers back to their home states. A total of 4,621 Shramik Special Trains were operated between May 1 and August 31 and 6,319,000 passengers were ferried home, the Railway ministry said in Parliament on Friday.
Earlier on June 1, Goyal had told Hindustan Times that the Indian Railways has been transparent about the deaths, and insisted on compiling a list of them, and finding out causes even as news reports suggested that "eight or nine migrants" died on trains. The real number has emerged only because of this, he suggested.
Related news: Shramik Specials: Train to hell and back
Goyal admitted that some deaths could have been avoided with better screening, but in the same breath he refused to blame the doctors who had to deal with surging crowds all the time.
On recovering the cost of running Shramik trains, Goyal said, "Railways could recover only a small fraction of expenditure incurred on running of Shramik Special trains, thereby incurring a loss in the operation of these trains."
The state governments collectively paid Rs 433 crore to the railways for running Shramik trains for May 1 to August 31, 2020.