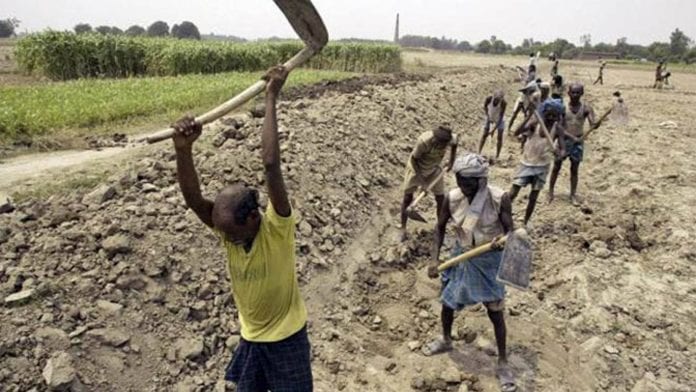 As many as 11 crore migrant labourers who returned home following the country-wide COVID-19-induced lockdown last year, found refuge in the government's Mahatma Gandhi National Rural Employment Scheme (MGNREGS).
A report in the Indian Express said this is the first time since its launch by the UPA government in 2006, that the scheme has employed people over 11 crore.
According to data accessed by IE, 11.17 crore people worked under the scheme last year, which was 41.75 per cent more from the 7.88 crore who were employed under it in 2019-20.
While the scheme provided jobs to around 6.21-7.88 crore people between 2013-14 and 2019-20, the pandemic added more than 3 crore people to the lot.
A 37.59 per cent increase was seen in the employment provided under the scheme in 2020-21 with a record high of 7.54 crore rural household availing it, while 5.48 crore people had worked under it in 2019-20.
Related news: MGNREGA helps Andhra village end droughts, bring migrants home
The last high was recorded at 5.5 crore in 2010-11.
The MGNREGS, which was launched by the UPA government in 200 backward rural districts of the country in 2006 was extended to 130 more districts in 2007 and then across the country in 2008. The scheme promises unskilled manual job of at least 100 days of wage employment to adult members from rural households.
According to IE, the number of households who achieved 100-day employment also achieved a record-high of 68.58 lakh, a whopping 68.91 per cent hike from 40.60 lakh in 2019-20.
The average days of employment given per household too has gone up from 48.4 days in 2019-20 to 51.51 in 2020-21. Also, 2020-21 saw the creation of 385.89 crore person days, a 45.43 per cent raise from 265.35 crore person days in 2019-20.
The government also infused more money into the scheme in 2020-21 – ₹110,802.05 crore – a 62.31 per cent raise from ₹68,265.97 crore in 2019-20, while announcing an additional corpus of ₹40,000 crore in the Union Budget to accommodate more hands under the scheme.
Related news: Thanks to MGNREGA, village once riven by violence now only hosts electoral fights