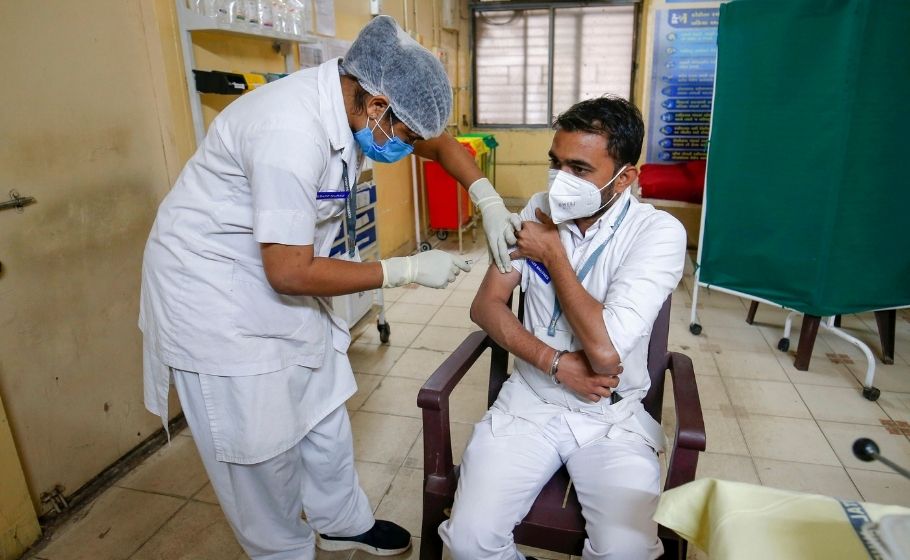 COVID vaccination drive begins today; 3L health workers to get jabs on Day 1
About three lakh healthcare workers will be administered the vaccine at 2,934 locations all over the country on day one of the nationwide Covid-19 vaccination drive that starts on Saturday (January 16).
About three lakh healthcare workers will be administered the vaccine at over 3,000 locations all over the country on day one of the nationwide COVID-19 vaccination drive on Saturday (January 16).
The vaccination will be done through 3,006 centres on the first day, with each vaccinating 100 people.
"This vaccination programme is based on the principles of priority groups to be vaccinated, and healthcare workers both in the government and private sectors will receive the vaccine during this phase," an official statement issued by the government had said.
The government will use the digital platform named CoWIN to carry out the vaccination programme. The platform will be used to register those who will get the vaccine and collect all related details about them. It will also provide real-time information on vaccine stocks.
The government will run a helpline — 1075 — that will function 24×7 to answer queries about the  vaccines and the vaccination programme.
The number of vaccination centres is likely to be increased to 5,000 soon. The Union Health Ministry has urged states to conduct vaccination sessions considering a 10 per cent reserve/wastage of doses. Hence, no state administration should show any rush in conducting more than advised number of camps per day, the ministry said. The increase in the number of vaccination sessions per site should be gradual as the vaccination process stabilises.
The Union Health Ministry has procured 1.65 crore doses of COVID-19 vaccines (both Covishield and Covaxin). The doses have been allotted among states and Union Territories (UTs) in accordance with the number of healthcare workers present. "No discrimination has been done against any state in the allocation of vaccination doses. The allocation will increase as the drive progresses," the ministry said on Thursday (January 14).
Also read: All about CoWIN app — the key to India's COVID vaccination drive
According to the government, the shots will be offered first to an estimated one crore healthcare workers, and around two crore frontline workers, and then to persons above 50 years of age.
The vaccination centres have been given clear instructions on the process to be followed. A total of 3 crore healthcare workers (those registered on Co-WIN app) will be vaccinated on priority, irrespective of their age. The healthcare workers include doctors, nurses, nursing orderlies, safai karamcharis and ambulance drivers. The healthcare workers will be followed by people above 50 years of age and then those younger than 50 years of age with associated comorbidities like diabetes, hypertension etc.
Also read: Vaccine to be given free to 3 crore frontline workers in phase 1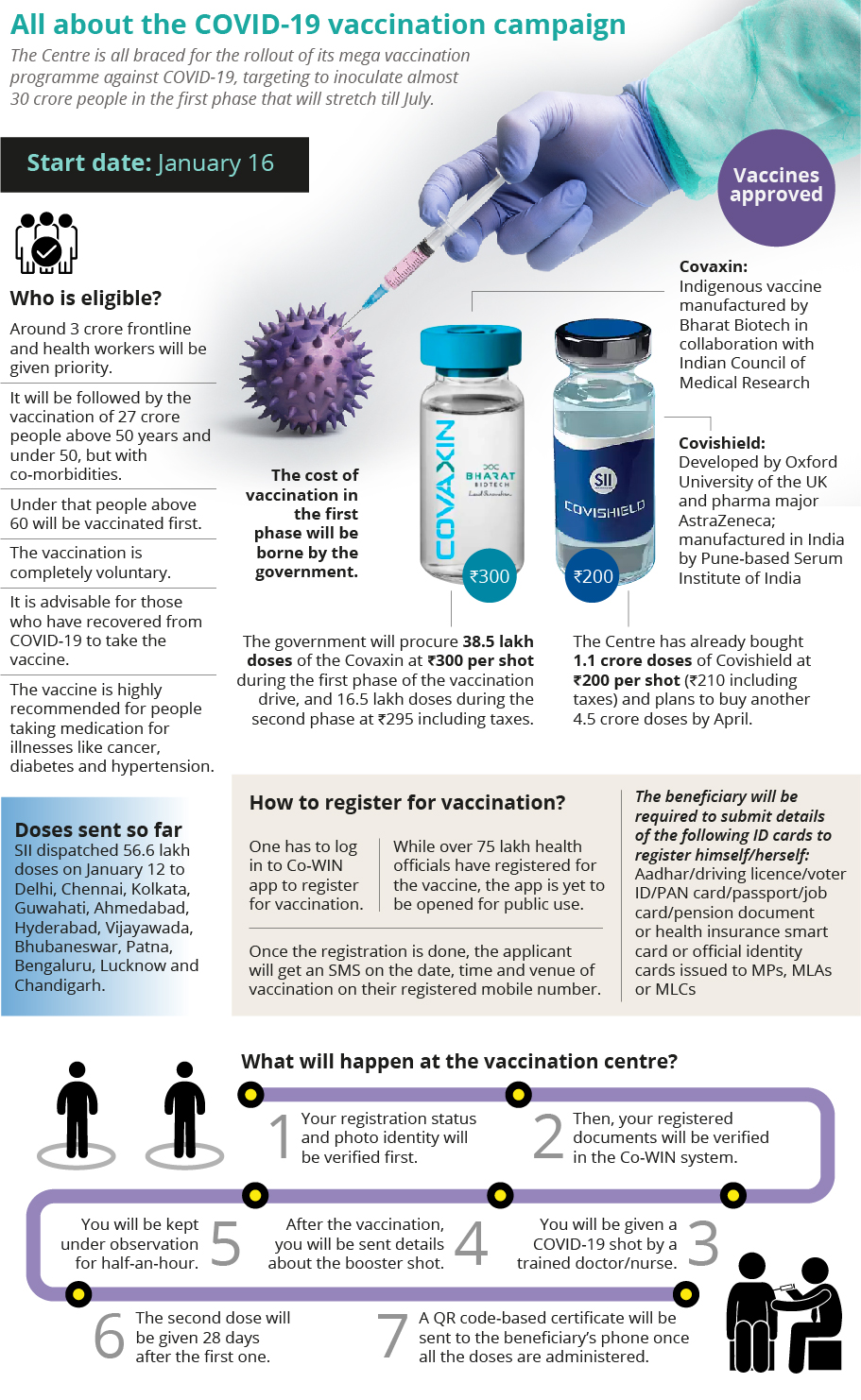 The government has bought 110 lakh doses of Covishield at ₹200/dose and 55 lakh doses of Covaxin.
Delhi Chief Minister Arvind Kejriwal said the national capital will have 81 vaccination centres — six Centre-run hospitals and 75 state and private hospitals. The number will soon be increased to 1,000 centres. The drive will be conducted four days a week — Monday, Tuesday, Thursday and Saturday.
The Delhi government has allotted Bharat Biotech's Covaxin to only the six Centre-run hospitals. The state and private hospitals will get Covishield. The state government didn't give any reason for this vaccine distribution plan, but it is reportedly due to healthcare workers' reservation over Covaxin. In the six Centre-run hospitals, the doctors are reluctant to take Covaxin.
In Haryana as well, healthcare workers have shown a lack of interest in taking Covaxin, more so after health Minister Anil Vij tested positive after being injected with the vaccine.
As many as 4,000 health workers will be administered COVID vaccine every day at nine vaccination centres in Mumbai, the Brihanmumbai Municipal Corporation (BMC) said on Friday. Chief Minister Uddhav Thackeray will launch the vaccination drive from a centre at Bandra Kurla Complex on Saturday, the civic body stated in an official release. The vaccination will start at Vile Parle-based Dr R N Cooper Hospital, it stated.
Vaccines will be administered at 40 booths in nine centres — KEM Hospital (Parel), Sion Hospital (Sion), Cooper Hospital (Vile Parle), Nair Hospital (Mumbai Central), Bhabha Hospital (Bandra), V N Desai Hospital (Santacruz), Rajawadi Hospital (Ghatkopar), Dr Babasaheb Ambedkar Hospital (Kandivali) and BKC Jumbo COVID-19 centre.
Initially, on an average, 4,000 beneficiaries will be vaccinated daily at these booths. As many as 1.30 lakh health workers have registered for immunisation, while the civic body has received 1,39,500 lakh doses of Covishield vaccine from the Pune-based Serum Institute of India.
At least 7,000 staffers have been trained for the drive and 10,000 more are being trained, the civic body stated.
In Kerala, 133 vaccination centres have been made ready. The state has received 4,33,500 doses of the two vaccines and they have been distributed to the districts in accordance with the test positivity rate. There is a multi-level monitoring system: there is a state steering committee headed by the chief secretary and control rooms and task forces at the state, district and block-level. Webcasting has been arranged in all centres.
Every vaccination centre will have a waiting room, a vaccination room and a separate observation room. Ambulances and the service of doctors have been arranged for in all centres to deal with any emergency. As on Friday evening, 3,68,866 people have registered for receiving vaccine in Kerala.