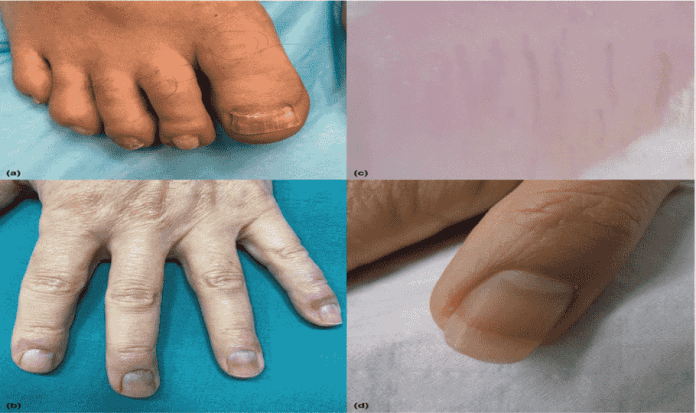 Various signs and symptoms can give away a COVID infection. One such rare sign is COVID's impact on nails. COVID patients often tend to ignore these signs which may range from horizontal groves over fingernails and toenails, red-violent bands at the end of nail beds or white lines on all fingernails.
Dr. Philip Frost from the Department of Dermatology and Cutaneous Surgery, University of Miami Miller School of Medicine, did research on COVID's impact on nails. He reviewed the nail findings observed in various COVID patients.  Data from the study shows that 20 per cent patients with COVID have cutaneous manifestations which may develop during or after the infection.
Also Read: COVID-19: Daily positivity rate over three per cent
The study further revealed that chilblain-like lesions were one of the most common cutaneous findings associated with COVID infections. These lesions which affect fingernails and toenails are known as 'COVID toes'.
Such symptoms, along with others like orange discoloration at the end of nail beds, burning and itching in fingers and toes, tingling sensation in toenails and unexplainable peeling of fingernails, are common in children and adolescents.
Possible reasons
Studies suggest COVID's effect on nails may be the result of an aggravated INF‐α response.
The Centre for Disease Control and Prevention(CDC) urges people to seek medical care in case they experience pale, grey, or blue-colored skin, lips, or nail beds, depending on their skin tone.
Also Read: Sonia Gandhi taken to Ganga Ram Hospital for Covid-related issues
A UK study given on NCBI website, shows significant association between skin rashes and a positive swab test result. The study, published in 2021, found that one in five COVID patients, exhibits a skin rash and no other symptoms of the disease.
According to a report on gavi.org, hair loss is another underrated symptom of COVID. Hair loss can continue to occur months after an acute COVID infection. Excessive stress in the body may cause this shedding. The hair 'sense' this stress resulting in hair loss during and post the infection.
Also Read: India logs 8K COVID infections for second day, active cases rise to 44,513