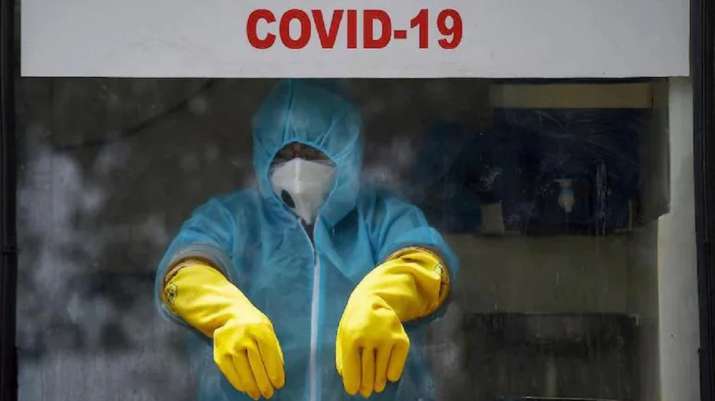 India logged in 5,357 new coronavirus cases and 11 deaths, while the active cases scaled up to 32,814, according to Union health ministry data updated on Sunday (April 9).
The 11 deaths were reported from Gujarat, Himachal Pradesh and one each from Bihar, Chhattisgarh, Maharashtra, Odisha and Uttar Pradesh besides one reconciled by Kerala. This information is from the data updated at 8 am on Sunday.
The steadyt rise in COVID-19 cases in India over the last few days, however, has prompted several states to make the wearing of masks mandatory again.
Masks get mandatory
While the Haryana government has made masks mandatory as a measure of precaution, and advised its citizens to adopt COVID-19 appropriate behaviour, Kerala has also made masks mandatory for pregnant women, the elderly and those with lifestyle diseases.
The Puducherry administration too has made mask wearing compulsory in public places with immediate effect. People working in hospitals, hotels, restaurants, liquor shops, hospitality and entertainment sectors, government offices and commercial establishments should compulsorily wear masks, said a government order.
Also read: COVID: As cases rise, Centre asks states to ramp up testing, keep hospitals ready
States recording high numbers
States like Maharashtra, Himachal, Kerala and the capital Delhi were again registering higher number of COVID-19 cases than other states. On Friday, the health ministry said that Kerala, Maharashtra and Delhi have reported over 10 per cent positivity rate in more than 10 districts. Over 5 per cent positivity rate has been registered in more than five districts of Karnataka, Himachal Pradesh, Tamil Nadu and Haryana.
Maharashtra on Saturday recorded 542 new cases of coronavirus infection and one fatality. The state's tally of infections thus rose to 81,49,141 and death toll to 1,48,458, said an official from the state health department. However, there has been a drop in infections since Friday, when the state had recorded 926 cases and three fatalities.
The Himachal Pradesh health officials said that 258 fresh COVID-19 cases were registered on Saturday and two more deaths in Mandi and Sirmaur districts were reported due to the virus.
New Delhi's positivity rate at 20 per cent
Delhi recorded 733 fresh COVID-19 cases on Friday, the highest in over seven months, at a positivity rate of almost 20 per cent. Two deaths, in which COVID-19 was found to be incidental, were also reported, according to the government health bulletin.
According to government records, 11 deaths have been reported between March 1 and April 6, including nine male and two female patients, all of whom had co-morbidities. Most of the deaths – five – were recorded among patients in the 70 to 79 year age group, followed by three between 60 and 69, two in the 80 to 89 bracket, and one fatality in the 50 to 59 group.
Also read: XBB.1.16 accounting for 38.2% of COVID-19 infection in India: INSACOG bulletin
How prepared is India to tackle another COVID wave?
The Union health minister Mansukh Mandaviya has assured that the government is prepared to deal with the recent spike in infections in terms of ICU beds, oxygen supply, and other critical care arrangements. However, he has asked the states to stay alert and keep reviewing the preparedness of their health facilities.
Mandaviya had also asked the states to identify emergency hotspots by monitoring trends of influenza-like illness (ILI) and severe acute respiratory infection (SARI) cases and ramp up testing and vaccination.
He had told the media that the while Omicron and its sub-lineages continue to be the predominant variant and probably causing the surge in cases, most of the assigned variants have little or no significant transmissibility, disease severity or immune escape. The prevalence of XBB.1.16 increased from 21.6 per cent in February to 35.8 per cent in March, 2023, he pointed out.
According to media reports, a nationwide mock drill is planned tomorrow (Monday, April 10) and Tuesday (April 11) to assess emergency preparedness of both public and private hospitals.
Also read: COVID-19 infection can change structure of our genes: Study
States gear up
Hospitals, polyclinics and dispensaries in Delhi have been instructed by the health department authorities to scale up testing. States like Kerala are ensuring they have adequate oxygen availability and will hold a special meeting of private hospitals on this issue.
UP deputy chief minister Brijesh Pathak instructed the officers across the state to activate the COVID command centres in the districts and ensure the adequate availability of medicines and equipment.
Instructions have been issued for the use of masks in hospitals, to increase testing and to send samples to the King George's Medical University for genome sequencing. The state government has also issued a 'high-priority' directive, instructing officials to ensure the screening of international passengers at all airports.
All samples which test positive for COVID should be sent for genome sequencing, said the government order.
The Tamil Nadu government, meanwhile, will ramp up RT-PCR testing in view of an increase in coronavirus cases in the state, said the state health minister, M Subramaniam said on Friday.
COVID-19 deaths in older people
The Kerala health minister Veena George held a high-level meeting to evaluate the COVID-19 situation in the state. She said the COVID-related deaths are mostly reported in people above 60 years and those with lifestyle diseases such as diabetes.
COVID-19 cases and vaccination nation-wide
The COVID case tally was recorded at 4.47 crore (4,47,56,616). The active cases now comprise 0.07 per cent of the total infections, while the national COVID-19 recovery rate was recorded at 98.74 per cent, the ministry said.
The number of people who have recuperated from the disease surged to 4,41,92,837, while the case fatality rate was recorded at 1.19 per cent. According to the ministry's website, 220.66 crore doses of COVID vaccine have been administered in the country so far under the nationwide vaccination drive.