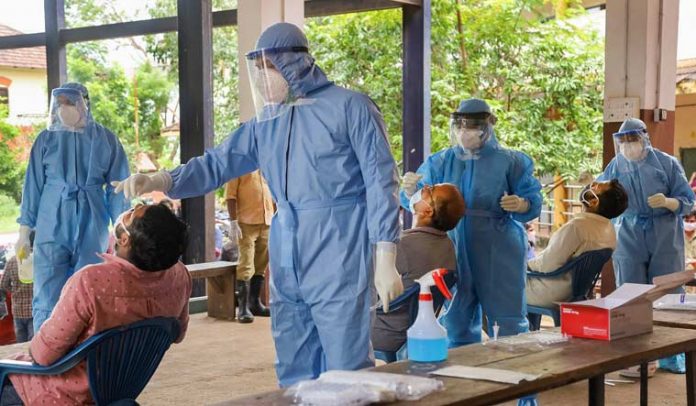 India has reported more daily recoveries than fresh COVID-19 cases for the second consecutive week. The country for the past three weeks has shown a decline in the number of new cases and fatalities with the test positivity rate (TPR) also showing a gradual decline.
The country reported about 4.53 lakh fresh cases of coronavirus during the last week (October 11-17) compared to 5.05 lakh cases in the preceding week. The week prior to that had seen a surge of 5.61 lakh cases in just seven days. Currently, the overall number of cases in India stands at 74.32 lakh cases while recoveries stand at 65.24 lakh. The death toll is 1.12 lakh.
The recovery rate of India stands at 87.78 per cent as of Saturday (October 17). During the last week India saw 5.35 lakh recoveries compared to 5.05 lakh new cases. An average number of daily cases had come down to about 64,700 every day from 72,000 cases in the previous week. This is the fourth consecutive week of a decline in daily average cases.
The death rate which is under control is constantly reducing, which in turn is a positive sign. The fatality rate currently stands at 1.53 per cent, which means that around 153 persons have succumbed to death out of every 10,000 infected. But, India still faces the challenge to reduce the number of deaths as it has already crossed the mark of one lakh fatalities.
India reported 5,582 fatalities in the last seven days compared to 6,574 fatalities in the preceding week. Currently, the death toll is 1,12,998 across the country. The reduced number of deaths also suggests that our battle against the virus is getting stronger day-by-day.
Another important aspect that is showing a positive trend in the battle against coronavirus is the declining test positivity rate (TPR) in India.
The daily TPR for the country had constantly been below seven per cent for the last week. The highest it had reached was 6.90 per cent on Monday while the lowest was 5.16 on Wednesday (October 14). Declining TPR is another major sign that the spread of the infection is reducing at least by some amounts. However, the TPR needs to further go down and maintain minimum values in order to flatten the curve in coming days.