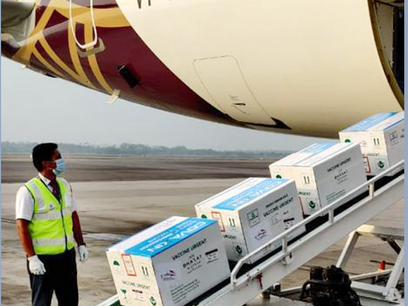 Amid a weekly average COVID caseload of 49,388, Brazil – whose President Jair Bolsonaro is an 'ardent admirer' of India – has signed a deal with Indian pharmaceutical company Bharat Biotech for the purchase of 20 million doses of Covaxin, Reuters reported.
Brazil's Health Ministry on Thursday signed a contract for delivery between March and May.
The ministry said in a statement that the deal is worth 1.6 billion real ($290,000), with the first 8 million doses expected to arrive in March.
Brazil has touched the total death figure of 2.5 lakh by COVID-19. The administration of President Jair Bolsonaro said the first 8 million Covaxin shots, which will be made by Brazilian company Precisa Medicamentos, will arrive in March. A second batch of another 8 million doses is likely in April and May. Another 4 million doses will be available next.
Also read: 'Tolerable safety outcomes'. Lancet publishes Covaxin Phase 1 trial data
The Brazilian decision to buy Covaxin came at a time when India is hard-pressed to convince its frontline workers to take the homegrown vaccine, which has been approved without late-stage efficacy data.
Only 1.2 million, or about 11%, of Indians, including frontline workers, have taken Covaxin, while the rest 9.4 million have used the vaccine licensed from AstraZeneca, as per government's Co-Win online platform used to track the vaccination drive.
India has the world's second-highest number of COVID-19 infections after the US. Many states have recorded a rise in the number of cases recently. If Indians continue to doubt the homegrown vaccine, it could prevent the country from meeting its target of vaccinating 300 million of its 1.35 billion people by August.
Also read: Tie-up with Serum Institute of India key to mass production of COVID vaccines, say two pharma majors
India has vaccinated more than 1 crore frontline workers since the beginning of its immunization campaign on January 16.
Last month, the head of the Brazilian Association of Vaccine Clinics (ABCVAC) Geraldo Barbosa had said that private sector talks to acquire Bharat's COVAXIN vaccine would not interfere with the Brazilian government's efforts to acquire vaccines for the public sector.
Barbosa said that private clinics would only be able to buy the vaccine once the health regulator Anvisa has signed off on the drug. Brazil's President Jair Bolsonaro is under mounting pressure due to slow pace of the country's vaccine rollout.