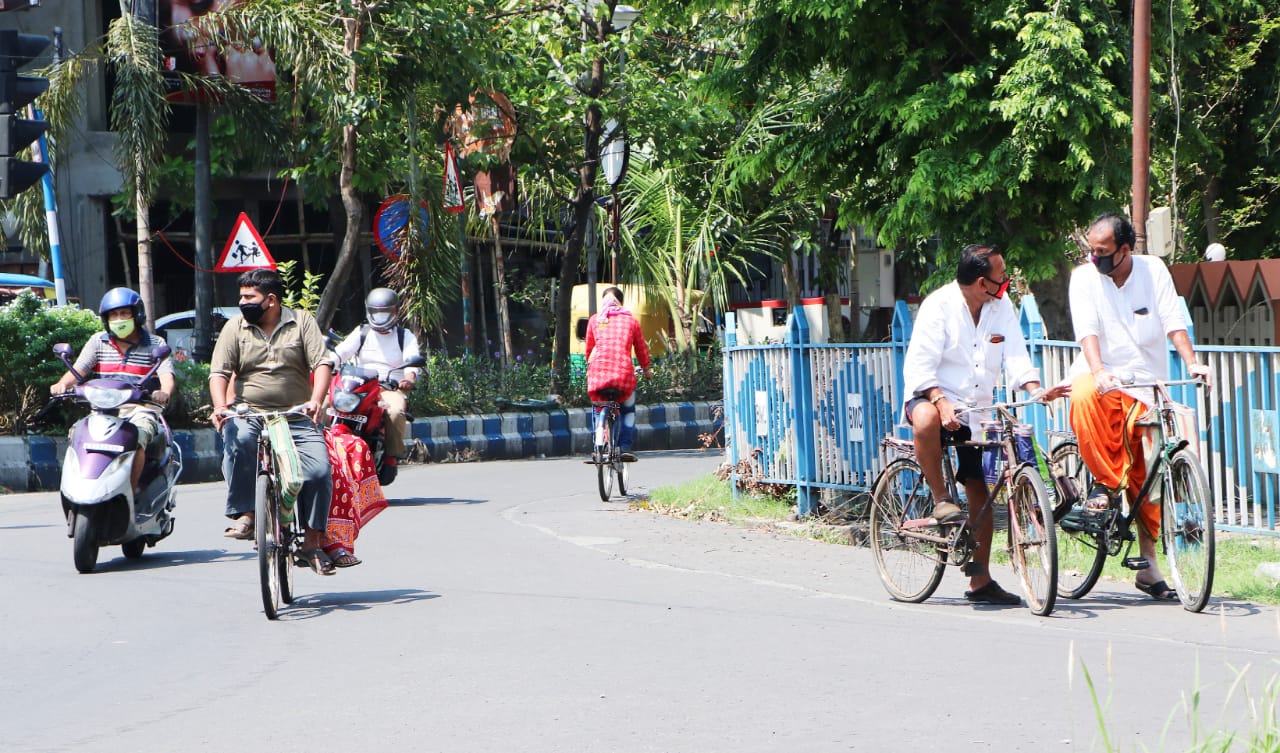 Bicycles dot Kolkata roads as wary residents shun crammed buses
Bicycles are trending on Kolkata's streets as the city grapples to maintain social distancing in its public transportation system after the unlocking process started from June 1 amid a nationwide spurt in COVID-19 positive cases.
The trend, the Kolkata Cycle Samaj (KCS), an organisation to promote the bicycle, feels, could be the answer to the concern raised about the ability of India's public transportation systems, with their high passenger density, to maintain social distancing.
The organisation has urged the state government as well as the civic authority to lift the cycling ban enforced in 62 roads of the city since 2014 in view of the rise in people's dependency on cycle to commute.
Labourious, but safe
Though no data is immediately available to quantify the rise, bicycle dealers said there has been a threefold spike in demand for the two-wheelers in the last one week. A cursory glance of the city's streets would be enough to ascertain the veracity of the claim.
Related news: COVID fosters neo-untouchability in friends and relatives of migrants
From Esplanade to VIP Road and Howrah Bridge to Bijon Setu, an overwhelming presence of bicycles could be seen with many even cycling about 30 kilometres, pedalling for more than two hours to reach their workplaces.
Kartik Pal, a technician who works with an air-conditioner installation and servicing centre in New Town Kolkata, cycles to office from his residence at Bamangachi, Barasat, some 26 kilometres away.
"Earlier, I used to come to the office by bus. But on June 1, the day our office opened, I could not reach on time as only a few buses were operating. Ultimately, after waiting for over two hours, I managed to board an overcrowded bus. It was then that I decided to opt for a bicycle to maintain social distancing," Pal said.
It takes more than two hours now for Pal to reach office instead of about 40 minutes he used to spend earlier in bus journey. "It is worth taking the trouble to avoid contracting the virus," he said.
Radhagobinda Roy is another commuter from the southern fringe of the city to join the crowd of long-distance bicyclers. He too travels around 30 kilometres from Baruipur to work as a security guard at a Ballygunge apartment.
Earlier he was a regular commuter in sub-urban trains.
"Muscles in my entire body pained like hell (after cycling). But do we have any other option? You see yourself, how people are jostling with each other to get into buses. Can there be any social distancing possible?" Roy said adding that taxi is not an option for people like him (those in the low and middle income bracket).
Social distancing goes for a toss
In Kolkata auto-rickshaws shuttle only from point to point.  In the absence of adequate buses, social distancing is not followed even in auto-rickshaws.
Private buses hit the streets across the state only from Thursday (June 4) after a stalemate over fare hike was resolved following a series of meetings with the state government. But that could not solve the problem of maintaining social distancing as the government allowed buses to take passengers in all seats, which means there is no minimum gap of one metre between two persons.
As per a study conducted by the transport department, on weekdays around 1.4 crore people avail public transportations in the city. Of them 58.4 lakh travel in buses, 35 lakh in sub-urban trains, 6.5 lakh in metros, 2 lakh in ferries and other water vessels and the rest in autos and taxis.
Passenger pressure on bus services has further increased as sub-urban trains and metro rails, the other two most popular modes of mass communication, are yet to resume services.  To ease the rush of commuters in buses, the transport department has revised its social distancing guidelines to allow taxis and auto-rickshaws to ply with full 3+1 seating capacity, compromising on social distancing norms.
Even after the train and metro services resume, many like Pal and Roy said they would continue to travel in cycles as it is unlikely that with the existing number of fleets, even those transportation systems will be able to maintain social distancing properly.
Related news: West Bengal's Unlock 1 phase from June 1 hits the transport roadblock
The area of each electric multiple unit (EMU) metro coach is 41 square metres. On peak hours in each trip, it carries 286 to 381 passengers. This is a density of seven to nine passengers per sq m. The Delhi metro with a density of six passengers per square metre is just a little less cramped.
In sub urban trains the passenger density is 14 to 16 persons per square metre as per a report.
Cycles, city's new favourite
These figures buttress the claim of the KCS that bicycles could be the best possible environment-friendly solution to avoid contracting the contagion on the roads.
To further promote bicycles, the organisation, in a letter to Chief Minister Mamata Banerjee urged to lift the ban on cycling on many of Kolkata's roads, to make bicycle lanes/bays on major roads to ensure the safety of cyclists, to introduce bicycle sharing systems and to launch public campaigns to promote cycling.
A set of similar demands was also placed before the Kolkata Municipal Corporation.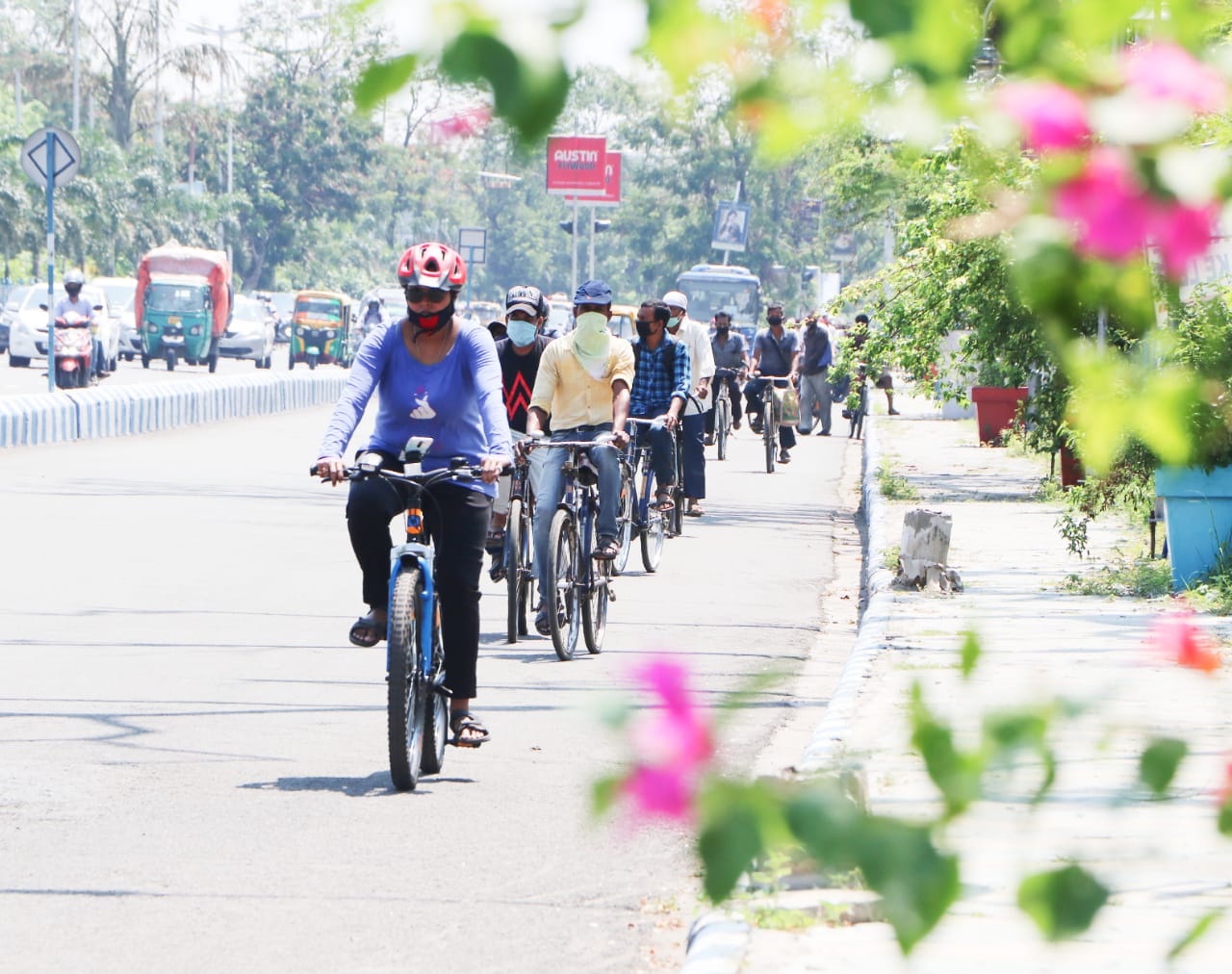 Although the chief minister is yet to respond to the KCS's appeal, on the occasion of World Bicycle Day on Wednesday (June 3) she tweeted, "Bicycles empower. Bicycles are environment friendly. Our government in Bengal has distributed 1 crore+ bicycles to boys/girls of all communities under Sabooj Sathi scheme, enabling them to attend school even from far-off places. This has reduced drop-out rates."
For now it is surely empowering bicycle distributors and sellers. Sujit Ghosh, owner of Tarun Cycle in Kolkata's Garia, said, his sales has increased by 60 per cent. Sales of the city's leading bicycle dealer, Ganpati Trading Company has increased from 200 to 600 per day.