India is currently amid a 21-day lockdown due to the coronavirus outbreak, and the people are visibly not following the guidelines, prompting the police to take extreme steps like baton-charging, or to make the violators perform 'back-to-school' punishments.
Here are a few incidents of police literally beating 'corona' out of people found violating the lockdown orders:
Baton charge in Belgaum
Advertisement
Police personnel were seen baton-charging Muslim devotees outside a mosque in Karnataka's Belgaum district on Thursday. The assault came when they were leaving the mosque after offering prayers.
#WATCH Police thrash people for violating #Coronaviruslockdown in Belgaum. The incident happened outside a Mosque when people were leaving after offering prayers. #Karnataka pic.twitter.com/tF9Vx4iqV5

— ANI (@ANI) March 26, 2020
Trying to save their skin, the devotees ran helter-skelter without even trying to get their shoes that they had left at the mosque's doorstep.
Holding ears and squatting in Kalaburagi
People violating the lockdown were forced to hold their ears and squat as a punishment by the police, in Karnataka's Kalaburagi city.
#WATCH Karnataka: Police personnel punish the violators of the lockdown, in Kalaburagi city. #CoronavirusLockdown pic.twitter.com/oSiDd8rl4V

— ANI (@ANI) March 25, 2020
In a video shared by ANI, policemen were seen also seen whacking some eight-nine youths with a stick when they were carrying out the punishments.
Squats and frog jumps in Kolkata
Defying the lockdown, people in several parts of Kolkata and some other districts ventured out on Thursday, prompting police to force those wandering about without a valid reason to do squats and frog jumps.
While more than 1,800 people were arrested only in Kolkata since Monday evening, many were let off with warnings and a few got whacked with batons. In some areas, police also made the violators do squats and frog jump on the roads.
Frog jumps in Pratapgarh
In Rajasthan's Pratapgarh, police personnel made youngsters frog-jump for allegedly violating the lockdown. Few policemen were seen inspecting how the punishment was being carried out on an empty stretch of road.
#WATCH Rajasthan Police punish youngsters for allegedly violating #CoronavirusLockdown in Pratapgarh. pic.twitter.com/OuLnLNcNF7

— ANI (@ANI) March 26, 2020
In another area, some youths were seen squatting on the road and a policeman sitting nearby.
Crawl, not walk, in Uttar Pradesh
Policemen in Uttar Pradesh's Badaun city made people crawl on the road for allegedly violating the lockdown on March 25.
#WATCH Incident of police brutality in Badaun where policemen make people who were walking towards their native places, crawl wearing their bags, as a punishment for violating lockdown. (25.03.20) pic.twitter.com/1YmvqDgoYS

— ANI UP (@ANINewsUP) March 26, 2020
The "violators", who were seen in a video crawling with their bags on their back, were reportedly walking to their native places.
'Violator' stamp in Jammu
In Jammu's Ranbir Singh Pura, police put stamps reading 'corona lockdown violater' on arms of people for allegedly violating the lockdown.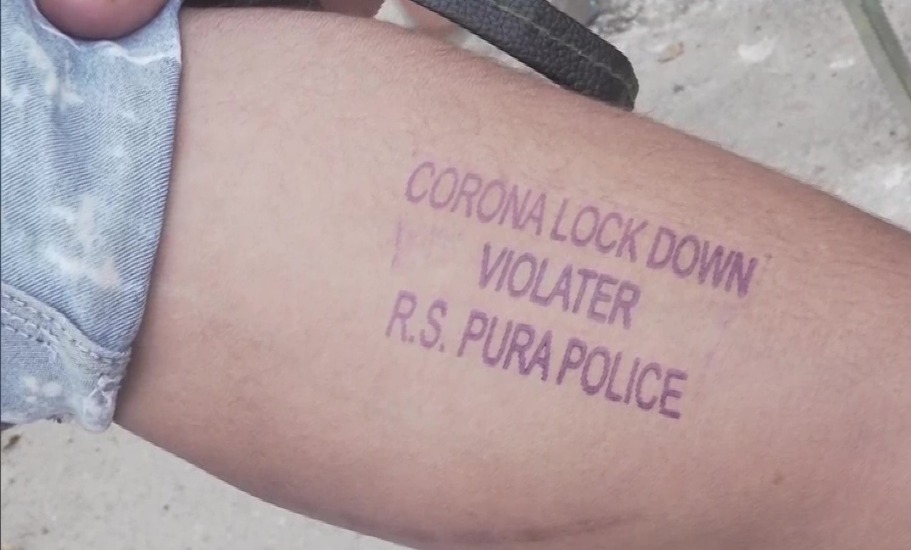 "We are using permanent ink that takes around 15 days to erase," said Shabir Khan, SDPO, RS Pura. Some people were also made to perform squats while holding their ears as punishment.
(With inputs from agencies)