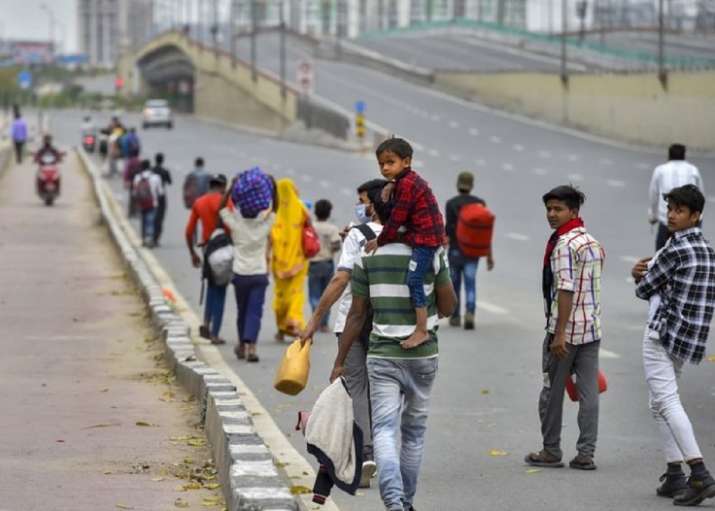 14 migrants killed in separate accidents in UP, Madhya Pradesh
Fourteen migrant labourers travelling home have died in separate accidents in Uttar Pradesh and Madhya Pradesh since Wednesday night (May 13).
In the wee hours of Thursday, eight labourers were killed and more than 50 injured after the truck they were aboard collided with a speeding bus near Guna town in Madhya Pradesh. The workers were on their way to the Uttar Pradesh border from Maharashtra, police said.
8 labourers lost their lives & 54 others were injured, they are being treated at the district hospital. Postmortem & further investigation underway: TS Baghel, ASP Guna #MadhyaPradesh https://t.co/4AMD28IT5g pic.twitter.com/HL5ybGcZxp

— ANI (@ANI) May 14, 2020
The injured were rushed to a nearby hospital. According to reports, most of the migrant labourers were from Unnao district of Uttar Pradesh. The bus on its way to Ahmedabad had only a driver and cleaner aboard.
In another incident, six migrant workers who were walking along the Muzaffarnagar-Saharanpur highway were killed after an Uttar Pradesh government bus ran over them on late Wednesday (May 13) night near Ghalauli check-post.
The workers were travelling to their home state of Bihar.
Reacting to the incident, Chief Minister Yogi Adityanath announced ₹2 lakh ex-gratia each to next of the kin of the deceased and compensation of ₹50,000 each to the injured.
Officers have been directed to send bodies of the workers to Bihar. Saharanpur Divisional Commissioner has been asked to submit report after investigation, UP CMO said.
According to the police, the migrants were returning to Gopalganj in Bihar from Punjab when an Uttar Pradesh state bus ran over them. The incident happened around 11 pm and the driver of the bus, who was suspected to be under the influence of alcohol, has been arrested, said SSP Abhishek Yadav.
6 migrant workers who were walking along the Muzaffarnagar-Saharanpur highway killed after a speeding bus ran over them late last night, near Ghalauli check-post. Case registered against unknown bus driver. pic.twitter.com/s81e7gpYkH

— ANI UP (@ANINewsUP) May 14, 2020
According to Indian Express, the police have identified the deceased as Harek Singh (51) and his son Vikas (22), Guddu (18), Vasudev (22), Harish (28) and Virendra (28). At least three other people are said to have been injured.
The workers were going on foot to their homes in Bihar from Haryana when they were hit on the Delhi-Saharanpur Highway between Ghalili Check Post and Rohana Toll Plaza, about 20 km from here late last night, the official said.
On Wednesday, the UP government had directed officers to ensure that no migrant workers walk on the road "at any cost".
The past few days have witnessed a slew of accidents involving migrants travelling to their home states via road.
In a tragic incident on May 8, 16 migrant workers were killed after a goods train ran over them while they were sleeping on the railway tracks in Aurangabad in Maharashtra. The migrants were walking back home and had slept on the tracks after getting exhausted.
On Monday, seven migrant workers on their way back to their native places, were killed in separate road accidents in north India.