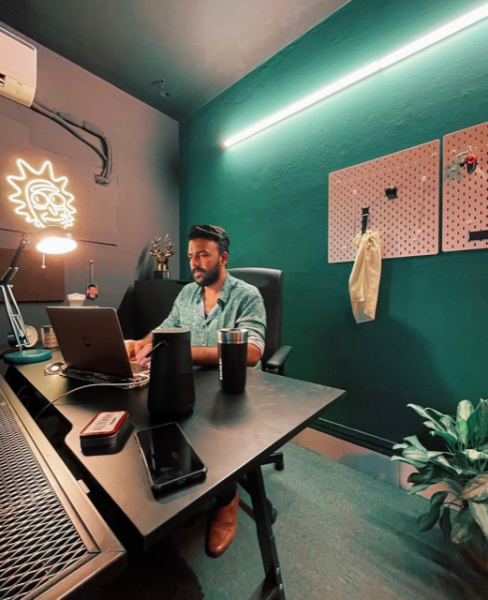 A huge, packed hall at the Chennai Trade Centre listened in absolute silent awe as a filmmaker revealed facts about the chaos on the sets of a film he made with a budget of Rs 63 lakh in 32 days, which went on to make Rs 40 crore.
Behind-the-scene details of Pelli Choopulu ('Seeing the bride'), a Telugu film directed by the young and energetic film director, writer and actor Tharun Bhascker Dhassyam, stole the show on the second day of the CII Dakshin South India Media & Entertainment Summit, being held in Chennai on April 9 and 10. The Federal is the media partner of the CII Dakshin event.
Also from CII-Dakshin: I make big-scale movies driven by emotions: Rajamouli
Speaking at a panel discussion on Mega Hits and Micro Budgets, Bhascker described how a successful movie is made in the office even before the crew set out to reach the sets. 
Pelli Choopulu was made in sync sound using a production management software on-location, he said.  
Breaking down the elements
"Line production using sync sound was a tough thing to do as we had to keep in mind the timing of the aeroplanes flying above our heads, the time of the school bell ringing every hour, and the azaan in a nearby mosque. We broke it down to every element of filmmaking on location," Bhascker said, recounting his experience in making one of the most successful small-budget films made in Telangana.
Also read: Yash on KGF-2: 'No pressure, it's pleasure. Rocky more vocal, explosive now'
According to co-panelist Vijay Bhaskar, it is all about getting the '4P formula' right. "Product, Place, Price and Promotion are the 4 Ps that have to work in sync to get the right results," said Bhaskar.
Talking about the importance of the timing and place of  any film, Vijay Bhaskar said his film Home was released during the pandemic period, when people were at home and family relationships were impacted. "The pulse of the audience" is very important, he said, adding that the film helped him get a new set of audience because it was released on OTT.
"There is nothing called a small budget film or a big budget film…I believe there is only a right budget. There is no big star or a small star…there is just the right star. I have made films from Rs 25 lakh to Rs 10 crore. If you get the 4 Ps right, the film will hit the right spot," Bhaskar added.
Maximising boundaries
Agreeing with his co-panelists, director, actor and producer Pawan Kumar said that for him what has worked is his theatre roots. "I keep asking — how do I create something that makes me happy with all the limitations that exist? It is all about how to put the ideas you have and the budget you have," Pawan Kumar added.
Moderating the panel, G Dhananjayan, founder-director, actor, producer and screenwriter, pointed out how over 160 films in Tamil and Malayalam film industry are being made with a budget of less than Rs 5 crore each and only about 5 per cent of them are successful.
"RRR and Beast have been made using amazing budgets and they (such films) go on to make several crores in the first few days of release. It is always seen that new talents are emerging out of these small budget films. But very few of them are successful," he observed.