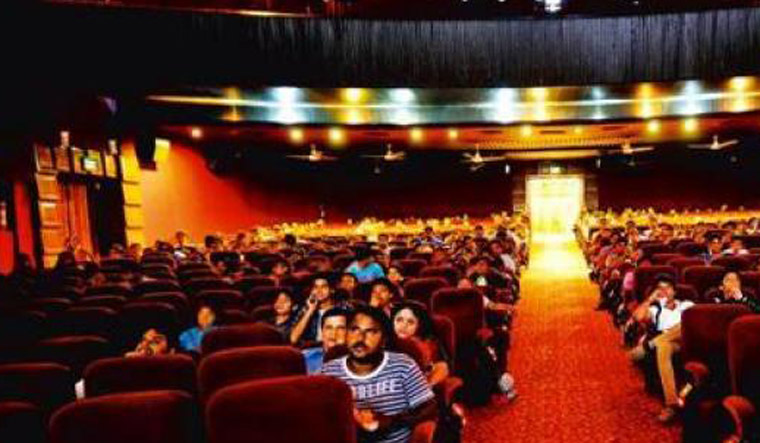 Theatres may go all out to woo consumers and convenience will be key
Indicating a behavioural shift, audiences are returning to cinemas after the COVID lockdowns with a vengeance, theatre representatives feel.
Speaking at a panel discussion on 'The Magic of Big Screen: How are theatres retaining their edge?' organised by CII-Dakshin South India Media and Entertainment Summit, Vishal Sawhney, CEO, Carnival Multiplexes, said: "They are all back with a vengeance. After being cooped up in four walls, watching the same faces, same TV and same content, people are now looking for brilliant content. People were waiting to come out of their homes and consume this content in large numbers." The Federal is the media partner of the CII-Dakshin event.
Stating that business is booming, Sawhney said: "We are far ahead of where we were pre COVID during the same months."
"So much more enhancements are happening by virtue of the look and feel provided in theatres. The next three years is all about an interface and ease of watching movies. I see a lot of innovation in these areas," he further said.
All about convenience
Theatres may go all out to woo consumers and convenience will be key. "It is all about the convenience of booking your ticket. There are platforms that help you down to reaching the parking and reaching the seat. The innovation is when you are being guided all the way to your seat as you are even 2 km away from the cinema hall or the mall. The convenience is what is going to be in focus for the next 36 months. This is the way the multiplexes are moving, not so much the single-screen cinemas," Sawhney pointed out
Also read: South Indian cinema has capacity to make a Money Heist, feels Netflix
Technological innovations, however, had slowed down in the past couple of years, he added.
Change in content needs
Rakesh Gowthaman, Proprietor, Vettri Theatres, agreed about the crowds returning to theatres but had a word to add about the kind of content people wanted to watch.
"People don't want to see serious content in theatres. Post COVID, they have had enough serious content. Feel-good movies are doing very well. People love dark humour. The creators do not have to always look at big budget films, they can work on interesting feel-good films and the audience will appreciate it," Gowthaman pointed out.
"What people need the most is a perfect theatrical experience. And Tamil Nadu has been investing in technology to enhance movie watching experience," he added.
Bigger the better
Nikilesh Surya, Director, Rohini Groups, said that the positive numbers are skewed in favour of the bigger players. "Overall boxoffice numbers are almost the same. The bigger ones are getting better. The smaller ones are getting phased out," Surya said.  Interestingly, he said, the kind of genres people are watching is changing. "Who would have guessed that a Kannada film would open to such large crowds?" asked Surya.
Also watch: Gender inclusiveness: How far has media & entertainment industry come?
"We are into Tier 2 and Tier 3 cities already. That is where the growth is going to be. Chennai or Hyderabad markets are saturated. Real growth will come in smaller towns," he added.
The panellists agreed that large screens and immersive experiences will be the game changer in the future. Cinemas will have to invest in tech. There has been a setback in investments for modernisation in the past two years, but the representatives felt that the next few years are going to see growth in this sector in leaps and bounds.