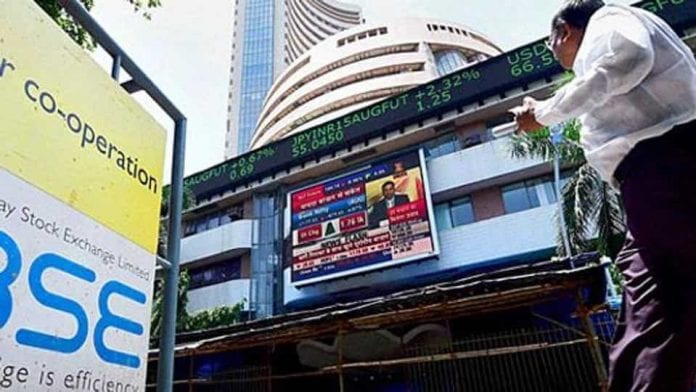 The BSE benchmark index, S&P BSE Sensex, breached the 50,000-mark in the pre-opening session for the first time on Thursday (January 21). The development came less than 10 months after the crash of March 2020, when the threat of coronavirus roiled the markets.
After touching a high of 50,126.73, the 30-share BSE index ended the day at 49,624.76.
Forecast-beating corporate earnings and hopes of economic reforms in the upcoming budget amid strong foreign inflows in the equity markets have given a boost to the market. Add to that the development of coronavirus vaccines, the inauguration of a new president in the United States, expectations of additional stimulus by the Federal Reserve, and the index has been on a tear.
Advertisement
India's Oldest Stock Exchange
Created in 1986, Sensex is the oldest stock index in India. It comprises 30 of the largest and most actively traded stocks on the BSE.
The index was launched with a base price of 100 (base year 1978-79).
Sensex was initially calculated based on market-capitalisation weighted methodology. Since September 2003, it began to be calculated based on a free-float capitalisation method.
Major Milestones
1875
The Native Share & Stock-Brokers Association, the forerunner to BSE, is formed by 318 members
1956
Bombay Stock Exchange (BSE) recognised as the first stock exchange in India; Securities Contracts (Regulation) Act passed
1977
Reliance Industries launches IPO
January 1986
Launch of 30-scrip free-float BSE index
April 1992
The Harshad Mehta scam comes to light; BSE crashes 12.77%
1995
BSE introduces BOLT (online trading) system
1996
National Securities Depository Ltd set up for handling trading and settlement of shares in dematerialised form
May 17, 2004
Congress wins Lok Sabha election; Sensex falls 15.52%
January 21, 2008
Financial recession/Black Monday: BSE falls 1,408 points to 17,605
November 9, 2016
Demonetisation: Sensex dives 1,689 points
February 28, 2020
Sensex loses 1,448 points as coronavirus cases surge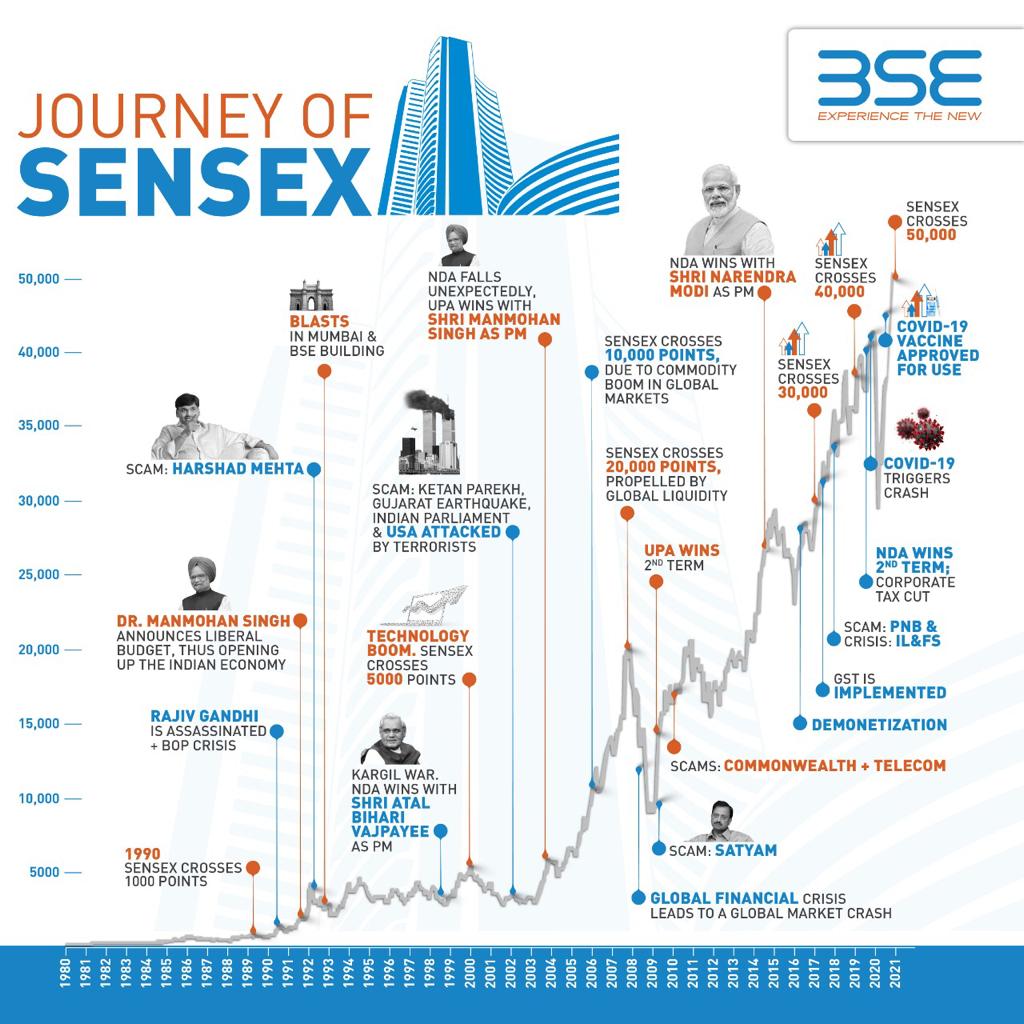 March 23, 2020
Nationwide lockdown comes into effect. Sensex slumps 3,935 points (13.15%)
January 21, 2021
Sensex crosses 50,000 mark