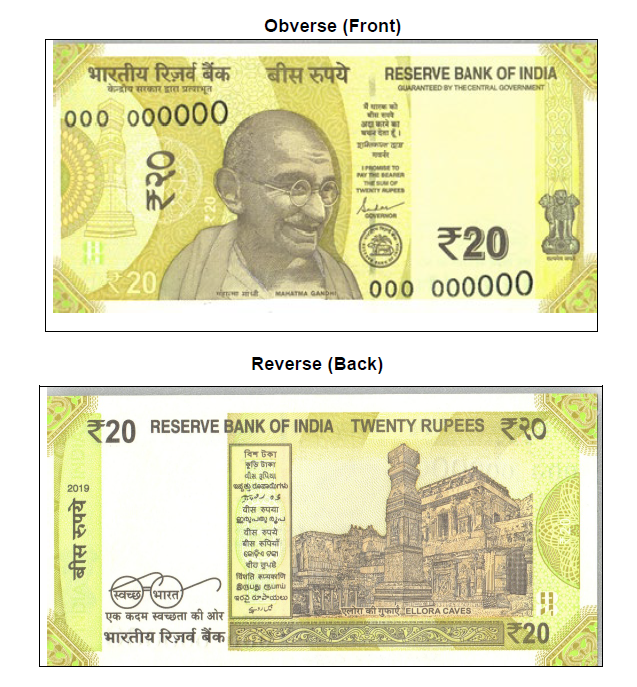 The Reserve Bank of India (RBI) on Friday (April 26) announced that it will introduce a new series of ₹20 notes. The new notes will be in greenish yellow colour, bearing the Ellora cave motifs depicting the country's cultural heritage.
These notes will have all the regular features of Indian currency such as the photo of Mahatma Gandhi, Asoka pillar emblem,  Micro letters 'RBI', 'भारत ' (Bharat), 'INDIA' and '20'. The dimension of the banknote will be 63 mm x 129 mm. It will be signed and issued by RBI governor Shaktikanta Das.
"All the banknotes in the denomination of ₹20 issued by the RBI in the earlier series will continue to be legal tender," the statement said.
Seven new currency notes have been introduced since 2016
After the demonetisation in November 2016, the government introduced a new series of notes in various denominations such as ₹10, ₹50, ₹100, ₹200 and ₹2000. The old series of ₹500 and ₹1000 were withdrawn from circulation and tendered illegal. ₹2000 was made the biggest legal tender in India post-demonetisation.
New currency notes introduced by the RBI since 2016
These currency notes have unique motifs that celebrates the cultural heritage of India. Moving away from traditional monotone and gray scale colours, the RBI started introducing several bold and bright colours in the new currencies and reduced their size considerably. Since November 2016, seven new currency notes have been introduced.