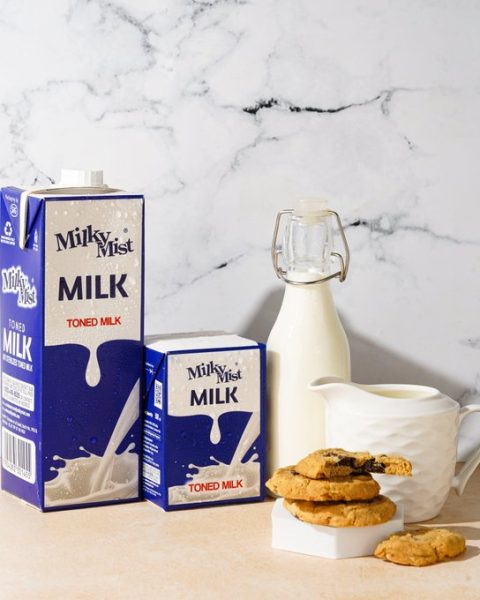 Erode-based Milky Mist has a robust balance sheet with a Rs 1,300 crore revenue and operating revenue at over Rs 925 crore in FY21. Image: Twitter/@MilkyMistIndia
An Economic Times report says India-focussed investment fund WestBridge Capital is set to acquire a minority stake in Tamil Nadu-based dairy products brand Milky Mist worth Rs 800 crore ($98 million).
What it implies: Because of a slew of government incentives, Indian startups in the dairy product business have grown rapidly in recent years. Those focused on commercialising dairy products receive 60 per cent of their first investment from the government's Kamadhenu Aayog, which has an initial capital of Rs 500 crore.
Also read: Why TN, Kerala and Karnataka are battling a crippling milk shortage
The investment in Milk Mist could be the largest by an institutional investor. The Erode-based company has a robust balance sheet with a Rs 1,300 crore revenue and operating revenue at over Rs 925 crore in FY 21, according to the latest available data on Entrackr. 
There is a growing awareness of milk adulteration. With increased consumer spending, customers' desire for private dairy companies has grown, and they are prepared to pay a premium to buy milk from private vendors. This has increased investment from venture capitalists and others in the $70 billion sector. 
For example, Matrix Partners led a Rs 70 crore ($8.5 million) equity funding round in Country Delight last year. Private actors are using drones, IoT, and blockchain to promote growth. 
Milk output in India has increased at a 5.5 per cent annual rate over the last decade. With an expected production of 208 million tonnes in 2020-21, India has surpassed the US as the world's greatest milk producer. India's per capita milk availability was 427 grams per day, compared to the global average of 394 grams per day over the same year. 
According to forecasts of the National Action Plan for Dairy Development — Vision 2020, milk procurement by organised private dairy firms will have surpassed dairy cooperative procurement levels by 2021-22. According to the latest report, the number of cows has sharply increased by 18 per cent in recent years. 
According to the National Dairy Development Board (NDDB), "overall capacity created by private dairy companies in the last 15 years equals that established by cooperatives over the previous 30 years." 
Rajasthan (15.05 per cent), Uttar Pradesh (14.93 per cent), Madhya Pradesh (8.06 per cent), Gujarat (7.56 per cent), and Andhra Pradesh (6.97 per cent) are the top five milk-producing states. According to data, overall egg production in the country in 2021-22 was 129.60 billion nos, a 6.19 per cent increase over the previous year. 
Food delivery apps under threat from govt-backed e-commerce platform ONDC
ONDC (Open Network for Digital Commerce) may be the biggest disrupter in the app-based food delivery business, offering 30 per cent to 80 per cent discount on food items, according to a report in Economic Times. 
What it implies: First, what is ONDC? It's a platform that enables sellers to post their products on the suggested platform without worrying about substantial commission fees, a prevalent issue with popular platforms. This would provide additional opportunities for sellers to earn, which is not necessarily the case on other sites. 
Opinion | ONDC: Where lofty ideals may take an operational reality check
ONDC's platform is intended to give consumers a wide range of unbiased search results and listings, free of prejudice or listing in favour of specific products. One of the significant advantages of using ONDC is that there are no commissions, which is in contrast to other powerful platforms that charge huge costs. ONDC pledges to maximise sales earnings, allowing sellers to keep more hard-earned cash.
The platform would enable retailers to access a more comprehensive online audience without worrying about logistics or packaging. For example, a Kolkata seller could sell jute bags to an Ahmadabad buyer and tie them up directly with a logistics firm. While the success of ONDC may disturb the duopoly (Amazon and Flipkart), if it can collaborate with both incumbents and vertical leaders, it will expand the network of buyers and sellers. But more needs to be done to make the platform more robust and to redress the grievances of those onboard it. 
Corporate India's profits grow closest in 11 quarters till March 
The combined net profit of nearly 400 companies during the fourth quarter of FY23 (2022-23) shows that it has grown only 2.3 per cent, turning out its worst performance since April-June 2020, according to a report in Business Standard. 
What it implies: While listed company profits have increased in the last two years, unlisted corporate profits have plummeted to the point where aggregate corporate earnings in India have decreased since COVID. For years, India has struggled with persistently high inflation. Inflation has reached double digits in recent years. 
With rising inflation, the RBI has raised interest rates, making borrowing more expensive. This directly influences businesses, particularly those in the consumer goods sector. For starters, rising prices increase companies' input expenses. Second, continuous inflation has an impact on demand. People tighten their purse strings and spend less as costs rise. This affects sales and total revenue. As a result, the market in India has suffered dramatically in recent years.