Indian Railway Catering and Tourism Corporation (IRCTC), a subsidiary of the Indian Railways has set the price band for its initial public offering at ₹315-₹320 per share. The Initial Public Offering (IPO) by President of India, the nominal owner of PSUs in India, is for the sale of 2 crore shares (representing 12.50 per cent of total paid-up equity).
There would also be an additional employee reservation portion of 1.6 lakh shares, taking the total offer size to 12.6 per cent of total paid-up equity.
The objects of the offer according to IRCTC' Draft Red Herring Prospectus filed with the SEBI is to carry out the disinvestment of equity shares by the selling shareholder (government) and to achieve the benefits of listing the equity shares on the stock exchanges.
The IRCTC will not receive any proceeds from the offer and all proceeds will go to the selling shareholder. In other words, the process of IPO is more about letting the market determine the value of its assets over raising capital as divestment proceeds. This move is expected to raise about ₹600 crore for the government.
An article in The Federal's Eighth column, it was analysed that if there is data driven push in terms of IRCTC' monetization capabilities, this could then potentially boost its valuation.
Launch of new products like the iMudra (August 2019) is essentially seen as a strategy that could leverage the existing data assets of IRCTC. The agency in August launched iMudra wallet to provide an easy way to book railway tickets as well as pay, send or withdraw money. The iMudra wallet comes with both virtual and physical card and offers customised and exclusive offerings for its customers. According to the India Mobile Wallet Markets Report 2019, the wallet markets in India is projected to grow from $16 Billion in 2018 to $184 Billion by 2024, growing at a CAGR (compound annual growth rate) of 44 per cent.  Among applications of mobile wallets, money transfer dominates the Indian mobile wallet market as there is a high volume of peer to peer and peer to bank transfers. IRCTC through its new wallet launch iMudra is looking to ride on this wave.
Live streaming of kitchens across stations
The report of the CAG on catering services in Indian Railways (No. 13 of 2017) ("CAG Report 2017") had highlighted several deficiencies in the quality of food and beverages available on trains and in railway stations, including highlighting issues relating to cleanliness and hygiene of kitchen and as well as overall quality of food available.
IRCTC provides food catering services to the passengers of Indian Railways on trains and at the stations. In 2017-18, 48 per cent of its total revenue came from license and departmental catering.  Any adverse claims, media speculation or other public statements relating to their food and service quality could materially and adversely affect IRCTC's reputation and corporate image.
The success of IRCTC's catering business depends significantly on the quality of their food and services which are impacted by their ability to maintain cleanliness and hygiene at all locations where IRCTC serves food and provides catering services, including to people who ordered remotely on e-catering website.
In order to increase customer confidence, IRCTC has facilitated 24×7 live streaming of kitchens where food is being cooked. This is arguably the first time where such a technology has been used.
The travel and tourism business segment is highly competitive in India. Several factors affect IRCTC's competitiveness in this business segment of theirs including price, availability and choice of different services and products, brand recognition, customer service, ease of use, accessibility and reliability.
Currently, other private players backed by VC/PE money seem to command considerable advantage over IRCTC here. IRCTC competes with both established and emerging service and product providers in air ticketing, hospitality and tour package offerings. Some of IRCTC's competitors in this segment have significantly greater financial, marketing, personnel and other resources and superior brand recognition in the Indian market.
Until and unless IRCTC is able to match these discounts and tailored offering from time to time, it might be tough for it to garner market share. This in turn may require the agency to reduce prices and offer discounts to effectively compete and maintain market share. Also some of IRCTC's current vendors and suppliers such as airlines and hotel chains, may decide to promote their own distribution channels and decrease association with travel platforms (like IRCTC) and hence cause financially adverse situations.
Revenue from tourist trains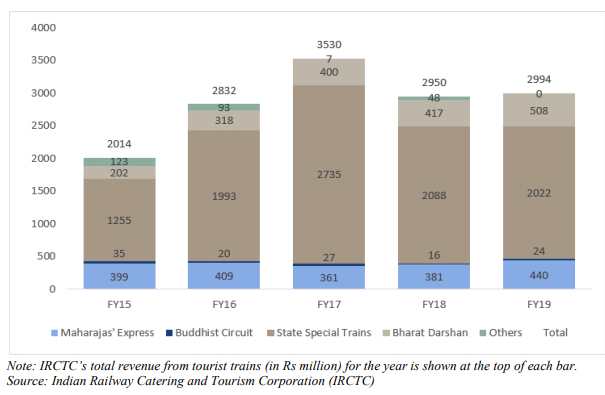 IRCTC is currently a zero debt company. Its total revenue for FY- 2019 March was ₹1,956 crores with a PAT of ₹272 crore. Based on comparable valuations with other PSU's the current issue might have been priced by the government looking at an opportunity to revive a rather dull and non existent primary market.