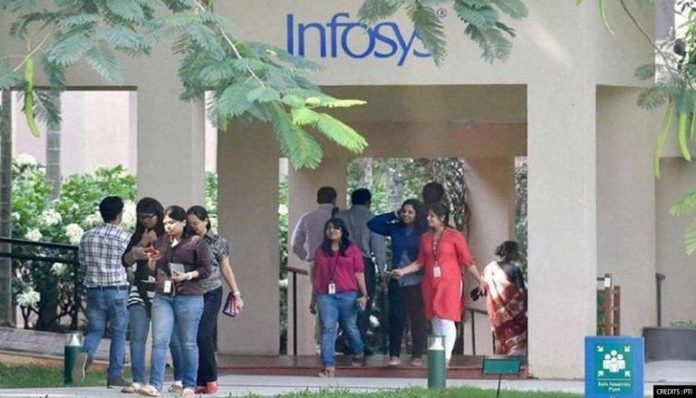 IT services majors Tata Consultancy Services (TCS) and Infosys added more than 1.85 lakh fresh talent combined for the financial year that ended March 31. However, both companies report record attrition rates.
TCS said it added an all-time high of 103,546 employees in FY 22 to take the total headcount of the company to 592,195 (35.6% women) while Infosys hired 85,000 taking its total workforce to 3,14,015 (39.6% women), of which, 2,97,859 are software professionals.
In Q4, TCS added 35,209 employees on a net basis, the highest ever net addition in a quarter. In the same period, Infosys hired 21,948 employees.
"The workforce continues to be very diverse, comprising 153 nationalities and with women making up 35.6% of the workforce," TCS said.
Amid fresh hiring, Infosys reported a record 27.7% attrition in FY 22. In the quarter ended December 31, 2021, it was 25.5%, and 10.9% in Q4 FY 21.
After posting a 12% increase in March quarter net profit, Infosys said it plans to add 50,000 freshers in FY23.
Salil Parekh CEO and MD, Infosys, said, "With the acceleration of digital disruptions across industries, we see immense potential to engage and partner with clients as they transform, adapt and thrive. We will scale talent globally, invest in employees and accelerate innovation and digital capabilities to capitalise on the expanding market opportunity."
TCS' attrition rate was less compared to Infosys as it stood at 17.4%. It increased by 2.1%, from 15.3% from the previous quarter. In FY 21, it was below 10, at 8.6%. The company is set to hire 40,000 freshers in FY 23.
"The company's philosophy of investing in people, and its progressive workplace policies have resulted in industry-leading retention in an environment of increased churn. IT services attrition continued to climb, reaching 17.4%. However, incremental attrition has moderated," the company said.
Rajesh Gopinathan, chief executive and managing director at TCS, said, "Fresher hiring and productive use of freshers is a long-cycle activity. But you have seen the industry step-up hiring over the last four quarters. We expect that as that supply hits productive use, that will ease up a lot of what was going on over the last few quarters. So, that's why when we say that as we look forward two quarters ahead, we think that attrition will flat line and then start tapering."
Talking about attrition, Sandip Agarwal, Research Analyst, Institutional Equities at Edelweiss Securities, said this was due to a lack of supply.
"Attrition will surprise negatively for every company and everyone and the reason is that there is no real supply coming in. It's just poaching – from one company to another – and that is the reason we are in this situation," Agarwal told CNBC TV18.