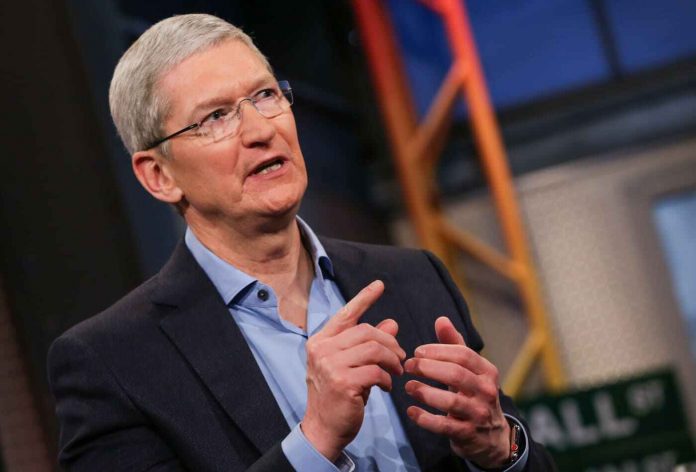 Heaping praise on India calling in an "incredibly exciting market" with "unbelievable vibrancy", Apple CEO Tim Cook said that India is a "major focus" for the company. The Cupertino-based iPhone maker also highlighted that business in India "set a quarterly record, grew very strong, double-digits year-over-year".
During the Q2 earnings call of the company, Cook said, India is at a "tipping point".
Apple has in fact charted an ambitious retail expansion in India last month, when it launched two retail outlets in Mumbai and Delhi, during Cook's first trip to the country in seven years.
The two stores are "off to a great start", Cook further said during the quarterly earnings call. "Looking at the business in India, we did set a quarterly record, grew very strong, double-digits year-over-year. So, it was quite a good quarter for us, taking a step back, India is an incredibly exciting market," Cook said, praising the "dynamism in the market" and asserted that its "vibrancy is unbelievable".
"It's a major focus for us. I was just there, and the dynamism in the market, the vibrancy is unbelievable. Over time, we've been expanding our operations there to serve more customers, and three years ago, we launched the Apple Store online, and then, as you just mentioned, we launched two stores just a few weeks ago, and they're off to a great start, one in Mumbai and one in Delhi," he said.
Also read: Apple CEO Tim Cook bullish on India
Apple has a number of channel partners in the country and is "very happy with how that's going overall".
"Overall, I couldn't be more delighted and excited by the enthusiasm I'm seeing for the brand there. There are a lot of people coming into the middle-class, and I really feel that India is at a tipping point, and its great to be there," Cook said.
Apple's plans in India
Cook, during his recent India trip, had met Prime Minister Narendra Modi, as well as minister for electronics and IT Ashwini Vaishnaw, and minister of state for IT Rajeev Chandrasekhar, as he pledged the company's investment commitment to India.
Looking to replicate what China did to Apple's business in the last 15 years, the tech giant is eyeing India's massive market with an expanding middle-class to power sales growth, and potentially make it a home base for the production of millions of Apple devices.
The new stores in Mumbai and Delhi come at a time when Apple is trying to deepen its retail push in India, the world's second-largest smartphone market. As such, India is also home to factories that produce 5 per cent of total iPhones, as Apple diversifies its supply chains away from China.
Also read: Thousands flock to Apple's first official store in Delhi; CEO Tim Cook welcomes customers
"And as I noted earlier, in a milestone for Apple, we just opened our first two Apple stores in India, in Mumbai and Delhi. I was there to see it for myself, and I couldn't have been more delighted by the excitement and enthusiasm of the customers, developers, creators and team members I got to spend time with," Cook said during the earnings call.
Apple has announced financial results for its fiscal 2023 second quarter ended April 1, 2023. The company posted quarterly revenue of $US94.8 billion, down 3 per cent year over year.
"Today, were reporting revenue of US$94.8 billion for the March quarter, which was better than our expectations. We set an all-time record for services and a March quarter record for iPhone," Cook said.
He went on to add: "We were particularly pleased with the performance we saw in emerging markets and achieved all-time records in Mexico, Indonesia, the Philippines, Saudi Arabia, Turkey and the UAE, as well as a number of March quarter records, including in Brazil, Malaysia and India."
(With agency inputs)