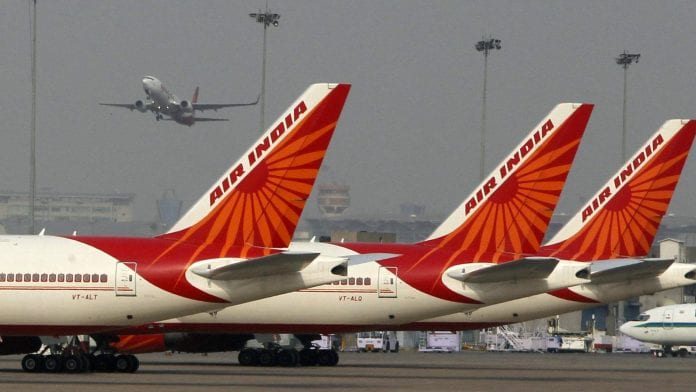 The Union Cabinet, on Wednesday (March 4), has approved 100 per cent Foreign Direct Investment (FDI) by NRIs for the privatisation of Air India.
The investment would be allowed via an automatic route that refers to more liberalised regulations under which an investor does not need to take any approval from the Reserve Bank or Government of India while injecting money into the company.
The Tatas from India and London-based Hinduja family are considered to be the prospective buyers for the airline.
Related news: Air India may have at least one bidder this time: the Tatas
The government had invited an Expression of Interest (EoI) for potential buyers for Air India and two of its subsidiaries – Air India Express and AISATS, a joint venture between Air India Ltd and Singapore Airport Terminal Services Private Ltd.
Air India Express is a low-cost subsidiary of the flagship carrier while AISATS is the ground-handling arm of it. Only a 50 per cent stake in AISATS has been put on the sale.
The deadline to submit bids is set on March 17 while the short-listed bidders from the first round will be declared by the government by March 31.
Related news: Air India has dues of over ₹822 crore towards VVIP charter flights: RTI
This is the second time the government is trying to sell Air India completely. The debts have been substantially reduced and a 100 per cent stake is offered to make a deal more attractive.
Air India has one of the extensive network coverages with 98 (domestic and international) destinations having 2712 international and 450 domestic departures per week.
It has 25 codeshare agreements with various foreign carriers which enables the flagship airline to provide 75 additional destinations through their secondary network.
Related news: Union government's sweetener for Air India sale needs a reality check
The operational revenue for the financial year 2019 is recorded to be ₹ 25,508 crores with 22.1 million passengers taking up the flights round the year.
Though the government seems to be determined to sell the airline, the opposition is not quite satisfied with the decision. Subramanian Swamy, one of the key members of the ruling BJP has also expressed disapproval and warned the government against the move.