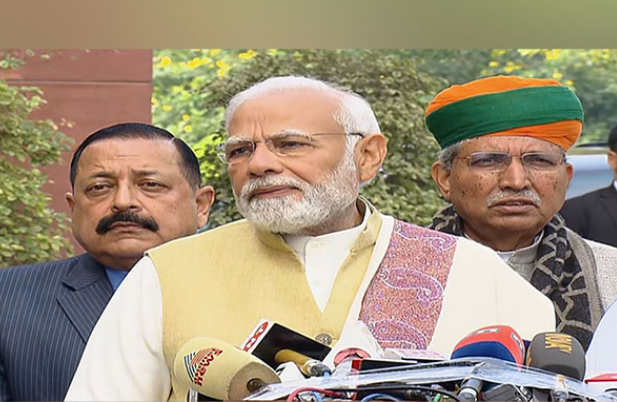 For much of his prime ministerial tenure, Narendra Modi has carefully evaded the lure of populist budgets ahead of crucial elections for state assemblies or the Lok Sabha. Instead, he has, through his finance ministers, used the budgetary exercise to build entirely new vote banks through proposals directed at an overarching, and often amorphous, bloc of the population while simultaneously mooting cleverly-worded schemes, backed with generous allocations, that can be relied upon throughout a financial year to dole out centrally-sponsored largesse for specific castes and communities or even states.
The Union Budget, presented by Finance Minister Nirmala Sitharaman on Wednesday (February 1), largely followed this new convention of the Modi years. Her fifth budget as finance minister belied expectations and assumptions that electoral considerations for the 2024 Lok Sabha polls and the slew of assembly polls due this year amid palpable public discontent over unemployment and rising prices would finally force Sitharaman to take the populist route.
Also read: Budget will boost growth, provided budgeted capex materialises
Notable omissions
In fact, much to the chagrin of Opposition parties, particularly the Congress, Sitharaman refused to even acknowledge unemployment, skyrocketing inflation and high fuel prices as challenges for the Modi government. The omission almost seemed deliberate as the Congress and its former chief Rahul Gandhi quite literally traversed the length of country over the past five months of the Bharat Jodo Yatra trying to build a strong narrative against the Modi government's inability to address growing joblessness and rising prices.
It was no surprise that former finance minister and Congress leader P Chidambaram, while reacting to the Union Budget, expressed regret that Sitharaman had "not mentioned the words unemployment, poverty, inequality or equity anywhere in her speech" and that even the word 'poor' was mentioned by her only twice through her 87-minute budget speech – her shortest yet – in the Lok Sabha.
It would, however, be folly to assume that Sitharaman – or rather the Prime Minister – has prioritised fiscal prudence over election-driven populism. By pitching for a steep 33-per cent hike in capital expenditure, promising to bring down fiscal deficit to 5.9 per cent of the GDP and projecting a 7 per cent GDP growth estimate amid predictions of an imminent global recession, Sitharaman signalled that she plans to steer clear of the fiscal recklessness that Modi repeatedly accuses previous Congress governments of. However, it would be grossly wrong to credit her for ignoring the BJP's party's electoral needs.
The two exceptions
At the face of it, there are, perhaps, only two prime examples of populism, or at least electoral considerations, in Sitharaman's budget. The first, of course, is the moderate relief she has given to the electorally formidable middle class by raising exemption limits, albeit for only those who have switched to the new tax regime. While offering no relief to those still opting for the old tax regime, Sitharaman has proposed that tax payers under the new tax regime who have an annual income of less than Rs 7 lakh, as opposed to the previous cap of Rs 5 lakh, need not pay income tax.
Her critics may balk at the proposal given that a majority of tax payers still seemingly are under the old tax regime, or because her decision to differentiate between tax payers under the two regimes comes when the BJP has been pushing for uniformity in practically everything else – 'one nation, one ration card', 'one nation, one fertilizer', 'one nation, one constitution' (a la J&K – abrogation of Article 370)  or even the yet unimplemented 'one nation, one election' and 'one nation, one law' (uniform civil code). But, Sitharaman has stoutly defended her move by stating that her proposal is meant to "make the new tax regime more attractive" and thus "encourage" people to switch to it from the old one.
Also read: Budget 2023 in a nutshell: New tax slabs + top announcements FM made
The finance minister's other evidently poll-driven proposal is the central assistance of Rs 5,300 crore for Karnataka's Upper Bhadra project under the guise of providing relief to "drought-prone central regions" of the state where assembly elections are due in a few months and the ruling BJP is facing strong anti-incumbency.
But like capital expenditure that is aimed at long-term asset creation, there are some key announcements in the budget that are, arguably, motivated by the BJP's need for long-term electoral asset creation.
New vote banks
Over the past two years of the pandemic, Modi shrewdly marshalled a number of populist schemes to create a distinct 'laabharthi' (beneficiary) vote bank for the BJP. Much as he derided his political opponents for indulging in 'revdi' politics by promising a litany of 'freebies' for the electorate in poll manifestoes and budgets, Modi used schemes such as distribution of free ration, allocation of free houses, direct benefit transfers to Jan Dhan accounts, etc., to carve out a vote bank – indistinguishable on indicators such as caste, class, gender or region, but formidable and seemingly more loyal in its electoral preference – of beneficiaries that, in the PM's own words, "would not betray the BJP" because they had consumed "Modi ka namak".
Sitharaman's latest budget has the potential to add another word that will now give company to laabharthis in the BJP's evolving lexicon of electoral sobriquets – Vishwakarma. The PM Vishwakarma Kaushal Samman Yojana (PM-VIKAS), that Sitharaman announced in her budget speech, is aimed at enabling artisans – not just from the Vishwakarma caste but any traditional artisan, craftsperson – "to improve the quality, scale and reach of their products, integrating them with the MSME value chain". Sitharaman, and later Modi during his televised speech on the budget, rightly pointed out that this scheme will "greatly benefit the Scheduled Castes, Scheduled Tribes, OBCs, women and people belonging to the weaker sections".
Also read: Budget 2023 lays foundation for developed India: PM Modi
Artisans, as a community, may be a nebulous electoral entity but they form a sizeable chunk of the electorate across various states. Most of them belong to the socially and economically backward communities that the BJP has been trying to woo through a number of other political and policy initiatives. But with PM-VIKAS, Modi is likely to attempt cementing this particular grouping into a vote bloc.
Tribal outreach
Similarly, it can't be mere co-incidence that the finance minister has proposed a Pradhan Mantri PVTG Development Mission, with an outlay of Rs 15,000 crore to be spent over the next three years, to "improve the socio-economic conditions of the particularly vulnerable tribal groups (PVTG)" while also announcing that Centre "will recruit 38,800 teachers and support staff for the 740 Eklavya Model Residential Schools, serving 3.5 lakh tribal students".
Both these measures are evidently aimed at consolidating the BJP's electoral clout over the tribal community. Modi and his party have already been aggressively wooing the tribal community over the past few years, particularly after the party lost a sizeable chunk of the ST-reserved seats to the Congress or other Opposition parties in states such as Chhattisgarh, Madhya Pradesh, Rajasthan, Tripura (all bound for polls this year), Jharkhand, Bengal and Maharashtra.
Wooing women
Continuing with the BJP's efforts of consolidating women as a singular voting bloc, the budget also has specific proposals targeting young girls, working and elderly women, either under the garb of projects meant for self-help groups or through the short-term Mahila Samman Saving Certificate scheme.
Similar outreach has also been made through a number of other projects and schemes aimed at creating new pockets of voters in India's massive cooperatives sector and the predominantly youth-driven start-ups.
The finance minister may not have directly made allocations that can attract charges of going populist in an election-packed year, but the allocations she has made to several existing schemes allows Modi to leverage these at any point in electorally-testing times to announce big-ticket revdi schemes. He has done so with remarkable prowess over the years, most notably during the pandemic when he rolled out free rations under the PM-Garib Kalyan Anna Yojana for 80 crore Indians, in addition to the regular quota of foodgrain given under the National Food Security Act (NFSA).
Also read: Budget offers bounty, but with subtly placed caveats
The PM-GKAY, which became the most important building block for Modi's laabharthi vote bank, has been extended by Sitharaman under the budget for another one year, that is, till February 2024 – or in other words, till a month before the 2024 Lok Sabha polls.
Those joyously – or angrily – claiming that Modi hasn't fallen for the populism trap may want to hold their horses for now. The PM has shrewdly and surely de-lineated the budget exercise from poll-time populism, but also turned the latter into a five-year plan wherein the finance minister makes broad allocations annually only for Modi to dip into them as and when an electoral challenge arises.