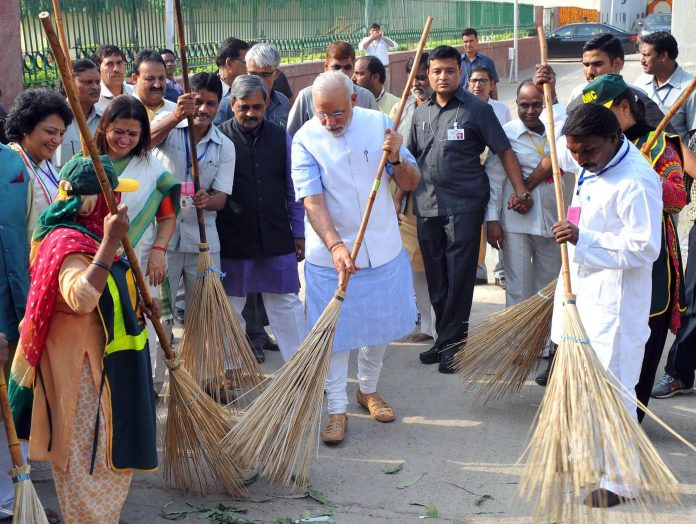 In a major boost to the Swachh Bharat Mission (Urban), the Centre on Wednesday (February 1) announced a 150 per cent hike in the outlay of its flagship scheme with an allocation of ₹5,000 crore in the Union Budget 2023-24.
However, there has been a nine per cent decrease, with an allocation of ₹2,132 crore, for the construction of non-residential office buildings, including the Central Vista project, Parliament and Supreme Court, as compared to the revised estimates of ₹2,344.08 crore in the last fiscal.
Also read: Budget 2023-24: Centre hurtles along infra track with 33% capex hike
On October 1, 2021, Prime Minister Narendra Modi had launched the second phase of the Swachh Bharat Mission (Urban), which envisions making all cities in the country "garbage-free". In the 2022-23 revised estimates, the SBM(U) was allocated ₹2,000 crore.
The Union Housing and Urban Affairs Ministry, which has been implementing the SBM(U) and the Central Vista redevelopment project, was allocated ₹76,431.6 crore in the budget.
₹19,518 crore for all metro projects
According to the budget presented by Finance Minister Nirmala Sitharaman, an amount of ₹19,518 crore has been earmarked for all the metro projects in the country.
Another ambitious scheme of the government, AMRUT (Atal Mission for Rejuvenation and Urban Transformation), was allocated ₹8,000 crore, as against ₹6,500 crore allocated to it in the revised estimates for the last fiscal.
The Smart Cities Mission was allotted ₹8,000 crore as against ₹8,800 crore in the revised estimates for the last fiscal.
UIDF to ramp up infra in tier-2 and tier-3 cities
Sitharaman announced that an Urban Infrastructure Development Fund (UIDF) would be established to ramp up infrastructure in the tier-2 and tier-3 cities with an annual allocation of ₹10,000 crore.
She said the states would be encouraged to leverage resources from the grants of the 15th Finance Commission as well as existing schemes to adopt appropriate user charges while accessing the UIDF.