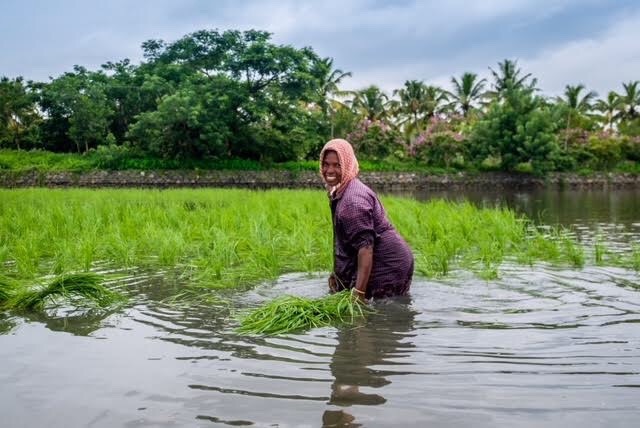 Union Finance Minister Nirmala Sitharaman, in her Budget speech on Monday, announced a new cess on agriculture development, which will be 100% on alcoholic beverages, ₹2.5 per litre on petrol and ₹4 per litre on diesel. The new agri development cess will be applicable from February 2, 2021, announced the finance minister.
The agri cess would be 17.5% on crude palm oil, 20% on crude soyabean and sunflower oil, 30% on kabuli chana, 10% on peas, 50% on Bengal gram, and 20% on lentil. On cotton it would be 5%. The cess would be 2.5% on gold and silver bars, 35% on apples, 5% on specified fertilizers, and 1.5% on coal, lignite and peat.
The government's push for the agri sector comes amid protests against its three farm laws that the farmers believe are in favour of corporate interest. Monday's speech was, however, marred by slogans raised by Opposition MPs demanding repeal of the "black" farm laws.
Presenting the Union Budget 2021-22 in the Parliament, Sitharaman said agri procurement has increased steadily and benefited farmers. The minister said 43.36 lakh wheat-growing farmers had benefited from the government procurement under MSP as against 35.57 lakh previously. "Farmers paid ₹75,100 crore on wheat MSP in FY21," she announced.
She also said that the agriculture credit target has been raised to ₹16.5 lakh crore in 2021-22. "Agri infra fund would be made available to APMCs to augment infrastructure facilities," said the finance minister, adding that "Agri Infra Fund has been increased to ₹40,000 crore, Micro Irrigation Corpus doubled to ₹10,000 crore."
Related news | COVID-19 relief raised expenditure to ₹34.50L Cr: Sitharaman
After the budget was presented, BSE benchmark Sensex zoomed over 1,700 points and the NSE Nifty reclaimed the 14,000-level driven by gains in financial stocks. After touching an intra-day high of 48,004.71, the 30-share Sensex was trading 1,660.99 points or 3.59% higher at 47,946.76; and the broader Nifty surged 462.15 points or 3.39% at 14,096.75.
The minister said the Centre estimates fiscal deficit of 6.8 per cent of the gross domestic product (GDP) in the next financial year beginning April 1, and the fiscal deficit in 2020-21 is estimated to soar up to 9.5 per cent due to rise in expenditure on account of outbreak of COVID-19 and moderation in revenue during this fiscal year.