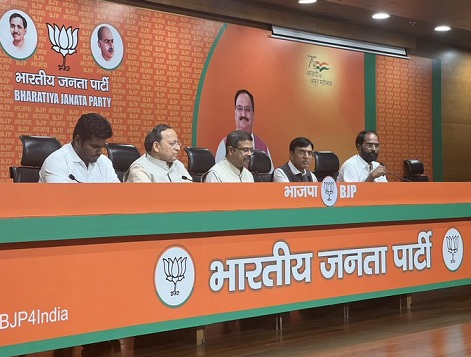 The BJP national leadership, which had been withholding the release of the ticket list for Karnataka Assembly elections for various reasons, is finally said to have put out in public after yielding to the demand of state leaders. Sources said even though the central leadership of the party wanted to experiment with the selection of the candidates a la Gujarat, the same couldn't materialise in Karnataka due to internal pressure put by state leaders.
The BJP Central Election Committee member BS Yediyurappa, who was kept out of the meeting on Monday (April 12) and was feared to dissent lest his proposed names were not accepted, is said to have arm-twisted the central leadership into accepting 30 per cent of the names in the list he had drawn up.
Also read: Karnataka polls: BJP releases first list; BSY's son Vijayendra to contest; 50 new faces fielded
As a result, the party could only replace nine sitting MLAs and introduce 52 faces in 189 constituencies in its first list of candidates.
What's behind the 52 new faces?
Of the many reforms the central leadership wanted to bring in Karnataka was to end the trend of 'family politics.' The party, however, was unable to do so as it had to give tickets to the children of Yediyurappa, Anand Singh, the late Umesh Katti and the Jarkiholi brothers among others to keep senior leaders happy. KS Eshwarappa and V Somanna are waiting for their sons to be accommodated in the second list of candidates for the polls.
Even though the party says it has given tickets to 52 new faces, the truth is some of the nine candidates it replaced to accommodate the new names are sitting MLAs who have announced their retirement. Of the nine replaced sitting MLAs, senior leaders including Yediyurappa, Eshwarappa, Anand Singh, and Haladi Srinivas Shetty have announced their retirement from electoral politics. Leaders like Sanjeeva Matandoor and K Raghupati Bhat, who are facing allegations against their names have been easily replaced from coastal Karnataka.
Also, the new faces include Yediyurappa's son BY Vijayendra, Anand Sigh's son Siddartha Singh, and Haladi Srinivas Shetty's proposed candidate Kiran Kumar Kodgi. Interestingly, 49 of the new faces have been fielded from constituencies where the BJP didn't win in the 2018 Assembly polls and wants to build a base.
Ashoka and Somanna
Senior leaders R Ashoka, a Vokkaliga leader and V Somanna, a Lingayat strongman, are the only two from the party to be fielded from two constituencies each.
Interestingly, both the leaders have been pitted against KPCC chief DK Shivakumar at Kanakapura and former chief minister Siddaramaiah at Varuna. That apart, they will be fighting from their two other constituencies – Padmanabhanagar for Ashoka and Chamarajanagar for Somanna.
A good friend of Siddaramaiah since their JD(S) days in Bengaluru's Vijayanagar, Somanna is said to have been initially reluctant to contest from Varuna. However, he is now faced to fight from the neighbouring constituencies of Chamrajanagar and Varuna, both of which have the Lingayat population in considerable numbers.
Also read: BSY exit from BJP meet worries supporters; Congress highlights 'insult'
Senior BJP leaders have questioned the party's decision to field the two senior leaders from another strong constituency other than their traditional choice of seats while newbies could have been fielded from Varuna.
"People will think that Somanna may win from Chamarajanagar and Ashoka from Padmanabhanagar, but why have they been fielded from Varuna again? If new faces were given chances in both the places, it would have helped the party to develop its leadership in constituencies like Varuna or Kanakapura," a senior leader said.
Sources say, Yediyurappa's son Vijayendra was offered a ticket from Varuna, but his father categorically denied it and sought a seat from his home turf Shikaripura. As per Somanna's wish, his original constituency Govindarajanagar has been kept vacant as he is trying to accommodate his son Arun Somanna there. Similarly, the Shivamogga constituency has been kept vacant after Eshwarappa announced his retirement from electoral politics. He is lobbying for his son KE Kantesh to be fielded from the same.
Balancing act
The BJP leadership is also holding talks with disgruntled leaders along the sidelines of the polls. BJP's national president JP Nadda has asked Jagadish Shettar to meet him on Wednesday, after the latter questioned the leadership for asking him to make way for others in his constituency.
Eshwarappa, who was asked to retire from electoral politics, too has been asked to meet Nadda on Wednesday, possibly to discuss about his son's ticket.
Tickets to poached leaders
The party has judiciously avoided any rebellions from leaders it poached from the JD(S) and Congress by giving them tickets.
Leaders like Muniratna Naidu, K Gopalaiah, ST Somashekhar, Byarati Basavaraj, MTB Nagaraj, Dr K Sudhakar, KC Narayana Gowda, Ramesh Jarkiholi, and Mahesh Kumathalli have been given tickets in the elections. Sources said some of them, after learning about their possible elimination from the list, tried to go back to their original party. Gopalaiah, Narayana Gowda and others expressed their wish to join the Congress, but the BJP succeeded in keeping them in the party fold.
Yediyurappa's upper hand?
Sources say, after Yediyurappa was kept out of the meeting in Delhi and had to return to Bengaluru, he sent an indirect message to the Delhi leadership, cautioning them about "tough challenges soon." He is said to have had the last word as not only the central leadership agreed to give his son a ticket. but the first list of candidates also had more than 30 names from the list recommended by Yediyurappa.
Also read: Karnataka polls: Stage set for BJP heavyweights vs top Cong leaders
Yediyurappa reportedly wanted MLAs who resigned from the Congress to join the BJP in 2018 and helped him form government to be given tickets.
The central leadership seems to have conceded to those demands. In other words, the central leadership was not in a position to neglect the demands of the state leaders and had to forego a list which had names of candidates from non-political families and party workers, to choose names from list put forth by the state leadership.