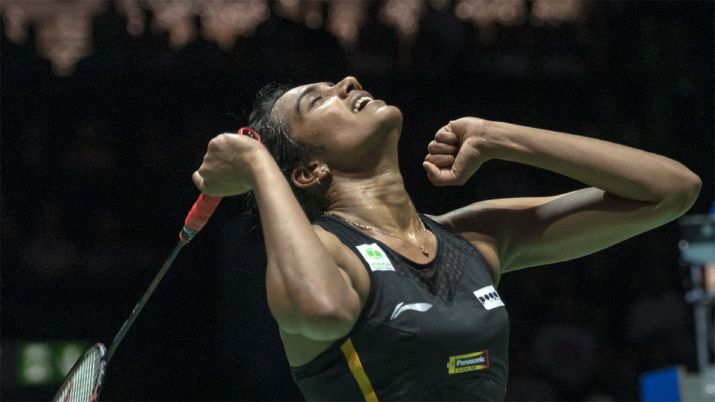 With the world gold in her bag, Sindhu has only Tokyo to conquer
Soon after PV Sindhu won gold at the Badminton World Championship held at Basel, Switzerland, home town of Roger Federer, PT Usha tweeted a picture of a little girl sitting on her lap with the widest of grins on her face.  Nothing about that grin on the face of the cuddlesome Sindhu betrayed any ambition but, it was just joy at being with someone whom her parents must have told her is an athletic great and a frequent medal winner.
The passion and dedication for the sport will always be rewarded when hardwork comes into play. @Pvsindhu1 success will inspire generations to come!
Hefty congratulations on winning the Gold at #BWFWorldChampionships2019 ?? pic.twitter.com/xBP7RgOHnt

— P.T. USHA (@PTUshaOfficial) August 25, 2019
But now so many years later, the baton of greatness has been passed down to Sindhu after she became the first Indian to win the world championship in a game that has for long been an East Asian carnival. So much so that even two Vietnamese reached the last stages both in the men's and women's event at Basel.
Also read: Sindhu scripts history, becomes 1st Indian to win World Championship 
At Basel, Sindhu exorcised her ghosts and her fear of the top ranked players against all of whom her head to head numbers are not too good. As Gopichand himself admitted, Sindhu was hugely relieved that Akane Yamaguchi lost in the early rounds. Also once she toppled the third seed Taiwanese Tai Tzu Ying, Sindhu gained confidence. Sindhu's losses in crucial events and in the 10 finals in the run-up to this world championship was a big worry.
In the end, Sindhu didn't have to work too hard for the 21-7, 21-7 win in 37 minutes for gold. One reason is that the fierce, but pint-sized Nozomi Okuhara was off colour and from the very beginning her defence was in tatters. This became evident early on in the match, when she could not lift even a mid-sized smash from Sindhu, which she flicked on to the net.
Such defensive shots are routine for all world level players but it was not Okuhara's day. Sindhu took the cue and then went all-out, increasing her power game, which is often subdued as she opts for tactical rallies rather than the quick-fire cross court smashes. Okuhara was left screaming in frustration as her errors multiplied as if demons from the past had come to haunt her.
Also watch: PV Sindhu becomes first Indian to win Badminton World Championship 
Sindhu is the tallest among the top ranked players but she does not use her height to execute smashes, most probably because all her major opponents have a solid defence. But on the final day everything worked for her, just as things turned topsy-turvy for Okuhura who had come off a three-setter against the dicey and spicy Thai, Ratchanok Intanon in the semi-finals where she was all fire and brimstone. Against Sindhu, her errors were compounded and even her normally accurate shots were long or wide.
Sindhu also had the more pumped up Korean coach Kim by her side (compared to the sedated Gopichand) during the tournament which would have helped boost her confidence too. It is high time that Sindhu is given a coach all to herself all the way up to the next Olympics. With the Hyderabad trainer Sidharth Verma in her camp now, the team looks almost set.
Sindhu's victory over world no 2, Tai Tzu Ying in the quarters is more important from the long-term perspective since the tiny Ying is a bagful of tricks, with an array of deceptive shots and mind-boggling net play. Sindhu will no doubt have to add a couple of strokes to her rich repertoire to help her at the net and she can easily copy them from Ying.
The old master Prakash Padukone has suggested that now Sindhu should concentrate on just two biggies for next year: the All England and the Tokyo Olympics where the Japanese and Chinese armada will be in full strength. He feels that she should drop some of the Super Series events to conserve her strength and strategy. It may be a good idea but if she wins a few tournaments in the run up to Tokyo, that will be the much needed confidence booster. Also, she needs some more victories against Yamaguchi, Ying and Intanon.
Also read: Saina crashes out in pre-quarters of badminton World Championships 
This win should pivot Sindhu to 2 or 3 in the rankings, but India has surely got the superstar the country was looking for. There is nothing like a World title or an Olympic gold. One is in her pocket, the other is just a year away. But Sindhu for sure has shifted from Usha's lap to the chair in which only the great and the superstars can sit.
(The writer is a senior journalist based in New Delhi. His book Top Game is scheduled to be published by Speaking Tiger by the end of the year)