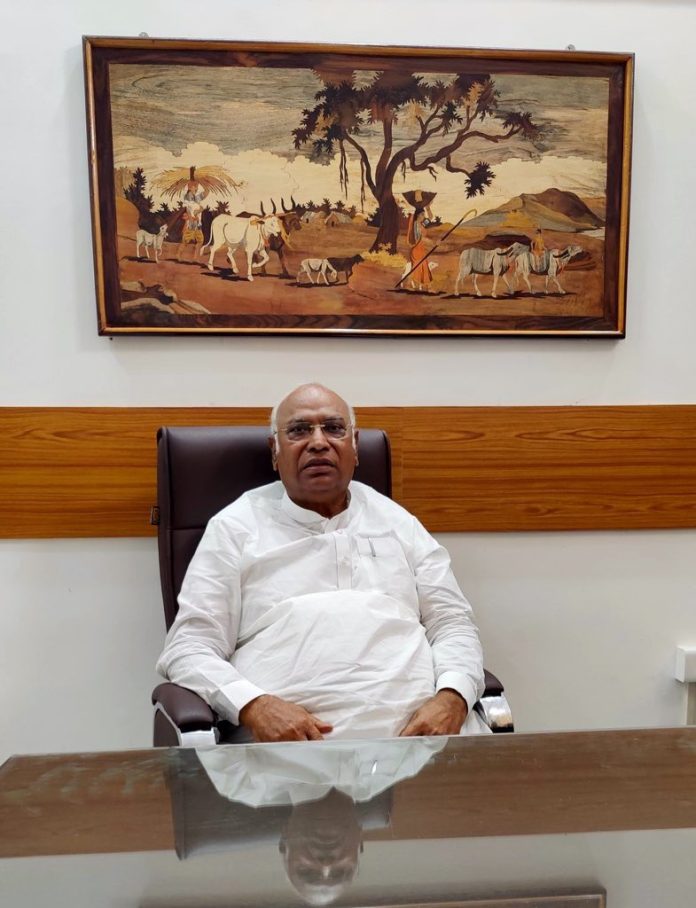 In line with the push for major organisational reforms that was ratified at the recently concluded 85th AICC Plenary Session, Congress President Mallikarjun Kharge is set to soon effect a comprehensive reshuffle of his party's office bearers.
The overhaul, fraught with the risk of compounding disaffection within the ranks of the party, is expected to weed out some senior but non-performing office bearers while infusing the moribund organisation with younger faces. The new team is likely to stay on in its assigned roles at least till the 2024 Lok Sabha elections. Thus, its selection could well prove to be Kharge's first real test since assuming the Congress presidency last October at handling brittle egos of senior colleagues, addressing aspirations of young leaders and building a squad that can respond to the organisational and electoral challenges that lie in the Congress's immediate future.
Balancing act
The Congress president will also need to address the issue of equitable distribution of party posts among leaders from various states. Though amendments to the Congress constitution, adopted at the Plenary Session last month, are expected to ensure greater representation of SC, ST, OBC, religious minorities, women and youth at every level of the party organisation, including the CWC, Kharge still needs to figure out how to balance regional representation in the party.
Also read: New Congress will emerge from today: Kharge at end of Plenary Session
As practically every serving party office bearer owes her or his position to one or the other member of the Congress's first family – the Nehru-Gandhis — Kharge will also have to ensure that in benching some of these leaders or re-assigning them to roles of lesser importance, he doesn't lose the confidence that the Gandhis have, so far, shown in his leadership.
At the Plenary Session that concluded in Chhattisgarh's Nava Raipur on February 26, Kharge was authorised to nominate all members of the Congress Working Committee (CWC) – the party's highest-decision-making body. The decision had come as a setback to a section of party leaders, including Digvijaya Singh, P Chidambaram, Abhishek Manu Singhvi and Ajay Maken, who wanted elections to the CWC to have 50 per cent members elected through internal polls.
The new CWC will have 35 members (excluding the special invitees and permanent invitees) as opposed to the earlier sanctioned strength of 23 members (excluding the incumbent Congress president and chairperson of the Congress Parliamentary Party). With the Plenary Session unanimously adopting resolutions that endorsed a new policy for reservations in organisational roles at all levels, the CWC will also, for the first time in the party's 138 year history, have 50 per cent members selected from the SC, ST, OBC and religious minority communities while a 50 per cent 'horizontal quota' will be applied to ensure that women and youth (those aged below 50 years) make up for at least half of the committee.
Comprehensive overhaul
Sources privy to ongoing discussions for the organisational revamp told The Federal that the imminent changes will not be limited to reconstituting the CWC. "The Congress president wants a comprehensive overhaul. He had dropped hints of this during interactions he had with steering committee members and other party office bearers in the run-up to the Plenary Session. In his very first address to the steering committee in December, he had outlined certain expectations and deliverables for all office bearers. These will be taken into account along with feedback from state-level leaders about the respective state in-charges. There are also some other proposals regarding the organisation that were discussed at the plenary or during the Udaipur Chintan Shivir; these may also be rolled out now," said a senior party leader close to Kharge.
In his first interaction with the Congress Steering Committee members and then at a subsequent discussion with various PCC chiefs and CLP leaders, Kharge had placed a premium on ensuring "organisational accountability from top to bottom". On both occasions, the Congress president had bluntly told his colleagues that "some office bearers feel the party will ignore their poor performance" and that such leaders "must be prepared to make way for others".
Sources told The Federal that Kharge may drop or re-assign nearly a dozen office bearers, including current members of the steering committee which now has to be reconstituted as the CWC, general secretaries and in-charges of various states.
Facing the axe
Some leaders whose names have figured prominently for being benched altogether include state in-charges Dr A Chella Kumar (Odisha), Bhakta Charan Das (Mizoram, Bihar and Manipur), HK Patil (Maharashtra) and Manish Chatrath (Meghalaya and Arunachal Pradesh).
There is also some speculation that Kharge may relieve Raghu Sharma, Dinesh Gundu Rao and Harish Chaudhary from their charge of Gujarat, Tamil Nadu, and Punjab, respectively. Sharma and Chaudhary are both legislators from Rajasthan while Rao is from Karnataka. Both these states are bound for polls later this year. As such, they may be told to return to their constituencies and prepare for elections.
Also read: Congress plenary in Chhattisgarh: No polls; Kharge to nominate CWC members
Besides, each of them failed miserably in their assigned roles. The party faced its worst ever assembly poll rout in Gujarat recently where Sharma had been holding fort while Rao was unceremoniously dumped as in-charge of Goa last year for his abject failure in pre-empting the wholesale attrition of Congress MLAs, including former CM Digambar Kamat and Michael Lobo, to the BJP. Chaudhary stint as in-charge of Punjab has been disastrous too.
There is also talk of Jharkhand in-charge Avinash Pande, with his dubious record of presiding over crippling factional feuds in every state he is ever sent as party in-charge, either being re-assigned again or being dropped altogether. Party veteran Oommen Chandy, who has been ailing for some time now, is also likely to be relieved of his charge of Andhra Pradesh though he may still find place in the reconstituted CWC, either as a core group member or a permanent invitee.
Hopeful members
Given the party's promise for greater representation of youth and women, a number of party members who fall into these two brackets are hopeful of being elevated within the party. These include Kanhaiya Kumar, Alka Lamba, Ragini Nayak, Jignesh Mevani, Jitu Patwari, Manish Khanduri and Amrita Dhawan, among several others.
All eyes, however, are on what lies ahead for KC Venugopal, the Congress's organisation general secretary who is known to be Rahul Gandhi's eyes and ears in the party. Leaders cutting across age groups, regions and factions have had recurring complaints about Venugopal's incompetence, poor interpersonal skills and lack of political understanding, particularly with regard to Hindi heartland states. Even Kharge, sources say, is not particularly charmed by Venugopal. However, Venugopal's proximity to Rahul is largely seen as the reason why the former continues to hold immense clout within the party.
A party leader told The Federal that if Kharge succeeds in re-assigning Venugopal, it would show that the Gandhis have indeed given the Congress chief a free hand on all organisational matters. Sources say one possible solution that Kharge may be contemplating is to replace Venugopal with Randeep Surjewala, the current party in-charge of Karnataka. Surjewala is known to share a good rapport with Kharge and is, like Venugopal, a close aide of Rahul. If the Congress grapevine is anything to go by, Kharge even wants to re-assign communication department chief Jairam Ramesh to some other task, but sources close to the party president told The Federal that such an eventuality is "ruled out".
Skewed regional representation
The other balancing act that Kharge will need to master is of regional representation. Over the past few years, nearly all important party positions have steadily moved to leaders from the southern states at the cost of leaders from the Hindi heartland states that collectively form a massive bloc of Lok Sabha seats where the Congress is directly pitted against the BJP.
Kharge, the party veteran from Karnataka, is the Congress president and Leader of Opposition in the Rajya Sabha while Jairam Ramesh, also from Karnataka, heads the party's communication department and KC Venugopal from Kerala is the organisation general secretary. Similarly, the Indian Youth Congress is helmed by Srinivas BV while the All-India Professionals Congress is chaired by Thiruvananthapuram MP Shashi Tharoor. The one exception to this southern dominance is Adhir Ranjan Chowdhury, who is the party leader in the Lok Sabha but he too comes from Bengal.
Also read: With Bharat Jodo Yatra, Rahul Gandhi has taken the Congress left of centre
"For some time now, there has been growing concern within a section of the party that we have no prominent leader from the Hindi-speaking states in any important organisational role even though we have no dearth of experienced leaders from these states. One may argue that the BJP's leadership is also dominated by Gujarat's Narendra Modi and Amit Shah but both of them, as well as the BJP, draws strength from its solid base in the wider Hindi heartland of MP, Rajasthan, Chhattisgarh, UP, Bihar, Jharkhand, Haryana, Himachal Pradesh, Uttarakhand and Delhi. If you remove the Gandhis, we have no major face in our central leadership who can engage with the electorate in these states. This needs to be corrected at the earliest," a senior Congress MP said.
When Kharge was elected as Congress president, many believed that he would relinquish his post as LoP Rajya Sabha, in keeping with the 'one man, one post' rule that the party collectively pushed for at the Udaipur Session. Kharge had, in fact, 'quit' as the LoP citing the rule when he had entered the contest for the Congress presidency against Tharoor. Many in the party had believed that upon his election as the Congress chief, Kharge would let Digvijaya Singh or some other leader from the Hindi heartland takeover. However, Kharge is now back as the LoP and the party seems to have abandoned its 'one man, one post' rule since it found no mention during the Plenary Session.
How the Congress president now addresses this inequity remains to be seen. For purposes of electoral outreach as well as intra-party discussions, sources close to the Congress president wax eloquent about Kharge's command over the Hindi language and add that both Rahul and Priyanka Gandhi, the main campaigners for the party, are "leaders from the Hindi heartland". This argument, however, doesn't seem to find many takers among the party leaders from the Hindi-speaking states who insist that if nothing else, at least the organisational general secretary must be a person "who not only understands Hindi but also politics of the Hindi-speaking states."