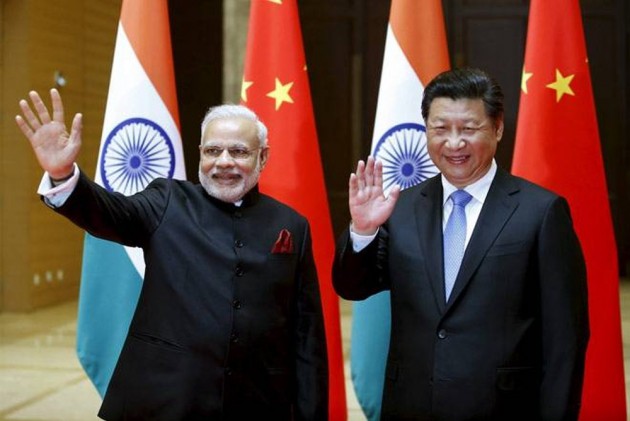 Two among the world's oldest civilisations, China and India, should have been natural allies but ironically what we see are sentiments ranging from mutual suspicion to outright hostility. Amidst this, there are also some who have a grudging admiration for one another.
If Indians are wowed by China's gallop into superpower statehood in the last seven decades, the Chinese cannot but help appreciate that a nation created by the British in 1947 has held on to parliamentary democracy and to a Constitution that guarantees each citizen fundamental rights, an inclusive secularism and free speech among others.
At the same time, Indians deride the absence of political freedom in China while the Chinese taunt the continuing backwardness of Indian society and economy compared to their own.
Indian Prime Minister Narendra Modi and Chinese President Xi Jinping may be meeting in Chennai for two days starting Friday (October 11) in an atmosphere of bonhomie, but what cannot be missed is the dark underside that exists in the relationship between the two nations.
The culprit is history, in many ways. The British ruled India for 200 years and when they exited the country left behind a contentious border from west to east across the Himalayas a.k.a. McMahon Line that has proved to be an obstacle to a genuinely friendly relations. To compound the situation came the 1962 Sino-Indian war that forever scarred an otherwise peaceful historical ties between the two.
Also read | Meet Hongqi, Xi Jinping's 18-feet long official car
Without going into who exactly provoked the war since there are at least two differing versions, the consequence of the war found India on the losing side. Since then, India has never really forgiven China for the defeat. The border dispute too has continued with little progress on its resolution.
The latest was the 2017 Doklam standoff that almost led to a skirmish. Fortunately, an eleventh hour agreement resulted in defusing the tension. The two nations realising that the border dispute was not easy to resolve has, for the most part, pushed it to the background and except on rare occasions, like in Doklam, it has remained out of sight.
In many ways, China's tilt towards Pakistan is an outcome of the differences with India. At the time of India's independence, the Chinese were in the throes of the Communist revolution. In 1949, once the Communist leader Mao Tse Tung came to power at the head of the revolution Beijing turned pro-Pakistan as it was not comfortable with India's decision to retain a large part of the colonial British system including parliamentary democracy, the legal system and the overall superstructure of the state.
The border dispute too was a bee in the bonnet of both countries. The then Chinese premier Zhou-en-Lai's visit to India in 1960 did not do much to resolve the issue. Reports say he returned to China fuming. Two years later, war broke out between the two.
Also read | India, China need each other; Chennai meet to reinforce that
Since then, the two nations have gone their own ways. If India has supported Tibetan separatists, opened up the country for those fleeing persecution in the Himalayan kingdom including allowing a government in exile China has firmly backed Pakistan on Kashmir. Though there may be occasional statements indicating a climb down that has only been for tactical reasons.
For China, Pakistan by extension has proved to be a convenient political ally which it periodically leverages to irritate India. The reason why the relationship hasn't worsened is due to the trade partnership which goes on unmindful of other tensions between the two. China enjoys a trade surplus with India, but New Delhi has not let that come in the way of a robust economic relationship.  China is India's second largest trading partner.
The reason is it is mutually beneficial. For instance, most of the basic drugs used in the various pharmaceutical formulations in India come from China, and they are pretty cheap.
China has bigger ambitions. It is trying to woo India into its Belt and Road Initiative, a free trade pact that Beijing has signed with all the other South Asian countries, among others. India, however, is reluctant to be part of it as it would formally symbolise New Delhi's acceptance of China as the bigger power. For the Chinese government, India's entry is important as this will expand Beijing's trade footprint.
Also read | At Mahabalipuram, Modi seeks to send a message to the world, Tamils
But politically the two nations are at loggerheads. China is moving ahead with its agenda of dominating Asia. While its tussle with Japan, Philippines and the other South-East Asian nations are on, it has also targeted South Asia which India views as its backyard. In the last decade or so, China has found a foothold in Sri Lanka, Maldives and Nepal that threaten to dilute New Delhi's hold on the region.
No wonder the mix of positives and negatives in ties with each other has an impact on people from either side. Few prefer to live in each other's country. According to one estimate, there are hardly 50,000 Indians living in China while there are an even fewer Chinese living in India. This, at a time when both Indians and Chinese have been reported to be the largest migrant nationalities globally, living in their millions abroad.
According to independent estimates, some 17 million Indian migrants are living in various other countries, the maximum being the Gulf and Middle-East besides North America and Europe. The Chinese too similarly prefer North America, Africa and Europe.
Will there be a time when Indians and Chinese will prefer each other's countries rather than go elsewhere?  No such trend is visible as of now. But, Xi and Modi surely have their work cut out in Mammallapuram if they have to smoothen the various long-standing wrinkles in their countries' relationship.
Also read | Winning them softly: Modi's Tamil references keeps protests at bay