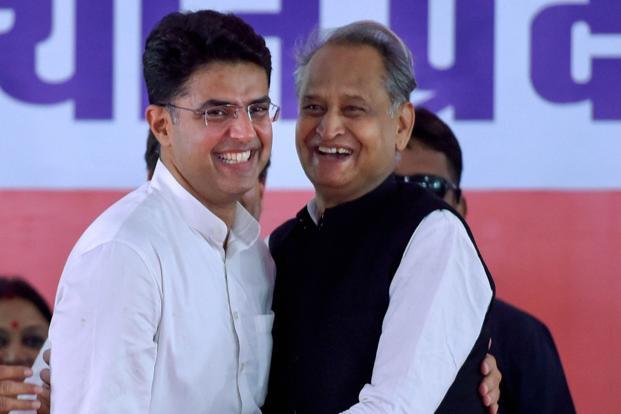 Sachin Pilot: A born rebel sent to battle by Ashok Gehlot's insults
Sometime in 2004, journalists in Jaipur were invited to a hotel near Jaipur railway station by Rama Pilot, wife of the late Congress leader Rajesh Pilot, for a brief interaction. Rama Pilot, a member of parliament from Dausa, had just contested, and lost, the assembly election against Vasundhara Raje. Other than that, not much was known about her in Jaipur and the invite appeared to be a good opportunity to learn more about the former Congress leader's political heir.
But, Rama Pilot sprung a surprise that day. She walked into the hotel with a baby-faced young man who appeared to have only recently discarded jeans and sneakers for kurta-pyjama and leather chappals. Since it was winter, the young man had also wrapped a shawl around his shoulders.
"Ram-Ram sa, I am Sachin Pilot," the young man introduced himself. Even if he had not, it would have been apparent to even casual observers of Indian politics that the young man is the late leader's son. He had the same self-assured mien of a natural-born leader, the ability to charm a crowd with a pleasing personality, and his father's trademark attire and salutation.
After his 15 years in politics, India is learning that Pilot inherited two more traits from his father — a burning ambition, and the derring-do to rebel against his own leader. His father, Rajeshwar Singh Bidhuri, a former IAF pilot — thus the adopted surname — who was inducted into the Congress by Indira Gandhi on a whim, was known as rebel without a pause in his later years.
As a minister in the PV Narasimha Rao government, Rajesh Pilot routinely riled the Prime Minister with his actions. First, as minister for internal security, he had self-styled Chandraswami arrested in spite of his close ties to the Congress leadership. Then, in an act that was seen as a prelaunch of sorts for a bigger role, he roamed around in Kashmir in an open jeep. In 1997, when elections for Congress president were announced, Rajesh Pilot decided to contest against Sitaram Kesari, ending the culture of sycophancy in the party. And again, when Sonia Gandhi decided to take over the reins of the party from Kesari, Rajesh Pilot was believed to have made up his mind to challenge her to the post of president before opting out under pressure from other leaders.
What the father failed to do in his life, primarily because he died young in a road accident, the son is ready to launch — an open rebellion against the party, and a challenge to the Gandhis. The flame of ambition and rebellion is being lit in the Pilot household again.
It is easy to see merits and flaws in Sachin Pilot's rebellion. On the flipside, he is biting the very hand that fed him and his family. But for the Gandhis, the Pilot family would have been nowhere in politics. It is only because Indira and Sanjay Gandhi had the courage to paradrop a pilot from Uttar Pradesh into Rajasthan's politics in 1980, the family was able to pursue a career in politics and also adopt Rajasthan as its home.
For four decades, the Pilots benefitted from their ties with the Gandhis. After Indira's death, her son Rajiv shifted him to Dausa, a Gurjar-dominated constituency that was to later become his political base. Later, Sonia Gandhi ignored rumours that Rajesh Pilot was at the vanguard of a rebellion against him and inducted his wife Rama into politics. And after Rajesh Pilot's death, the Gandhis passed on his legacy to his 26-year-old son with absolutely no experience in politics. So, in a way, politics was presented on a golden platter with a silver spoon to the Pilots by three generations of the Gandhis three times over. Rebelling against them is prima facie an act of perfidy.
Yet, it is easy to understand why Pilot is on the war path. In 2014, when the Congress was routed in Rajasthan, Pilot was sent to Jaipur to rebuild the party. For four years, Sachin Pilot was the face of the party in Rajasthan, the architect of its revival. But, when the party won the 2018 election, he was denied the top job and made to work as Ashok Gehlot's deputy.
Being the deputy chief minister of a state like Rajasthan at the age of 40 wasn't a bad deal, per se. But, the problem is, Pilot was denied both dignity and free-hand by Gehlot in a bid to humiliate and frustrate him. It is believed that Pilot was denied even the basic courtesy of getting bureaucrats of his choice appointed in his own constituency. The bureaucrats in his ministry were reportedly handpicked by the chief minister, thus, making Pilot feel powerless.
In addition, many of Pilot's core supporters were taken away from him, some of them because of threats of persecution by state government's agencies. When powerful ministers like Raghu Sharma and Pratap Singh, who were part of the Pilot quota in the cabinet, switched loyalties for a variety of reasons, Pilot got a little jittery, believing the ground beneath his feet was quickly shrinking.
The drama reached its climax past week when three legislators close to him were booked by the state's anti-corruption department on charges of bribing Congress legislators to defect. When the police sent summons to Pilot for participating in the probe under sections 124-A (sedition) and 125-B of the IPC, Pilot announced he had endured enough humiliation.
Pilot's flaw — and it could turn fatal for him — is that he can't keep his ambition under check. In December 2018, he had mobilised his Gurjar base to pressure the Congress into anointing him the chief minister. On his call, Gurjars had threatened to block highways and unleash anarchy on the streets. A politician ready to resort to 'direct action' in the pursuit of power is alien to Rajasthan's democratic culture.
In politics, loyalty and patience are great virtues and they always deliver in the long run. But, the current generation of Congress leaders is more Brutus, or Bhallaldeva, than Katappa, ready to stab, betray and discard ideology in their quest for more power.
Yet, Gehlot can't evade criticism for pushing Pilot to the edge. Instead of acting like an insecure, scheming, conniving faction leader, Gehlot should have been magnanimous in dealing with Pilot. He should have acknowledged Pilot's contribution to the party's revival and given him the respect he deserved for four years of hard work and persistence. Gehlot should have made it apparent that Pilot is his heir and acted more like a mentor than a rival.
Gehlot has got more than what he deserved in politics. He has been chief minister thrice in spite of the fact that his government has been voted out twice in the past by the electorate. Like a typical dynast, Gehlot has also been able to push his son into politics. In the 2019 general election, Vaibhav Gehlot was gifted the Congress ticket for the family pocket borough Jodhpur. When he lost the election, daddy Gehlot got him elected as president of the Rajasthan Cricket Association, ensuring that he enjoys both power and visibility. Yet, he didn't have the sagacity to share power with Pilot.
To Gehlot should go the credit of turning Pilot into a kamikaze bomber. And the rebellion that is in the young, ambitious, impatient man's genes.