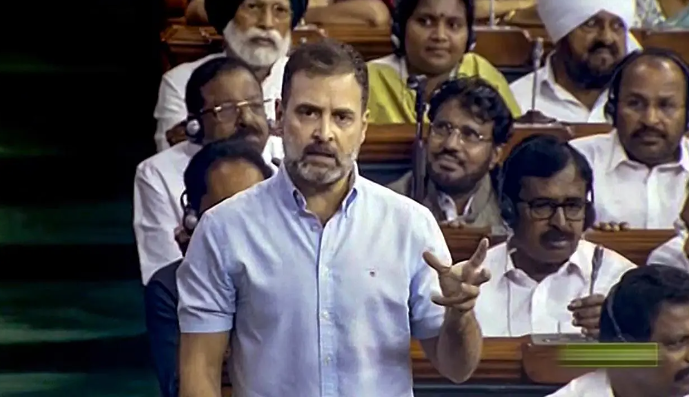 Rhetoric, aggression and a flying kiss: Rahul Gandhi kicks up another avoidable row  
With his Lok Sabha membership reinstated, Wayanad MP Rahul Gandhi launched an all-out attack at Prime Minister Narendra Modi and the BJP-led NDA government, accusing them of "murdering Bharat Mata in Manipur", when he intervened in the discussion on the no-confidence motion moved against the Union Council of Ministers.
The Wayanad MP also likened Modi to 'Ravana', the mythical King of Lanka in the Hindu epic Ramayana, asserting that "just as Ravana listened to only two people – Meghnath and Kumbhkaran – Modi listens only to (Gautam) Adani and Amit Shah."
"Hanuman did not burn Lanka, Ravana's arrogance did. Rama did not kill Ravana, Ravana's pride did," Rahul said, ostensibly trying to suggest that the Modi government too would meet its end in next year's Lok Sabha polls due to the prime minister's alleged arrogance and pride.
However, if the expectation was that Rahul's maiden address in the Lok Sabha after the end of his four-month long disqualification as an MP would be a comprehensive appraisal of the Modi government's performance or of its alleged acts of omission and commission that have pushed Manipur into a devastating tempest of murder and mayhem, it was misplaced.
Rahul's speech laden with rhetoric, devoid of facts  
Unlike his last intervention in the Lok Sabha when, armed with facts, Rahul scorched the prime minister with his well-researched exposition of the windfall gains that controversial businessman Gautam Adani had made, both within and outside India, during Modi's reign, the Wayanad MP's speech on Wednesday (August 9) was high on rhetoric and emotions but almost entirely devoid of any facts that could buttress his serious charge of the BJP "murdering Bharat Mata in Manipur".
Watch | Modi regime has murdered India in Manipur: Rahul in Lok Sabha
Amid deafening disruptions by the Treasury Benches, Rahul spoke for 37 minutes in the Lok Sabha. His intervention, barring fleeting anecdotal references to his interactions with two riot-affected women in different relief camps of Manipur, had little else to charge the government with by way of facts or evidence that could establish the BJP's complicity in the genesis or evolution of the still spiralling ethnic unrest in the north eastern state.
This is not to suggest, by any means, that the other MPs, both from the Opposition and Treasury Benches, who have spoken on the no-confidence motion since it was taken up for discussion on Tuesday, made submissions that were either high on facts or, at the very least, focussed at some considerable length on the ground realities of blood-soaked Manipur.
In fact, barring a select few like Congress MPs Gaurav Gogoi, who had moved the motion of no-confidence, and Manish Tewari, DMK's Kanimozhi or NCP's Supriya Sule and TMC's Kakoli Ghosh Dastidar, the over a dozen MPs who have spoken during the discussion since Tuesday have largely chosen to make only transitory references to the unrest in Manipur before moving on to the usual verbal powwow with the government over issues that are more relevant to their respective electoral constituencies.
 Pressing issues needed more attention  
As such, it may be tad unfair to criticise Rahul for being swept away by the lure of rhetoric over substance. Yet, there are reasons that, arguably, justify why Rahul's intervention merits greater scrutiny. It is no secret that the inheritor of the burdensome legacy of his more illustrious Nehru-Gandhi forebears, Rahul riles the ruling BJP like no other member from the Opposition's ranks. The great lengths to which BJP members go to dismiss, undermine and lampoon Rahul each time he speaks on an issue inside or out of Parliament – as they did yet again on Wednesday, with a perpetually furious and theatrical Smriti Irani leading the charge – is testament of this. Ironic as it may be, it is also for this relentless ridicule of his views that Rahul's speeches and remarks carry unparalleled heft.
Also read: Rahul in Rajasthan: PM Modi can quell Manipur fire in 2-3 days if he wants
As such, when Rahul spoke in the Lok Sabha on Wednesday – following Tuesday's false alarm – the anticipation, piqued further on account of the restoration of his membership of the House on Monday, was that his intervention would carry not just rhetorical but also factual and evidentiary value. Though the principal trigger for the Opposition's no-confidence motion was the unrest in Manipur, the fact that per the Lok Sabha's Rules of Conduct such a motion allows members to speak on any issue they wish should have encouraged Rahul to canvass against the government on a much wider range of issues with precision, while also drawing attention to the crises in Manipur.
 Unnecessary melodrama
Unfortunately, this was not the case. Rahul almost trivialised his own brilliantly argued intervention made in the Lok Sabha during the budget session during which he had spoken at length on the alleged Modi-Adani nexus. He spent the first few minutes of his speech needlessly mocking Speaker Om Birla with an apology for "causing you trouble because last time I spoke forcefully on Adani" and taunting the Treasury Benches by asserting "you don't need to be rattled today because I won't be speaking on Adani". The next few minutes were spent in recounting those experiences from his Bharat Jodo Yatra which he had also shared in Parliament the last time round.
It was only in the final 15 minutes of his 37-minute intervention that Rahul decided to speak, interrupted repeatedly by Treasury MPs, on the more relevant issue of Manipur. He chastised the prime minister for "not visiting Manipur" ever since the ethnic clashes began over three months ago because "he doesn't believe Manipur is in India".
Rahul then shared his experience of speaking with two women in the relief camps in Manipur – one who saw her son murdered before her eyes and spent an entire night holding his dead body and another who was so traumatised that she collapsed before telling Rahul what had happened to her during the riots. These, undoubtedly, were strong examples of the bloodlust that has engulfed Manipur over the past three months but Rahul did not dwell on them any further and, instead, jumped straight to a melodramatic denouement, repeatedly and belligerently accusing the government of "murdering Bharat Mata".
This was, undoubtedly, the most scathing indictment that Rahul has ever hurled at Modi and the BJP. Perhaps, even for those expecting a more nuanced but exhaustive put down of the government by the Wayanad MP, Rahul's uncharacteristically acerbic tirade could have sufficed.
 Cavalier attitude towards opponent's opinion  
If the focus has now shifted from Rahul's speech to Rahul's actions after the speech, the blame must squarely rest on the Wayanad MP and the bouts of immaturity as a parliamentarian that he tends to relapse into just when people at large, including his detractors, begin to acknowledge his new found sincerity as a politician unfairly targeted by the BJP.
The BJP had, for obvious reasons, decided to field Union minister Smriti Irani as its speaker immediately after Rahul's intervention. The predictable whataboutery of Irani's speech notwithstanding, the Wayanad MP could have stayed in the House at least till his most fierce critic, who also defeated him in the Amethi Lok Sabha constituency in 2019, had completed her address. However, Rahul got up to leave the Lok Sabha soon after Irani rose to speak.
Also read: Rahul Gandhi gets back Tughlaq Lane bungalow, to visit Wayanad on Aug 12-13
The reason for Rahul's early departure from the House was that he had to take a flight to Rajasthan where he was supposed to address a rally in tribal-dominated Mangarh, near Banswara, to mark the International Day of the World's Indigenous Peoples, but surely the rally could not have been scheduled for a little later in the day to allow Rahul more time in the Lok Sabha. It is also pertinent to note that the Wayanad MP has shown similar restlessness to leave the Lower House on almost every earlier occasion when he has spoken, displaying a cavalier lack of interest in what other MPs, his trenchant critics and allies alike, may have to say.
Mystery of the flying kiss
However, it wasn't Rahul's premature departure from the Lok Sabha but what he reportedly did while exiting the House that has allowed a needless controversy to erupt, allowing the BJP to divert attention from his blistering attack on the prime minister.
Irani accused Rahul of blowing "a flying kiss to a Parliament which seats female MPs" while he was leaving the House, called him a "misogynistic man" for doing so and asserting that Nehru-Gandhi scion's "indecent conduct" was a "family trait". Irani, as is her wont, may have gone overboard with deriding what would have otherwise been considered a harmless gesture, or even an endearing one by some.
Also read: Flying kiss row: Congress defends Rahul Gandhi, says it's all about love
Irani's red-flag, however, allowed women MPs of the BJP to turn Rahul's alleged gesture, which was not even seen by most members engrossed in the discussion or clearly recorded by the video cameras of the Lok Sabha, into a raucous controversy. A host of women BJP MPs have now complained to the Lok Sabha Speaker demanding "stringent action" against Rahul for his "inappropriate gesture" at Irani and for "insulting the dignity of women members in the House…"
Union minister Shobha Karandlaje, one of the 22 signatories to the letter, later told reporters, "Rahul Gandhi misbehaved with women members inside Parliament by giving a flying kiss. After his speech, he wanted to go out as Smriti Irani started speaking; we asked him to sit and listen to her but Rahul Gandhi blew a flying kiss at Irani and all the women members and walked away. It is totally unacceptable, inappropriate and indecent behaviour of a member."
Since Rahul's alleged gesture wasn't clearly captured on camera, what exactly transpired is not known with any degree of certainty. In fact, BJP MP Hema Malini, one of the signatories to the complaint, even told journalists that she hadn't personally seen Rahul blowing a kiss at Irani.
Meanwhile, Rajya Sabha MP of the Shiv Sena (UBT), Priyanka Chaturvedi, who was seated in the visitor's gallery of the Lok Sabha to listen to the discussion, had a different take. "He (Rahul) did it as a gesture of affection and it was not aimed at any MP in particular or at the women MPs. They (BJP MPs) are so full of hate that they can't accept love," Chaturvedi said.
Also read: Women MPs see red over Rahul's flying kiss in House, press for action
Irrespective of what Rahul's gesture really was, the resultant controversy is reminiscent of the furore over Rahul's 'hug and wink' move during the discussion on a previous no-confidence motion that was brought against the Union Council of Ministers in the Lok Sabha in July 2018. Like on Wednesday, then too Rahul had made a fiery speech which had culminated with him walking across the Well of the House to give an unsuspecting and visibly uneasy Prime Minister a hug. He had then walked back to his seat and winked at his fellow MPs – an act that was caught on camera and also latched onto by Modi who later mocked Rahul for it.