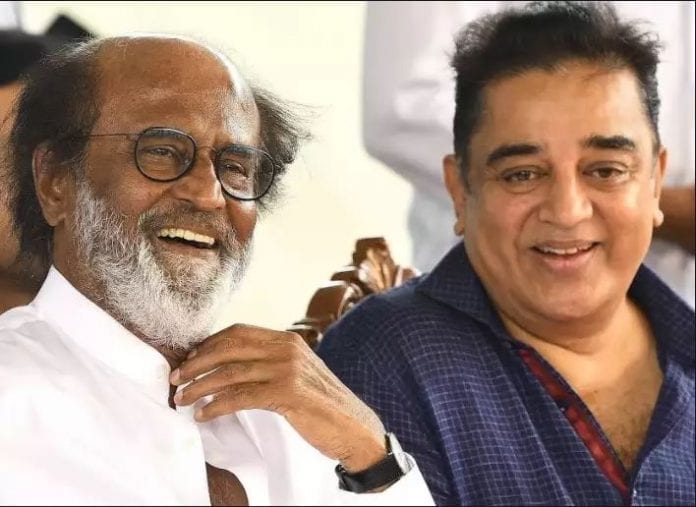 "Miracles can happen," said Rajinikanth, the 'superstar' of Tamil tinseltown, at a function organised to celebrate fellow actor Kamal Haasan's 60 years in the film industry.
He followed it up with a statement that he was open to an alliance with Haasan politically. Haasan too responded in kind.
Rajini may have said that to put an end to speculations on his official political entry. Or to end the rumours that the Bharatiya Janata Party (BJP) was trying to pit him against his friend and colleague of more than four decades.
But the question is how far will the pair go in politics? Suppose they form the government, will they become the next EPS-OPS? Or to put it as Tamil Nadu minister and AIADMK leader Jaya Kumar said 'Who will play the role of Che and Fidel?'
A look at their past, ever since they stepped into the film world, will reveal that the two stars are unique.
Associations with politicians
Kamal started his film career at the age of 5 and a school dropout. But Rajini was a film institute student and stepped into the industry when around 25, quite late, as per film industry's standards.
Time and age shaped their personalities through the films they selected, the roles they enacted. Kamal was in every way experimental. His choice of scripts showed maturity even at a very young age. Who could accept to sport just a loincloth in a film (16 Vayathinile) and play a village pumpkin?
Rajini, on the other hand, chose scripts that paved his way to stardom. At one point, he did 5-6 films in Tamil, Telugu, and Hindi, and this kept him for associating with politicians.
Kamal was brilliant in that respect. Initially interested in becoming an assistant director to his guru K Balachander, he was pulled into acting by MG Ramachandran (MGR), an actor-politician who later became the chief minister of Tamil Nadu.
Kamal was earlier an assistant choreographer and had helped MGR and Jayalalithaa with dance.
And when his fan base grew, Kamal established 'rasigar mandrams' (fans' associations) in 1979. In 1982, he organised a conference of his fans which raised eyebrows of many, including the then-chief minister MGR. When asked, he told the CM to "wait and watch".
At the other end, Kamal also maintained a relation with the then DMK chief M Karunanidhi, MGR's bete noire. He has mentioned once about three teachers who taught him Tamil — Karunanidhi, poet Kannadasan and actor Shivaji Ganesan.
Post-MGR's death and Jayalalithaa's ascension as party general secretary and later as chief minister, Kamal distanced himself from the latter. During her chief ministership, he was close to Karunanidhi. When Kamal's film 'Viswaroopam' got into a communal trouble during Jaya's regime, Karunanidhi supported him.
Unlike Kamal, Rajini never had a close relationship either with MGR, Karunanidhi or Jayalalithaa. In contrast, he got involved in conflicts with leaders and was pulled into the political field post 90s.
Many reports have said that MGR and Rajini had some personal disputes in the 80s. In the mid-90s, Rajini made statements against Jayalalithaa. In 2004, he made comments against PMK founder S Ramadoss. In 2010, he applauded actor Ajith for complaining against the DMK's high-handedness, on a stage to praise Karunanidhi, displeasing the veteran leader.
Ideologies maketh a man
From his early days, Kamal showed an interest in society and its development. That is why in 1989, he converted his fan associations into 'Narpani Mandrangal' (welfare organisations). Setting a precedent, he donated his body for educational purposes. He started acting in commercials related to AIDS awareness, income tax evasion, adoption of children and recently 'Swachh Bharat'.
He has also clarified that his politics would be anything but 'spiritual', as Rajini's.
On the other hand, Rajini's fans' associations have concentrated on promoting the star's movies. During the wedding of his second daughter Soundarya, Rajinikanth made a promise to his fans that he will organise a feast for them separately. But he still has not fulfilled that promise.
From 90s, Rajini has been making statements every now and then, hinting at entering politics. In 2008, for the first time, he held a discussion with his fans about his entry into politics.
In that meeting, there was a board which said, 'Do your duty; Expect the results', a quote which was tweaked from the original Bhagavad Gita quote 'Do your duty and don't expect the results'. Hindutva groups in the state created a furore.
At another such meeting with fans in 2017, white lotus in the backdrop of the stage set of tongues wagging that Rajini had joined hands with the BJP. More recently, his comment on Modi and Amit Shah as 'Krishna and Arjuna' following the abrogation of Jammu and Kashmir's special status, strengthened this perception.
This was further enhanced when the actor got an award from the BJP-led government. It was said that the BJP was trying to get him into its fold. But Rajini later cleared the air during the Thiruvalluvar row that some people were trying to paint him saffron, but he would not fall in their trap.
Looking at all of this, it seems like Rajini is not strong enough to stand by his statements or opinions. He is a bit temperamental and he is habitual in giving statements without thinking and withdrawing the same within a day or two.
But Kamal has stood by his statements and opinions. He makes statements against every issue that affects the people and the state, unlike Rajini who does not comment on any issue unless the media asks him. When Rajini was just making statements about his political entry, Kamal surprised the state by launching his party 'Makkal Needhi Maiam' (MNM).
Will they make a good pair?
As the saying goes, 'opposite attract. If at all a miracle happens and Rajini and Kamal go on to form a government, the issue would be as to who will be the chief minister and the deputy?
MNM leader Sripriya has categorically said that if Kamal and Rajini get into an alliance, Kamal will be the CM candidate.
But keeping differences aside, the two should use their positives and come together. While Rajini has a larger fan base in the state, Kamal in his individual capacity can represent the state in New Delhi. Since he is more articulate than Rajini and well versed in various languages, he can be a representative of the government, which the current AIADMK regime lacks.
Though Kamal's party got a vote share of 4%, which is very small compared to the Dravidian parties, it is still significant. He has a good vote bank in the urban areas but lacks base in rural areas. Hence, it is best for Kamal to join hands with Rajini.
On the other hand, MNM's election experience will help Rajini's party too, if an alliance happened between them.
All these discussions are started and became the talk of the town because of one man. He is director SA Chandrasekar, father of actor Vijay. Once Vijay has evinced interest in stepping into politics but suffered very much during Jaya's period. Some of his films got into trouble just because he showed an interest in joining the politics. At one point, Chandrasekar tried to promote his son as a next capable leader but all went in vain.
It is in this backdrop, he demanded that both Kamal and Rajini should join hands, during the function organised by the film industry to celebrate Kamal's 60th year in the industry.
Meanwhile, minister Rajendra Balaji has said that actor Ajith will also step into politics. Though it may be a sarcastic comment, once the Congress and the AIADMK had shown interest in pulling Ajith to their side, after he spoke out against DMK's high handedness.
As of now, all is fair in love, war and politics. There are examples in which the extremes converged. Once Karunanidhi and MGR worked together. The DMK had an alliance with the BJP. Now the Congress is in the process of joining hands with Shiv Sena in Maharashtra. Then why not a miracle alliance between Kamal and Rajini?