Nuclear modernisation: The emerging threat to global peace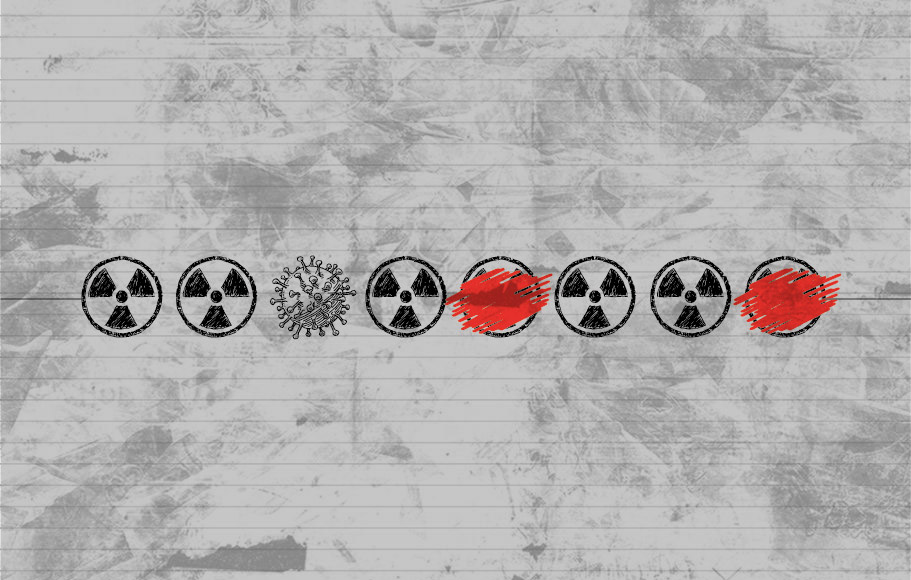 The end of the Cold War three decades back has not ended nuclear build-up in the world. Nuclear weapon states are modernising their existing air-, sea- and land-based delivery vehicles and warheads, clearly with the intention of maintaining them for the long-term future. Star Wars remains not just a movie metaphor and space-based weapons platforms might soon become a reality. The nuclear arms race has now extended to developing missile shields and evading such shields of rival powers.
The end of the Cold War had, however, marked a temporary lull in the anti-nuclear and peace movements. But the COVID-19 crisis has infused a new energy into the anti-nuclear movements. The Women's International League for Peace and Freedom (WILPF) is an advocacy group that runs a disarmament programme called Reaching Critical Will. As part of defining the priorities for the peace movement in the present juncture, it has brought out a compendium, part of an annual series, titled 'Assuring Destruction Forever', with articles by anti-nuclear activists and researchers, rightly focusing on the programmes of modernisation of their nuclear arsenals by the five conventional nuclear powers as well as the four newly emerging powers of Israel, North Korea, India and Pakistan.
This is quite an useful handbook for anti-nuclear campaigners to formulate specific demands in their country contexts against the new initiatives for nuclear modernization that would lead to a new type of arms race.
I
India's tryst with nuclear weapons
Prerna Gupta and MV Ramana, researchers at the University of British Columbia, Canada, have given a detailed summary of India's nuclear modernization program.
They quote the Federation of American Scientists (FAS) which, based on publicly available information about India's delivery vehicles and strategy, estimated in 2018 that the country might have 130–140 nuclear warheads.
In comparison, the FAS estimates that India had 60–80 assembled nuclear warheads in 2010 and 30–35 warheads in 2002. While India's military expenditure remained constant during the UPA-II years between 2009 and 2013 at $51 billion, it increased by $12 billion during 2014-2018, Narendra Modi's years.
They also explain how India is diversifying the number of vehicles it could use to deliver these warheads. They point out that India's stockpile of fissile materials to make nuclear weapons has also been increasing. They argue that India is not a signatory to any multilateral treaty related to nuclear weapons like NPT or CTBT.
They note with concern that "over the years, the levels of public discourse have become very militaristic and the current government has been following very aggressive policies in the disputed region of Kashmir." Kashmir remains a flashpoint that can trigger a war between two nuclear-armed neighbors in South Asia.
II
US' strategic shift under Trump
Coming to the global scenario, the chapter on the United States says that in 2019 it spent $41.4 billion on its nuclear force, which is larger than the military spending of all but nine other countries.
There was a strategy shift under President Donald Trump and the US totally withdrew from the Intermediate-Range Nuclear Forces (INF) Treaty unilaterally while blaming it on Russia.
While Russian President Vladimir Putin expressed willingness to extend the New START Treaty, the last disarmament treaty limiting strategic weapons, Trump refused to begin negotiations unless China was also roped in, despite the Asian nation possessing a relatively much smaller nuclear arsenal.
The US also unilaterally withdrew from the nuclear deal with Iran.
III
China, now behind US and Russia
China, which earlier had the least number of nuclear weapons among the five legal nuclear powers, has now moved to a distant third position after the US and Russia. However, it only possesses 290 weapons now, much lesser than the US and Russia, which possess around 6,000 weapons each.
All along China has maintained a nuclear doctrine of 'no-first use' and claimed that its nuclear arsenal is defensive in nature, giving it only a second-strike capability. But there is no transparency and it has never officially revealed whether the number is larger than what is required for a second strike only.
China's ambassador to the U.K. said that Boris Johnson's plans to seek alternatives to Huawei in the 5G network could spoil plans for Chinese companies to build nuclear power plants and a high-speed rail network, the Sunday Times reported https://t.co/ReAS5NR64P

— Bloomberg (@business) June 7, 2020
The chapter on China details how the country is modernising its nuclear force. There is a power asymmetry presently between the US and China, and the latter is expected to overtake the US as an economic superpower in the next decade. China's military spending is barely one-fourth of that of the US, but Trump's new offensive might push it to opt for nuclear parity with the US, like Russia (formerly, USSR) achieved in the past.
IV
Europe – the central theatre of nuclear war threat
The UK and France, possessing an estimated 225 and 290 weapons respectively, are also modernising their nuclear arsenals. They seem to be adhering to Henry Kissinger's doctrine of limited war with greater stress on tactical nuclear weapons directed against Russia which has evoked sharp open threats from Putin.
The systemic change in Russia has not brought about a stable balance of power equilibrium with the West and the strategic hostility remains undiminished. This makes Europe the central theatre of nuclear war threat.
V
Major security threats for US
North Korea, with an estimated 35 nuclear weapons, and Iran, whose alleged nuclear weapons programme is barely at the stage of uranium enrichment, are considered as major security threats by the US, but not Israel (with weapons in the range of 80 to 400, according to different estimates), or Pakistan (believed to possess 150–160 weapons), or India (with an arsenal similar to that of Pakistan).
After his meeting with Trump, North Korean leader Kim Jong-un declared that he was ready to negotiate denuclearisation of the Korean Peninsula, provided the US ceases its hostility, and Pyongyang's security concerns are properly addressed. This has led to a thaw.
Israel remains a threat not only to the Arab world and Iran, but has also openly engaged in nuclear threats against Pakistan as well.
Modernisation of nuclear arsenals would only aggravate tensions in all these areas, some of which are already facing military conflict.
VI
Pandemic exposed the reality
The total military expenditure by all countries in the world in 2019 was around $2 trillion. But most of the countries are not ready to spend enough money to provide personal protective equipment (PPE) to health workers as per the WHO norms. This perverse reality has been brought into sharp relief by the ongoing COVID-19 pandemic.
The pathetic failure of even the developed countries in providing adequate safeguards and relief to the people in the time of a pandemic has reinforced calls for deep cuts in military spending and spurred discussions on the vision for a post-COVID-19 world without nuclear weapons. Hopefully, this compendium offering rich information on this modernisation programme would be of help to social movements across the world that are intent on challenging this new nuclear build-up.
Over $1.9 trillion was spent on militarism last year. We cannot reach peace through war. So, how do we get to sustainable peace? 1⃣ Divest 2⃣Demilitarise 3⃣ Disarm #MoveTheMoney https://t.co/5BIQ5turtr pic.twitter.com/myeQnR2hsI

— WILPF (@WILPF) May 5, 2020
On July 7, 2017, the UN General Assembly passed the Treaty on Prohibition of Nuclear Weapons. It was the first binding treaty to pave the way for gradual elimination of nuclear weapons. Till May 17, 2020, 81 countries have signed or ratified it, but that included none of the nuclear weapon states. Hopefully, in a world that has just endured the trauma of a pandemic, pressure would mount on them to sign the treaty and start negotiations for scaling down their nuclear arsenals, aimed at their ultimate elimination.