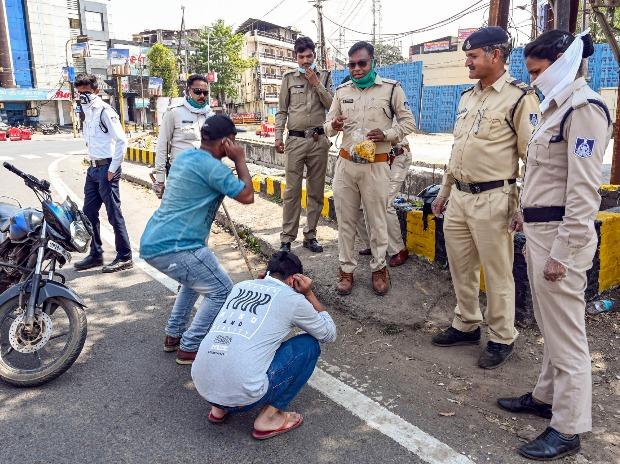 The lockdown implemented to prevent the spread of COVID-19 has highlighted the privileges people in power have reportedly been able to enjoy without the compulsion to strictly follow lockdown norms, while other sections of the society have not been so lucky.
A housing complex named 'Supertech Ecovillage One' in Greater Noida near Delhi had to be completely sealed off after three residents tested positive for COVID-19, which saw objection from the other residents, who argued that only the buildings of those who had tested positive should be sealed.
A video of the incident taken late on Monday (May 26) night showed police officers trying to convince the residents to cooperate with them. Residents said most of the offices have now reopened and that they needed to go to work.
"We're standing in front of you. We're also doing our jobs. It's a government job. We work for 24 hours and get paid for 12 hours. If it is a matter of argument, then come out," a police officer, holding a mic, is seen telling the residents in the video.
"We will die of hunger, Sir," another male voice from the residential complex is heard saying in the video, to which the police officer replies, "You can speak to the District Magistrate. We didn't let even the migrants die of hunger," reassuring them that their issues will be taken care of properly.
After a long discussion, the residents were pacified and agreed to let the entire building be completely sealed.
Related news | Supreme Court ceding its terrain to high courts on migrant issue
A multitude of valid issues — ranging from police personnel being overworked for the prevention of COVID-19 to people being forced to stay at home without going to work and earning money to survive — have been pointed out through this incident.
With this issue coming to light, it could be said that on one side, a few officials are going beyond their call of duty.
However, on the other hand, a few instances of people of power flouting social distancing and lockdown norms during this period have also been reported, which makes people wonder whether rules are only for those from the middle and lower classes of the population.
Andhra Pradesh Chief Minister Jaganmohan Reddy's YSR Congress Party has accused Telugu Desam Party chief Chandrababu Naidu of violating the lockdown after he returned to Amaravati from Hyderabad by road on Monday after two months and was welcomed by a huge crowd of supporters, triggering concerns about social distancing.
This incident has received severe criticism from a lot of people, including leaders from the YSRCP.
News agency ANI quoted YSRCP leader Gadikota Srikanth Reddy as saying, "The whole country is following the lockdown till May 31 and everybody is maintaining social distancing and following other guidelines linked to COVID-19."
"However, Chandrababu Naidu took out a rally from Hyderabad where hundreds gathered and garlanded him without using masks. Being a senior politician, how could he do so? He should apologise," he said.
"Coming from a red zone, he should go into quarantine," he added.
There are no official reports on whether Naidu will be in quarantine for 14 days.
Related news | Back in Amaravati after 60 days, Naidu gets 'corona spreader' tag
One would think people from all stratas of society would unite for a single cause during this highly challenging and stressful period, and do their bit to ensure that the virus does not spread through their ignorance or lack of concern.
Apparently not.
In yet another case, Union Minister D.V. Sadananda Gowda was criticised after he did not undergo quarantine on arrival from Delhi by flight as stipulated.
The minister, who also represents Bengaluru North, drove off in an official car without undergoing institutional quarantine as mandated by the Karnataka government for air travellers coming from high COVID-19 prevalence states, after arriving here by a commercial airline flight.
However, he defended himself saying he came under the exempted category being in-charge of pharmaceuticals, an essential sector.
"… you need people to work for the control (of COVID-19) right? If you say no one should come out, can you stop this? As a pharma minister, I need to check production and supplies and ensure it reaches the last point; it is my responsibility," the Chemicals and Fertilisers Minister told reporters.
"I come under the exemption clause and I have the exemptions… The Arogya Setu App on my phone also shows I'm safe. After checking everything, we conduct ourselves in a responsible way. Modi (PM Narendra Modi) also won't spare us, if we move around according to our wish," he added.
Related news | Modi's lockdowns have failed, says Rahul Gandhi; BJP hits back
Gowda, who later held a meeting with state Ministers and officials, also said his body temperature was checked before he left the airport.
The Minister further said he did not come in contact with anyone and that there were only 11 passengers in the flight.
The senior BJP leader also claimed though he could have opted for a special flight much earlier, he waited for domestic flights to resume since "he was not a person who misuses things".
The Karnataka government also came to his defence and said the Centre had issued orders exempting such people handling essential sectors from quarantine norms.
The standard operating procedure (SoP) issued by the government mandates passengers coming from high COVID-19 prevalence states — Maharashtra, Gujarat, Delhi, Tamil Nadu, Rajasthan and Madhya Pradesh — to go for paid institutional quarantine for a period of seven days.
In special cases involving businessmen coming for urgent work, they are permitted to leave without quarantine if they produce a negative test report for COVID-19 from any ICMR-approved laboratory obtained within two days ahead of their travel date.
However, in the case of Gowda, he is a political leader and not a businessman to be exempted by the ICMR.
With these developments, it makes one truly wonder if rules and norms are only for average citizens, with no compulsion from the top class to follow the same.