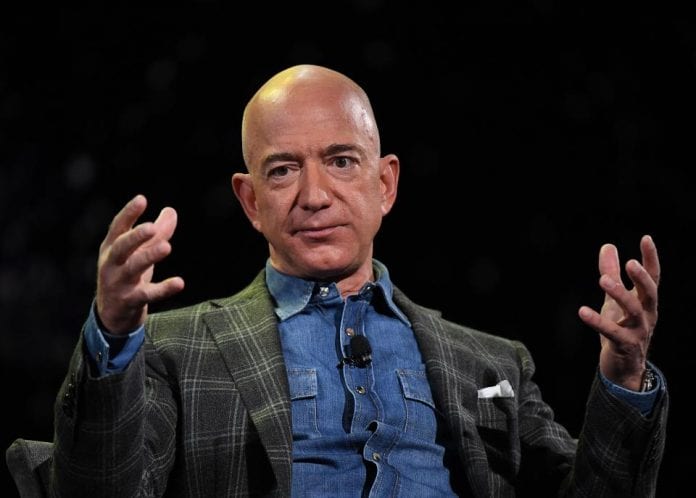 Amazon founder Jeff Bezos, on a three-day visit to India, promised to create an additional 10 lakh jobs across India by 2025 amid strained ties with the government over regulations and the coverage of the Bharatiya Janata Party-led National Democratic Alliance (NDA) government by The Washington Post, a newspaper he owns.
However, revealing tensions with the US online retail giant, Union Commerce and Industry Minister Piyush Goyal on Thursday said Amazon hasn't done India any big favours by announcing the new $1 billion investment. "They may have put in a billion dollars but then if they make a loss of a billion dollars every year then they jolly well have to finance that billion dollars. So it's not as if they are doing a great favour to India when they invest a billion dollars," Goyal told a security conference in New Delhi.
Goyal also questioned Amazon's mounting losses, "How can a marketplace incur such big loss unless they are indulging in predatory pricing or some unfair trade practices." Amazon's India businesses posted a cumulative losses of ₹7,000 crore for FY19.
However, Goyal's statement brought cheers to traders across the country who are against the e-commerce giant for allegedly violating foreign direct investment (FDI) and e-commerce norms by way of deep discounts and giving preferential treatment to select traders.
Also read | Amazon to invest $1 billion to digitise Indian businesses: Jeff Bezos
According to Confederation of All India Traders (CAIT), the money that comes in as FDI for this sector can be used only for technology investments. Sumit Agarwal, national secretary, CAIT says, "There is no level playing field involved in this market, whereas the cost of capital for traders in India goes as high as 14% even in the formal sector, multinational corporations like Amazon have access to cheap capital which is distorting the Indian market. Bezos is an economic terrorist as the small traders face threat over Amazon's growing business in India."
Besides CAIT, Rashtriya Swayamsevak Sangh (RSS) affiliate Swadeshi Jagran Manch (SJM), All-Indian Mobile Retailer Association and Delhi Vyapar Maha Sangh among the increasing number of groups who wants a boycott of the e-tailer. Some traders in Delhi even took to the streets during Bezos visit carrying placards saying 'Bezos go back'.
In a letter to Union Finance Minister Nirmala Sitharaman, in October 2019, CAIT had claimed that e-commerce companies Amazon and Flipkart were selling goods much below their market value thus denying the government of its due legitimate GST revenue, through deep discounting and predatory pricing. It said that these e-tailers were destroying the retail ecosystem by trampling upon the livelihood of over 7 crore traders. SJM's national co-convener Ashwani Mahajan said, "There is good FDI and bad FDI and Amazon's investment is definitely an example of bad FDI."
On January 13, just three days before Bezos's visit, antitrust body Competition Commission of India (CCI) had rapped Amazon for deep discounting and other illegal trade practices. "If you are absolutely clean, come out, put it (details) on your website. So that everybody knows and there is nothing opaque," CCI chief Ashok Kumar Gupta had said.
Although Gupta did not mention names of any e-tailer, hours after his comments, the commission said it would investigate both Amazon and its competitor Flipkart (owned by US-retail giant Walmart). The CCI has also asked its investigations arm to complete the probe within 60 days.
CCI's ambivalent stand urging companies to self-regulate instead of ordering them to stop unfair practices, has been a cause for concern among offline retailers, who remain largely unorganised.
Amazon's India pie
However, Amazon's $1 billion investment is not new, over the past five years, the e-tailer has committed close to $5 billion (nearly ₹36,000 crore) for India operations. In FY 2019-20, it had invested over ₹1,700 crore, according to regulatory documents filed with the corporate affairs ministry.
Also read | Can Indian government get Amazon's Jeff Bezos to laugh less and work more
Amazon Pay India received ₹1,355 crore on December 31, 2019, while its wholesale business unit received ₹360 crore a day earlier. The funds, which comes two months after a much larger infusion across group businesses, keep the Seattle-based company abreast with fundraising against rival Flipkart. The fund infusion will help Amazon to take on Flipkart with whom the company is in a fierce battle for dominance in India's online retail market, which is expected to touch $200 billion by 2028.
"Like him or hate him, there is no ignoring Jeff Bezos when it comes not just to e-commerce, but retailing worldwide. Since his last trip, Amazon has not only taken giant strides in the e-commerce in India, it has also made significant investments in offline retail – including investments in Big Bazaar (Future Group) – but also in the OTT segment (via Amazon Prime) to produce content like movies and webseries," says Arun Natarajan, founder, Venture Intelligence.
Bezos rules the skies too
Amazon had announced in its 2019 filings that it has spent $1.7 billion on video and music content in first quarter alone. The total cost of released content in the first quarter was $4.2 billion for video and music. Amazon joined hands with direct-to-home service operator Tata Sky to launch a service called Tata Sky Binge. The service is accessible through the purchase of Amazon Fire TV Stick – Tata Sky Edition, to allow users to view content from apps like Amazon Prime Video, Hotstar, Sun NXT, Eros NOW and Hungama Play.
What next for Amazon?
Amazon has also made several interesting investments in consumer facing startups (especially in the booming fintech sector). Two investments made by Amazon in recent times point to what's next. Amazon invested ₹144 crore ($22 million) for an undisclosed stake in Bengaluru's online lender Capital Float, which specialises in lending to small and medium businesses and traders. Besides this, Amazon has also diversified into consumer loans.
Amazon led a ₹82 crore ($12 million) investment in Mumbai-based insurance tech company Acko General Insurance Ltd, besides others. Slowly, but steadily, Amazon — which has previously invested in BankBazaar as well — is laying the groundwork for building an ecosystem of financial products and services around Amazon Pay, its digital payments initiative. Coupled with its partnerships with an increasing number of merchants, Amazon is clearly widening the range of options on Amazon Pay as it prepares to take on Paytm, the market leader in this space.
Amazon is eyeing the digital payments services space which is expected to rise fivefold to reach $1 trillion by 2023, and is expected to be led by the growth in mobile payments segments.
Big bounty
The ongoing digital transformation in India is also expected to increase India's total internet user base. India's internet economy is expected to further grow exponentially from current levels of US $250 billion, majorly backed by e-commerce. India's e-commerce revenue is expected to jump from current levels of $15 to $ 25 billion in 2024.
The din over traders complaining about Amazon disrupting retail business is likely to be a wakeup call for Bezos that it's Bollywood and the fintech companies.