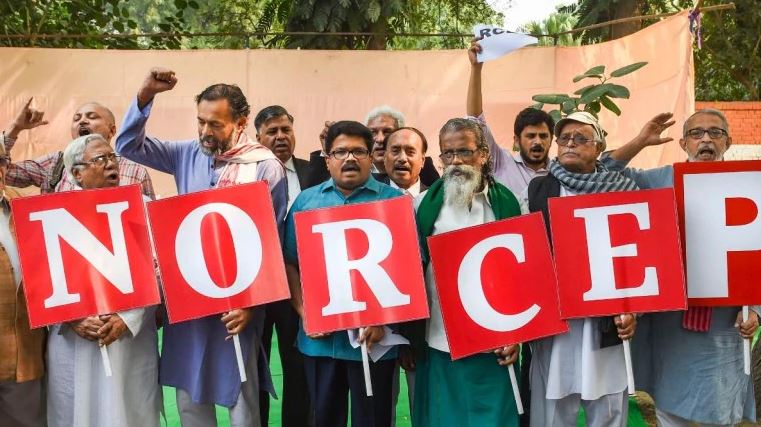 India's 'no' to RCEP only for now,  pressure on to exit for good
Unprecedented pressure from India's farmers and small industries appear to have forced the Centre to "temporarily" back off from entering the RCEP at a time when the country is reeling from a worrisome economic downturn.
Unprecedented pressure from India's farmers and small industries appear to have forced the Modi government to "temporarily" back off from entering the Regional Comprehensive Economic Partnership (RCEP) at a time when the country is reeling from a worrisome economic downturn.
As the RCEP declaration put it, "India has significant outstanding issues, which remain unresolved. All RCEP participating countries will work together to resolve these outstanding issues in a mutually satisfactory way. India's final decision will depend on satisfactory resolution of these issues."
Also read: India not to join RCEP pact, cites concerns of farmers, traders, poor 
Joining the RCEP, another term for a free trade agreement, will mean throwing open India's doors for uncontrolled imports. What may have attracted the government to join the discussion in the first place was the promise of huge foreign investment that would have accrued to the country.
In addition, the RCEP markets would have been open to Indian exports and other investments, a huge temptation for the country's large scale industry.
Counter-weighing, this is the real possibility of India becoming a dumping ground for imports — to the detriment of local producers — from China and the other big economic powers like Australia and Japan under the RCEP umbrella.
India, incidentally, entered the RCEP negotiations in 2013 during the previous Congress-led UPA government. Until now, some 28 rounds of discussion have been held with the countries involved in the RCEP dialogue.
Prime Minister Narendra Modi who was in the Thailand capital Bangkok for the meeting really had no choice but to go with the prevailing sentiments against joining the RCEP. Farmers and industry bodies were readying for a nationwide protest if India had gone ahead with RCEP.
However, India's exit is not the final decision as it will continue to sit through RCEP negotiations which are now expected to conclude in Vietnam in February 2020. Earlier, the current meeting in Bangkok was supposed to be the concluding session. During the period from now to February next, India will be part of negotiations to force the other partner countries to resolve its concerns.
To get an idea of the scale of the RCEP and its implications, one must see what entering into it will entail. It is proposed to be a 16-nation bloc which comprises the ASEAN bloc along with India, Australia, New Zealand, China, South Korea and Japan.
According to reports, it will cover 47 per cent of the global population, involve 33 per cent of the world's exports and eight of the 10 top ports in the world would be the hub and would have to cater to an increased maritime trade of up to 30 per cent.  It would involve 30 per cent of the world's GDP.  Not just that, it would increase worldwide investments by about 32 per cent.
Also read: Make in India has become 'buy from China': Rahul's takedown of RCEP 
At a time when India is desperately looking for foreign investments and projecting itself as a destination for the world to set up industries in the country, the RCEP is attractive for policy makers.
However, considering that India has a trade deficit with at least 11 of the RCEP partners, the blowback would have outweighed any possible benefits, according to small industry and farmer bodies. So much so, these two sectors are now for the Indian government to totally leave the RCEP negotiations instead of it being a temporary step.
The Alliance for Sustainable and Holistic Agriculture (ASHA) bluntly put it stating "RCEP would have been suicidal for our economy and its farmers and the government of India need not feel compelled to sign this deal even at a later stage. A similar approach is needed in the case of other FTAs (free trade agreements) too. Farmer movements will not let up on the resistance they are putting up if the government does not protect their interests."
"At a time when unemployment in India is at a four-decade high, when agrarian crisis continues unabated, when there is falling industrial production, and with widening fiscal deficit, abetted by decreased revenues from import duties, to sign on to RCEP makes no sense. Any further deterioration in the economy will leave its overall impact on rural and agrarian economy too, obviously," stated ASHA.
Also read: RCEP leaders to issue joint statement on proposed trade pact spanning 16 countries 
The Indian Coordination Committee of Farmers' Movements (ICCFM)  minced no words either stating that the government's exit, even if temporary, was the result of the pressure of farmers' movements and other allied groups "to prioritise citizens' interests over investors' and corporations'", through large scale protests and direct actions.
The Confederation of Indian Industries (CII), which represents a section of big Indian industry and supports India's entry into the RCEP,  however, reacted cautiously stating in the long-term it would be in the  interests of the country to be a part of that partnership.
Though it welcomed the Indian government's move in stepping out of the negotiations on the grounds that there were legitimate concerns, it hoped that these concerns would be addressed. CII president Vikram Kirloskar said, "The long term interest of industry in India is to get well integrated in global value chains and beneficial trade agreements could play important roles in realising this interest."
The CII represents that section of opinion within India that is of the view that the RCEP kind of arrangement will help inefficiencies that are the real reason why small industries and farmers are facing economic difficulties.  But this view has been pushed aside by the massive grassroot resentment cutting across party lines that has resulted in India stepping back from signing the deal, for now.