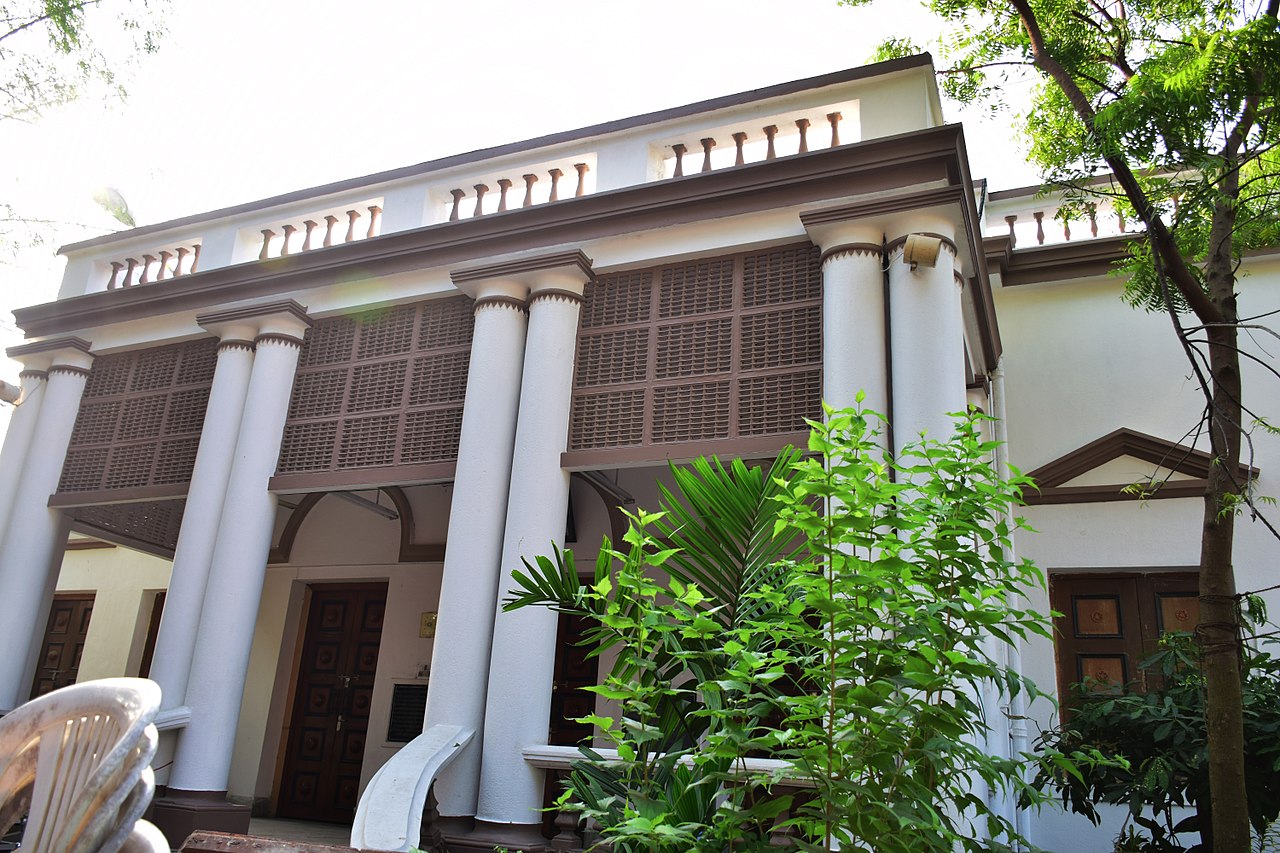 In Bengal, everyone wants a piece of Gandhi, but Swaraj is so 1947
On the 150th birth anniversary of Mahatma Gandhi, Kolkata will get a new Gandhi museum. Actually it's not exactly brand new but Gandhi Bhavan in the Beleghata neighborhood of Kolkata is certainly going to be relaunched bigger and better.
A couple of days before October 2, it was buzzing with activity as officious men with badges hanging around their necks, bustled around the building, barking into mobile phones, and a caretaker shooed onlookers away brusquely.
The dilapidated building, once known as Hyderi Manjil, is now freshly painted, dazzling white with green slatted windows and marble steps. It has been upgraded to a full-fledged state-run museum from a humble sangrahalaya run by the Purba Kolkata Gandhi Smarak Samiti. The walls outside are now lined with Amar Chitra Katha-esque bronzed relief murals of key moments of Gandhi's life and memorable quotes. A statue of the Mahatma sits in a glass box outside spinning khadi.
This is where Gandhi had fasted in 1947 trying to bring the bloody riots in Kolkata to an end. Eventually Hindu and Muslim leaders laid down their swords and he called off his fast. Some of those swords are on display at the museum along with his kharam, spinning wheel and pillow and mattress.
In his 150th year, Mahatma Gandhi is part of the tug-o-war in the new Bengal. The state government which restored Gandhi Bhavan wants to make it amply clear that it is the guardian of Gandhi's legacy.
Also read: Mahatma Gandhi @ 150
The BJP, energized as the new opposition in the state, is on its own Gandhi mission as well. Central government schools have been asked to hold weeklong events. The BJP plans cleanliness drives. The Gandhi Sankalp Yatra has been extended to January 31, 2020 instead of October 31 to propagate his ideas of non-violence, Swaraj and cleanliness.
"We have to reach every household with Gandhi's message," said party president Amit Shah.
Mamata Banerjee's government, determined not to cede Gandhi to the BJP, has asked all state schools to observe Gandhi's birthday on their premises as well as an Ishwar Chandra Vidyasagar week to commemorate that reformer's 200th birth anniversary.
"This government preferred making students and teachers happy by announcing holidays. Now it's urging them to hold events on Gandhiji and Vidyasagar. That's truly a change," an official told The Telegraph.
"The chief minister doesn't want to let the saffron camp lay claim to the Mahatma's legacy," a government source told the newspaper. Mamata thinks Gandhi's life story and principles could be an electoral counterpoint to the rise of the BJP in Bengal.
Of course, in in his lifetime, the Mahatma's relationship with Bengal was far more fraught.
Also read: Freedom and integration: A swaraj of the Mahatma's dream
A few minutes away from the Beleghata museum, there is a statue of the Mahatma in his standard Dandi March pose, walking stick in hand. Across the street looking directly at him stands Netaji Subhas Bose. The two men who did not see eye to eye in real life are now locking gazes for posterity.
When Bose won the election to be Congress president against Gandhi's pick Pattabhi Sitaramayya, Gandhi refused to cooperate with Bose and essentially precipitated Bose's departure from the Congress. Later in Southeast Asia, Subhas Bose did name one of his regiments the Gandhi brigade and Gandhi called him his lost son, so as historian Rudrangshu Mukherjee writes, "The breach between the two was not as wide and irreconcilable as Bengalis make it to be when they typecast Bose as a hero (which he was) and Gandhi as a scheming villain (which he was not)."
Nevertheless, many Bengalis still resent Gandhi because they feel he denied their local hero his rightful place in India's history. At the Tata Steel Kolkata Literary Meet this year, historian Ramachandra Guha put it pithily when he said, "Gandhi gave Bengal sleepless nights and Bengal gave Gandhi sleepless nights." Or as Gandhi himself put it, "I am not able to leave Bengal and Bengal will not let me go."
The BJP understands this and tries to tap into that vein of discontent as well. Long before its recent robust showing in the polls its leaders would promise to make January 23rd, Netaji's birthday a national holiday to entice Bengalis to its side. When the Modi govt announced it would declassify Netaji files with great fanfare, Mamata Banerjee did the same in a declassification tit-for-tat none of which conclusively solved the ultimate mystery of what happened to Netaji.
While Mamata Banerjee sent Netaji's grand-nephew Sugata Bose to parliament, the BJP roped in one of the other grand-nephews Chandra Bose though he lost in the election. But in all of this, the BJP tries to make it about Nehru vs Netaji rather than Gandhi vs Netaji because the former yields far greater political dividends.
Also read: Mahatma Gandhi to be health ambassador for children in new ICMR initiative
Now in his 150th year, Gandhi is a political trophy being claimed by all sides. Everyone wants a piece of him. The irony is that, in Bengal, this museum actually marks one of Gandhi's loneliest moments.
While the rest of Congress was caught up in the euphoria of Independence, the "father of the nation" had come to Bengal uninvited and was living in a dilapidated mansion on the eastern fringes of Kolkata trying to stem a bloodbath, facing armed mobs and putting his life on the line. In that famous midnight hour, while India awoke to life and freedom, Gandhi was fasting and praying in a poor, largely Muslim neighborhood of Calcutta.
That kind of ekla-chalo-re principled stand is something few political leaders have the stomach for anymore especially at a time when majoritarian politics have the upper hand. Gandhi's lonely protest and fast at the moment of Independence would likely have tarred him as anti-national in today's political climate.
As political parties and their subsidiaries routinely use violence to show their power, in a time when lynch mobs take videos of their attacks with impunity, and Bengal's elections are pockmarked with violence, Gandhi's non-violence is just something we garland on October 2 and forget for the other 364 days of the year. The country has moved on, keeping the old man safely confined in sterile museums, seminar halls and poster campaigns.
But the message of Gandhi was more powerful than any of that. Outside the Gandhi Bhavan, the bus stop has a portrait of another world leader who was inspired by Gandhi – Nelson Mandela. It comes with a quote from him – "When a man is denied the right to live the life he believes in, he has no choice but to become an outlaw." That reminds us of the power of the ideas that made Gandhi such a formidable adversary. Modern states have no desire to see that power, even in a gentle way, shake the world. They would rather it stayed confined and domesticated in the whitewashed sterile safety of Gandhi museums.
The newly refurbished Gandhi Bhavan in Kolkata gleams in the afternoon sun. But towering over it is an emblem of a newer India – a brand new under construction 18-storey apartment building complex promising 3BHK and 4BHK flats with a separate clubhouse. Be the change that you want to see in the world Gandhi had once said. But on his 150th birth anniversary, the change we really want is the one that gets us the 3BHK flat and the keys to the clubhouse. Khadi and swaraj are so 1947.
(Sandip Roy is a Kolkata-based author. He writes on culture, literature and politics for several Indian publications and has a weekly programme on a US radio station.)