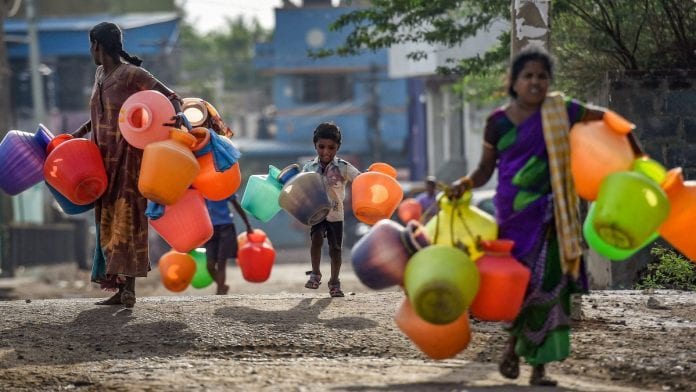 Contrary to popular belief, desalination alone cannot be the answer to Chennai's chronic water shortage. There is enough rainfall which if augmented optimally will ensure that the city is forever free of the recurrent shortage of potable water, according to a group of experts at a recent meeting in the city.
But a combination of vested interests comprising the real estate lobby and the absence of imaginative planning to augment rainwater and groundwater prevents Chennai from enjoying perpetual water even at the height of summer.
Chennai residents require 1200 million litres of water every day and Chennai Metro Water is able to supply barely half of that. As people experienced this year, during the peak summer months of May-July water is supplied on alternate days or even once in a week.  Many areas go without any water.
The shortage triggers exodus of people from the city. Restaurants and schools close down, industries halt work and in some areas of very acute scarcity, a bucket of water sells for ₹10. Private contractors sell groundwater in water tankers at a huge price.
A central planning paper warned recently that Chennai would run out of groundwater by 2010, thanks to over-exploitation.
Also watch: How Chennai is losing its water plot and wading into crisis 
Limited alternatives and an evasive neighbour
Chennai depends mainly on four reservoirs—Red Hills, Chembarambakkam, Poondi and Cholavaram— with a combined storage capacity of 11,250 milllion cubic feet (mcft), and by May third week this year the total capacity reduced to a mere 120 mcft. Clearly, this kind of dependence is not sustainable.
Despite Tamil Nadu government handing over ₹430 crore for the Telugu Ganga link canal to bring water to Chennai from Krishna river, work on which was almost completed, supply of water from Krishna river was stalled due to domestic political opposition from leaders of Rayalseema region.
The Andhra Pradesh government refused to honour its commitment of supplying 15 TMC Krishna water, and instead, under pressure, started to supply less than 2 TMC water from Kandaleru reservoir. It was neither good neighbourliness nor ethical behaviour but these attributes fell prey to popular pressure in that state. So Chennai cannot count on water from Andhra Pradesh.
Also read: Water availability per person declined over 10 years: Minister
Accessibility to potable water an expensive affair
Experiencing the other extreme in 2015, Chennai was submerged under water after it was flooded due to torrential rainfall.  The city therefore oscillates between the threat of a flood during peak monsoon season and serious water shortage during peak summer. There is no dearth of rainfall in the catchment areas to provide water to Chennai.
The average annual rainfall in Chennai and the catchment areas in the surrounding regions at 1400 mm is higher than the all-India average of 1200 mm. Tragically, only 8 per cent of it goes for recharging the groundwater while 80 per cent of it is surface runoff going into the sea.
Rattled by the 2015 disaster, the AIADMK government embarked upon a massive plan to construct 5,400 km of drainage channels. In this context, while addressing the recent meeting of the Swedish Institute and MS Swaminathan Research Foundation (MSSRF) on the water issue, Santha Sheela Nair, an adviser to former chief minister Jayalalithaa and former vice-chairperson of the Tamil Nadu State Planning Commission, said she proposed that instead of building only the drainage channels, the government should construct 38,000 mini recharge structures along these channels as part of an integral plan to save as much water as possible.
The meeting's organiser Dr Rajagopal of the Sweden Alumni Chapter of India, said, "long-term sustainable access to water for all in the city still remains a major challenge."
It is estimated that a sizeable amount of household income (roughly about 10–20 per cent) is spent on purchase of water from private vendors for domestic purposes. On an average, about 13,000 private tankers are involved in selling water daily in the city from nearby villages.
Unaddressed issue of contamination
While there is scarcity in meeting the requirements of the common people, water-bottling is an important business in Chennai, which caters mainly to the middle and high income groups. Moreover, issues like pollution of surface water sources, over-exploitation of ground water resulting in salinity, insignificant waste water recycling and reuse, lack of infrastructure to store rainwater, resulting in huge loss from surface run-off during rains, and the impact of climate change on water security etc. put tremendous pressure on the city's water security, Rajagopal said.
As if availability was not the only issue plaguing water planners, a bacteriological study showed 70 per cent of water from various sources in the city is contaminated by faecal coliform. The study by Madras University researchers Karuna Sagaran G and Arulvasu C involved samples of Metro Water as well as groundwater pumped out through borewells from different areas of Chennai. One would shudder before sipping a glass of water in Chennai.
Recycling has never been given priority but as Ashok Kumar, CEO of a private water investment company said, Singapore became self-reliant in water by this method.
BV Mudgal, Director, Centre for Water Resources, Anna University pointed out that the sea water harvesting through desalination is required on a large scale to meet the requirements of Chennai.  But that cannot be the main source of water for the city as there is enough rainfall that needs to be harvested from catchment areas, he said.
To optimise recharging of water,  the government must first clear catchment areas besides tanks and lakes around Chennai that have been encroached by the real estate lobby, he said —   a task that needs more than normal commitment.