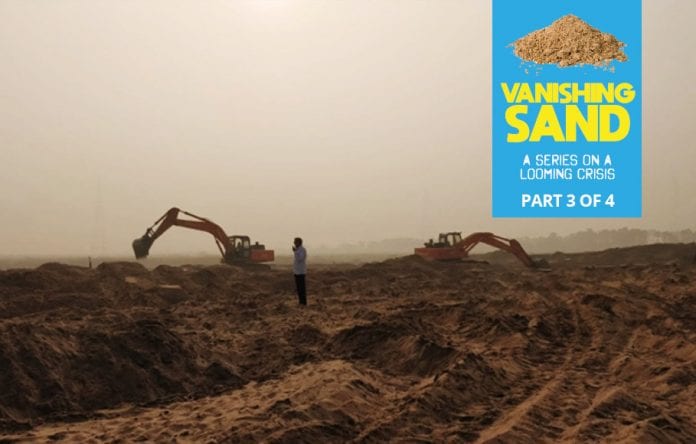 It was around 2 o' clock in the night when E Sathishkumar of Mittarthakulam village in Tamil Nadu's Tirunelveli district was called out by villagers on March 11, 2012. He stepped out of his house to stop the illegal river sand mining on the beds of Nambiyar river nearby but he never returned home.
"He was mowed down by a truck laden with illegally mined river sand. Even before we could reach the place, he died on the spot with grievous head injuries," says Esther Vincent Kumar, Sathishkumar's father.
Sathishkumar's death brought the village to a standstill, but did not stop the illegal sand mining from the river bed.
"Even though we did not get justice for our son's death, the officials could have at least taken steps to stop the illegal sand mining. But there seems to be a studied silence among bureaucrats on this issue and we are hopeless," says Esther.
Sathishkumar was not the first and he was not the last to die at the hands of the sand mafia. Either for attempting to stop the illegal river sand mining or for raising voice against the illegal mining, at least 10 people, including activists and police, were killed across Tamil Nadu in the last seven years.
Despite the ban, illegal river sand mining is rampant in the basins of Noyyal River in western Tamil Nadu, Cauvery river in delta region, Thamirabarani in the south and Palar in north-eastern Tamil Nadu.
According to activists in Cauvery river water basins, despite court orders and multiple reports confirming that sand mafia have exploited the river beds in the delta region, illegal mining continues to thrive.
"While officially there is no sand quarry functioning in the Cauvery delta region, sand mafia continue to mine river sand in the Noyyal, Pugalur and Punjai Thottakurichi in Karur," says S Vijayan, coordinator of Cauvery River Protection Movement.
Explaining their modus operandi, Vijayan said they mine sand from the river and transport it to a secluded place in the village through small vehicles, including bike, from where it would be loaded on to trucks. "Mostly, the sand smuggled from here are transported to Kerala and Karnataka," he said.
Because of the indiscriminate sand mining in the delta region, according to Vijayan, the groundwater level has lowered by as much as 1,000 ft, where the water level once used to be at 100 feet.
"Just less than 100 metres near the Cauvery river and its tributaries, the groundwater level has gone down to 25 feet, where we were getting water at three feet," he said.
Land for sand
As far as Palar river in Vellore is concerned, sand mafias are in the process of purchasing lands in residential areas to mine sand from under the ground.
"There is no sand left in Palar river after indiscriminate mining it for decades," says VC Venkatesan, president of Vellore District Palar Protection Movement.
According to him, there were huge encroachments on the river's banks posing a great threat to the river and blocking its path to lakes in the region.
"But in the last two years, since sand mafias ran short of sand in Palar, they purchased the encroached land on the shores of the river for lakhs of rupees, demolished the houses and started to dig out river sand," Venkatesan says.
Sand mafia has bought several acres of land near the river in Vaniyambadi and Ambur.
"A sand mafia having the patronage of a ruling party politician has purchased 10 acres of land in Reddy kuppam near Pachakuppam bridge in Ambur and has been mining sand. After digging five feet, they start getting river sand and would get river sand up to a depth of 50 feet," Venkatesan said.
"Similarly, sand mafias have purchased land in Ramayan thottam area in Vaniyambadi and have been mining over 25 feet. Since only a section of people has sold their land, people residing near these mines are scared that their house would crumble because of these huge land mines," Venkatesan claimed.
Officials in the department of mines and geology say they have not given permission to anyone for sand mining in the state. "In a few places, the permission was given to clear the dust on the vacant land," said an official, who did not want to be named.
According to locals in Vellore, the huge amount of sand mining has impacted groundwater in the region.
"Apart from the groundwater depletion, water salinity is also increasing day by day. The taste of water has changed a lot in recent years and we are worried that water would become unfit for drinking," M Sidharth, a resident of Vaniyambadi said.
High demand deliberate
Sand lorry owners claim that the state government was deliberately making river sand, sold through the Public Works Department (PWD), unavailable for people, paving the way for illegal sand mining in rivers.
According to sources, the Tamil Nadu government has banned mining in 71 of the 90 river sand quarries across the state.
Since there is a huge demand for sand in the market, it is being compensated by the illegal sand that is being brought from various parts of Tamil Nadu and Andhra Pradesh.
The state government, which had been giving 25,000 loads of sand per day until a couple of years ago, has reduced it to 400 loads of sand per day and 120 loads of M-Sand per day, says S Yuvaraj, president of Tamil Nadu State Sand Lorry Owners' Federation.
"So, about 15,000 loads of rivers sand are mined illegally in Tamil Nadu and about 10,000 loads of river sand mined from Andhra Pradesh is sold in the black market to compensate for the demand. The demand is being created deliberately by the state government," Yuvaraj alleged.
According to sources, river sand can be purchased from the state government's Public Workers Department after booking online.
"Earlier, we used to book for river sand daily online. If a truck is loaded with river sand, booking for the same truck would be done only after a stipulated time period. But now, we book for river sand through online only on Fridays," says R Panneer Selvam, president of Tamil Nadu Sand Lorry Owners Coordination Welfare Federation.
"However, nowadays, even on Fridays, the portal rarely accepts orders as there would be hundreds of people in the waiting list," he adds.
Sand being adulterated
The demand for river sand in the construction sector has not only opened gates for illegal river sand mining but also a market for poor sand that is being treated and sold as the quality river sand.
According to sources, sand dust settled near beaches and silicon dust is being mixed up with illegally mined river sand in some illegal factories and is being marketed in major cities, including Chennai and Coimbatore.
"Sand adulteration is done across Vellore, Tiruvarur and even in remote places in Chennai, which goes unnoticed," says Panneer Selvam.
When asked about it, an official in the PWD department who did not want to be quoted, said that it was because of fewer mining options in the state.
"With less amount of sand mined, we have to supply it to the people as well as contractors of the PWD department. The contractors who have taken up government construction, work at various places and are given sand through the PWD since the price for the sand quoted during the tender varies from time to time and the tender cannot be recalled," the official said.