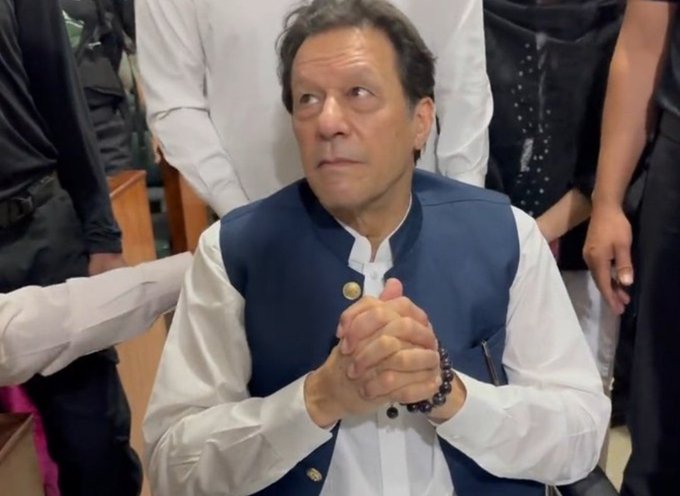 Since Imran Khan lost a vote of confidence in parliament last year, his popularity has touched an amazing 65 per cent.
Former Pakistan Prime Minister Imran Khan's dramatic arrest from the Islamabad High Court has come at a time the state finds itself broken and Pakistani society looks dysfunctional.
The political volcano building up in Pakistan since Khan grudgingly lost a vote of confidence in parliament in April 2022 has at last exploded in a way few expected although a biter finale had been building up for some time.
The build-up
Perhaps no one realized what was coming to him better than Imran Khan himself, a cricket hero-turned-politician who announced two months ago that a panel of leaders would run his Pakistan Tehreek-e-Insaf (PTI) party if he was taken into custody.
That moment came on May 9 when paramilitary forces, betraying clear planning at the very top, encircled the Islamabad court premises once Khan entered it and, after violent scuffles with his frenzied supporters, took him away, sparking widespread anger.
The former prime minister had reached the court regarding a case in which Bahira Town authorities were accused of allotting land worth Rs 330 million to a trust headed by Imran Khan and his wife when he was in power.
Watch: Pakistan PM Imran Khan arrested, being tortured
Shot and wounded while campaigning in November, Khan more than once escaped arrest at his residence because scores of his supporters refused to let the police and Pakistan Rangers take him away.
He had also avoided going to the court on more than one occasion, partly because he feared he could be arrested. But this led to a new set of problems, with some accusing the PTI leader of acting as if he was above the law.
Rise in popularity
There is no doubt that Khan's message of victimhood since his ouster from power and calls for mass resistance have not only evoked people's imagination but also exposed the deep divide in Pakistani state institutions. Thousands have rallied in his support every time he has called for protests across the country.
Pakistan faced economic, political, and security crises even when he ruled the country of 250 million people. Before his ouster, a Gallup poll revealed that his popularity had plummeted to an all-time low of 36 per cent.
Also read: Imran Khan to face indictment on May 10 in Toshakhana case
But he has come to be seen as a martyr in the eyes of a large number of Pakistanis, both among the poor and the middle classes, ever since the rest of the political establishment joined hands to usurp power after making him the first prime minister to lose a trust vote. Since then, his popularity has touched an amazing 65 per cent.
So much so that the PTI has won a whopping 28 out of 37 by-elections since Khan ceased to be the prime minister, giving sleepless nights to the ruling coalition, which dreads a general election due in October this year. Khan's popularity is also amazing considering that he has publicly taken on — a rarity for a mainstream Pakistani politician — the very military which was said to have propped him up in 2018.
Pakistan's economic crisis
Call it destiny or what you will, last year's devastating floods have worsened Pakistan's unending economic crisis. Inflation now reigns at a punishing 35 per cent, making life miserable for millions in the country. Islamabad is struggling to finalise a deal with the International Monetary Fund (INF) for $1.1 billion in stalled funding. Without IMF support, Pakistan dreads the future. Foreign exchange reserves now stand at a paltry $5 billion, just enough for five weeks of imports. With prices of all essential commodities shooting up, anger against the government on the streets is palpable.
This is one of the reasons why Khan has become a sort of man of the masses — and why the government in Islamabad would want to see him locked up, away from the people. Imran Khan is seen to be struggling against the "system" — although he himself was a part of it until recently. The PTI, to force the government into announcing an early ballot, dissolved both the Punjab and Khyber Pakhtunkhwa assemblies in January since provincial and general elections (due in October) normally take place together in Pakistan.
Also read: In major relief to Imran Khan, Pak court extends his bail pleas in 9 cases
Obviously, the government does not want early elections. Some ministers have gone on record to say that PTI should be declared a terrorist outfit and outlawed. Although the ruling coalition and PTI recently held talks on holding early elections, there was no agreement vis-à-vis a time frame. One key reason was the lack of trust.
The government had been building up a narrative in recent weeks, branding Khan a virtual traitor. His public attacks on a serving military officer and the former army chief were exploited to the maximum by the government. A showdown was inevitable. It happened on May 9.
One thing is sure: Irrespective of what the government does to Imran Khan, he will have the last word — if he is allowed to live and fight an election.