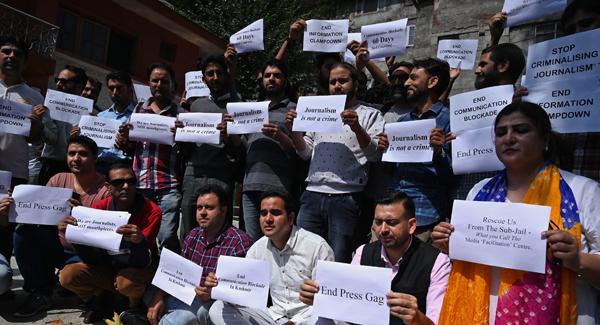 In times of war, they say, truth is the first casualty. In a conflict zone like Kashmir, 'shooting the messenger' has been an old practice that refuses to go anywhere. All that the journalists in the Kashmir Valley share is fear and the uncertainty about their future and the future of the profession once deemed noble.
Being a stenographer of the governments and a scribe who asks tough questions and holds authorities accountable is definitely not the one and the same thing. As goes the popular saying that "News is what somebody does not want you to print. All the rest is advertising or public relations".
It's been two months since the Narendra Modi-led government in New Delhi stripped Kashmir of its remaining autonomy and statehood without seeking consent from either the J&K Legislative Assembly or the restive Himalayan region's political leadership in and outside the electoral fold.
One of the unfortunate truths is that the largest circulated English daily, Greater Kashmir, which is published from Srinagar, has stopped writing editorials as it fears carrying opinion pieces from the native commentators and political analysts on the current situation. Fearing reprisals like complete ban or curtailment of advertisements from the government or the NIA and ED summons, the newspaper has been literally silenced.
The situation is no good for the Jammu-based English newspaper Kashmir Times either.
Speaking to The Federal, the newspaper's executive editor Anuradha Bhasin said that "Post August 5, for the first 2 weeks, we found Kashmir and five Muslim majority districts of the state pushed behind an iron wall. More than 9 million people invisiblised. No connectivity with our staffers. Just a deafening silence."
Also read | NC delegation from Jammu allowed to meet Abdullahs on Sunday
Bhasin said that the news gathering process has suffered the most while it is extremely difficult to cross-check facts in the absence of communication lines including the mobile telephony and internet.
The government's information department has provided a few computers at a local hotel in Srinagar for over 300 journalists who need to register themselves first and then hope and pray that they would be successful in filing stories with very low bandwidth internet connectivity.
"Then, around August 18, our staffers have managed to file some stories from the media facilitation centre. It is an unreliable arrangement where they have to be lucky to get their turn at the computer for a few minutes. Everything is under complete surveillance and some days they are unable to transmit stories. News collection in an intimidating atmosphere, with poor communication facility, transport problems, restrictions on movement sometimes, and inaccessible officials becomes extremely difficult," she said.
She further said that most reports are very sketchy and, as such, the voices of Kashmir remain largely missing.
"In Jammu office, we have been relying more on foreign and national media, compiling bits and pieces from here and there, quoting different reports already in the public domain and publishing, though there is no way of authenticating the same. Our Srinagar edition has not come out because there is no connectivity other than few landlines, which too are difficult to get through to, between bureau office in Srinagar and head office in Jammu," Bhasin lamented.
Also read | US Senator denied nod for Kashmir visit, says India must be open
Concerns regarding job security have also added to the woes of media personnel in the Kashmir Valley. The fear among journalists is palpable.
For instance, Greater Kashmir had to 'fire' three senior editors and some district reporters after the government stopped advertisements to the newspaper some eight months ago.
Greater Kashmir has not been able to update its website since August 5.
"Our newspapers have been asked to crawl, they have succumbed. Imagine if tomorrow a researcher wants to know how newspapers reported the situation post August 5, there is nothing to write home about. We have become government's mouthpieces and our readers hate us for that," said a senior editor on the condition of anonymity.
A special correspondent working for a television channel based in southern part of India told The Federal that "the government has finished local media in Kashmir. We fear for our lives while going before the people because we fail to report the ground realities as they are in the absence of communication and also because of the fear of the consequences."
On the birth anniversary of Mahatma Gandhi, scores of journalists in Kashmir organised a silent sit-in protest against the unprecedented communication blockade in the restive region, which has now completed exactly two months.
After the protest, several bodies of the media fraternity including the powerful Kashmir Press Club issued a joint statement demanding free access to internet and communication channels.
Kashmir-based journalist organisations and editors' bodies held a silent sit-in protest at Srinagar's Kashmir Press Club to register their protest against continued denial to internet services and mobile telephony.
"The peaceful protest was to press for the restoration of internet and mobile services to journalists as the communication blockade entered 60th day," said a joint statement of about 11 organisations, including journalists' organisations and editors' bodies.
"Limiting the access of media to a government-run hall at a private hotel, designated as Media Facilitation Centre, is to prevent the information out of the Valley," it read.
Over 100 local journalists were holding placards and wore black bands. The banners had slogans like "End information clampdown", "Stop criminalising journalists", and "Journalism is not a crime" inscribed on them.
Also read | When will Kashmiris see a normal, peaceful day again?
The protesting journalist bodies, which included the Kashmir Working Journalists Association, Kashmir Journalists Association, Kashmir Press Photographers Association, JK Editors Forum and others, demanded the lifting of the communication gag. All the associations decided to form a committee to pursue the matter with the government, which is J&K governor's administration.
On the other hand, the government's propagandists which include a couple of bureaucrats and senior police officers distort the Kashmir story with their versions, the sole aim of which is to obfuscate truth and to paint a rosy picture of the ground situation.
The reality on the ground is that no mobile phones ring in Kashmir for two months now. Internet continues to remain suspended. No kids have attended schools. All businesses are shut. Only a handful of police officers, senior bureaucrats and administrators have access to internet and mobile telephony which they use to take shots of the moving vehicles to show that "all is well" in Kashmir.
Kashmir has been in lockdown since August 5, when New Delhi scrapped provisions of Article 370 of the Indian Constitution and split Jammu and Kashmir into two union territories.
Several hundred political leaders including three former chief ministers have been imprisoned, placed under house arrest or slapped with draconian Public Safety Act.
(Gowhar Geelani is Kashmir based journalist and political commentator)