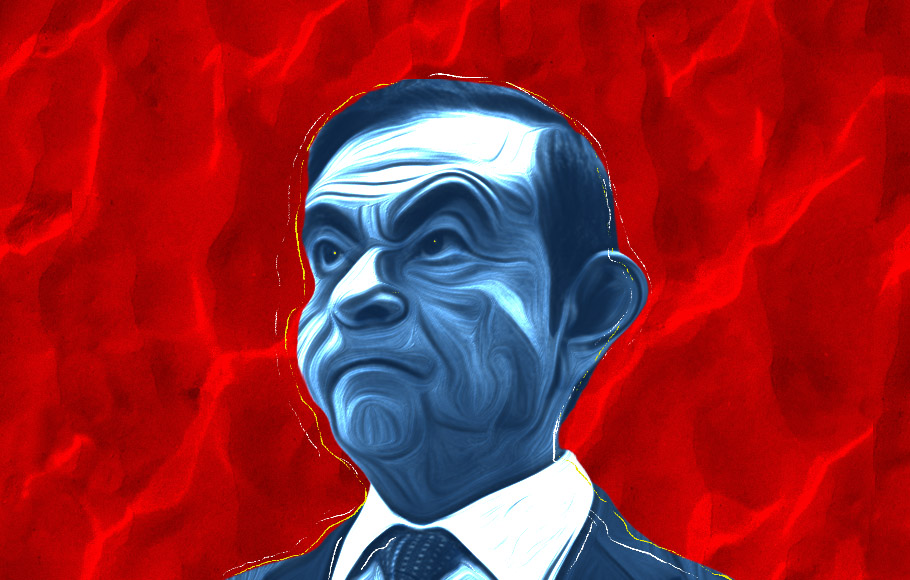 Ghosn's escape act may take wind out of Nissan's sails for a while
Disgraced Nissan CEO Carlos Ghosn is often compared to legendary US General Douglas MacArthur, the supreme commander of the Allied Forces which occupied Japan from September 2, 1945 to August 14, 1951. [The occupation ended only in 1952 but General McArthur had to demit office]. If the latter singularly altered the course of the country than anyone else with pragmatic, democratic, and futuristic programmes, the former was hailed as an 'uncontainable' business hero who could turn around any over-the-hill firm. (Ghosn had fled Japan on December 31, 2019 after he was facing prosecution for 'understating his salary and fudging the books. He dramatically showed up in Beirut, leaving Japanese law-enforcement red-faced and embarrassed).
McArthur's objectives for Japan and Ghosn's for Nissan far outdid that sought by their respective masters in terms of its depth, scope, and impact. As per a study by Koji Nakae, before Ghosn came to Nissan in 1999, the company's share in the Japanese market was below 19%. It had decreased from a peak of 34% in 1974. The company was badly looking for funds infusion and Daimler Chrysler was a potential partner. But Daimler Chrysler pulled out of talks and Nissan was in trouble again.
Also read: Japan court grants $4.5m bail to former Nissan boss Carlos Ghosn
On March 27, 1999, French car-maker Renault's CEO Louis Schweitzer and Nissan CEO Yoshikazu Hanawa signed the Renault-Nissan Alliance which infused $5.4 billion into the enfeebled Nissan system. Renault, in turn, received 36% of Nissan shares. The company named Ghosn as CEO. As the biz world was sure of a turnaround, which eventually happened, Daimler CEO Bob Lutz was probably the only one openly sceptical. He had said that it would be better for the company 'to dump the money in the Atlantic.'
Ghosn, known as Mr. Seven-11 for his extended work hours, was in the driver's seat already. He unravelled a fairly huge reform plan. It was a shocker as he stopped the system of Keiretsu or the system of loyalty for favoured vendors/suppliers. True to his moniker 'Le Cost Killer,' he also cut costs drastically between 1998-2000, reduced the workforce, revised processes including production, and pushed out new models. By then, the company, weighed down by its own culture of sluggishness, was waking up to an outsider who was driving up a new road at unprecedented speeds.
Ghosn's reforms were showing results and the debts of $19 billion halved in two years and sales grew from $50 billion to $80 billion. The iconic Manga comics of Japan ran a series called 'The True Life of Carlos Ghosn (2001-2) in Big Comic Superior, a bi-weekly magazine. In one of the strips, he tells Nissan managers that he would turn the company around. A startled manager stammers and says, "Th-th-this guy really believes he can change Nissan."
Also read: Nissan chief may face fourth charge from Tokyo prosecutors
Ghosn knew that Nissan's culture was its biggest speed-breaker. When Renault came in, he knew that the action should only be presented as a collaboration rather than an acquisition or merger. He said, "Turnarounds happen not on intellectual breakthroughs but on execution breakthroughs. It is a partnership, not a merger or acquisition."
He had his eyes in the sky and ears on the ground. He leaned heavily on information from the ground and listened to all employees, irrespective of where they were in the hierarchy. He believed in motivating and said in an interview with Mary Yoko Brannen and Gunter K. Stahl, professors respectively at the University of Victoria and Vienna University of Economics and Business, that cultural difference could be the source of cultural synergies as well. He said, "You have to know how to motivate people who speak different languages, who have different cultural contexts, who have different sensitivities and habits. You have to get prepared to deal with teams who are multicultural, to work with people who do not all think the same way as you do."
Elaborating further, he said a classic example was the Japanese concept of Monozukuri or 'making things.' The phrase represents 'the spirit that energizes individuals to produce excellent products and continually improve them.'
He said the electric car, which Nissan had been experimenting with for a while, could not have been possible without the said synergy. "This is something that neither company could have done by itself — something that came about because the companies are working together," he said.
Ghosn identified a set of problems at Nissan and addressed it threadbare. These were: 'lack of profit orientation,' 'insufficient focus on customers and too much focus on competitors,' 'lack of a sense of urgency,' 'lack of shared vision or long-term plan,' and 'a dearth of cross-functional, cross-cultural line of work.' He was quick to comprehend that all employees knew there was something wrong with the company but the consensus idea was that it was the creation of the 'other department.' As per a paper by John P. Millikin and Dean Fu published on Researchgate, Ghosn's based his turnaround strategies on three principles, namely, 'transparency,' 'execution over strategy,' and 'effective communication of company direction and priorities to the employees.' He was credited as the first CEO to take a 'foot tour' of the entire geography of the company and meet every employee in person. Reportedly, he shook hands with every one of them and at times introduced himself.
Ghosn's aesthetics
Ghosn had an eye for detail and a deep sense of aesthetics. He promoted the design department within the organisation and liaised it with the product development department. The brief and scope of the chief product specialist (CPS) was to focus on the development of a new model by 'concentrating on enhancing the product's competitiveness.' Prior to this, the CPS was bogged down by the development, marketing, and budgeting of new cars.
After being on top of the game, business observers feel that the fall came a bit too fast. But the dramatic escape of the globe-trotting CEO was true to his larger-than-life image. In November 2018, Japan and the world woke up to the news that Ghosn could be arrested for misuse of corporate assets and understating his income by $43 million. He was subsequently arrested. In his first public appearance after his arrest, on January 8, 2019, Ghosn strongly refuted all allegations. He said he was 'wrongly accused and unfairly arrested.'
Dramatic escape
Ghosn did not end his surprises for the world as he evaded the Japanese authorities and managed to sneak out of the country. He showed up in Beirut, the capital of Lebanon, on January 1. Ghosn's famed defence lawyer Junichiro Hironaka said he knew nothing more than what was appearing on the media. Reports said Ghosn could have used his French passport to get out of the country and could have used his Lebanese national ID. The Bloomberg reported that he had three passports – Lebanese, French, and Brazilian.
Adventurous 'exfiltration'
It was now clear that Ghosn 'exfiltrated' the adventurous way as his lawyers claimed to have all his passports. After reports emerged that Ghosn smuggled himself out in a large 'music instrument box,' and boarded a plane to Turkey, amateur flight trackers reported a private jet flying out. On January 2, Turkey detained seven people, including four pilots, for questioning. Turkish news agency Anadolu said two ground-handling crew were also pulled in for questioning after reports said Ghosn was shifted between aircraft in the 'instrument box.'
Now, the Ghosn escape has attained an international and diplomatic ramification with Japanese ruling party law-maker Masahisa Sato tweeting out that he suspected the involvement of other countries in the escapade.
Japan's foreign ministry refused to comment and said they were looking into the matter. Ghosn, not one to stay silent, emailed a statement that 'he would speak to the media freely soon.
India context
In the India context, the CEO's disappearance could mean more than just eye-ball grabbing dramatics. The company had set up a fledgeling Digital Hub in the southern state of Kerala to keep digital transformation at the 'heart of its business.' The company also employs 7,000 engineers in its Global Alliance R&D Centre in Chennai.
Reports quoting Tony Thomas, corporate vice-president and chief information officer, Nissan, had stated in June 2018 that the hub would serve as an 'important engine to Drive Nissan's digital growth.'
Peyman Kargar, chairman of Nissan's Africa, Middle East, and India region, added: "The creation of Nissan's first global Digital Hub in India reflects our commitment to this growing market and our belief in investing in India for the long term. Harnessing the skills and talents of the workforce in India is another way that Nissan is working to capture the full potential of the region."
The Ghosn escape act is sure to take the wind out of Nissan's sails at least for a while. Going forward, Nissan's employees and thousands of its customers would need 'solid reassurance' on the company's health and sustainability – a tenet that Ghosn repetitively emphasised as CEO.