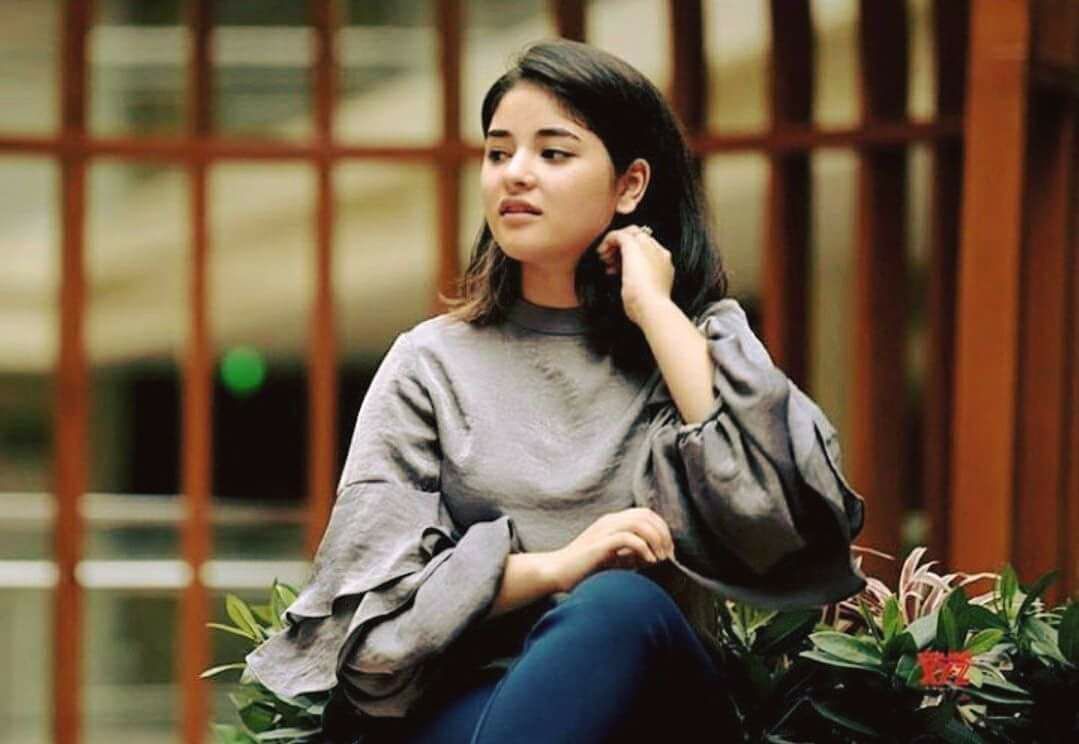 Faith vs Career: Zaira Wasim wilts where others before her bloomed
In 2016, when the first poster of the film 'Dangal' was released, it had an elderly patriarch with what appeared like four strapping boys. Only a closer look at the catchline that asked, 'Mhari chhoriyan chhoron se kam hai ke?'(Are my girls any less than boys?), that one realized that the film was about girls fighting it out in the male bastion of wrestling.
One of the girls in the film was Zaira Wasim, cast as a young Geeta Phogat, the celebrated wrestler from Haryana. The film did exceptionally well and so did Zaira. She won a National Film Award for Best Supporting Actress and in 2017 was conferred with the National Child Award for Exceptional Achievement by President Ram Nath Kovind.
Zaira, a resident of Kashmir was called a 'role model' for the Valley's teens by the then Chief Minister Mehbooba Mufti. Zaira seemed to be embarking on a route to success and stardom, while actually living up to the famous 'Dangal' catchphrase in her real life. This, until she appeared to cave in to pressure and internal conflicts, when she announced her "disassociation" from Bollywood as the profession "interfered with her faith" in a long social media post on June 29.
Zaira's decision is completely her call. What triggered this sudden retreat from the world of glitz and glamour is something only she knows. Though she has dropped broad hints about compromises she didn't want to make, decisions that made her happy, and how working in cinema interferes with her faith is still not clear.
What we know is that everything that brought Zaira fame – her wrestling bouts with boys in Dangal, her haircut, and her steadfast defense of her career—also made her a soft target for trolls and religious outfits in Kashmir, her native state.
In 2017 Zaira, was heavily criticized for meeting Mufti, whom the people blamed for the unrest in the Valley. The 16-year-old tweeted an apology urging residents to consider her age and forgive her if her actions had offended and displeased anyone.
For Zaira, who was already vulnerable by such criticism, her exit from films was just a matter of time.
Zaira's exit highlights the conflict between faith and free choice, especially when made by Indian Muslim women in areas like sports, cinema and performing arts. When it clashes with the "Islamic way of life", the lifestyle mandated by a career often leads to controversies.
Despite the secular fabric of the country, successful women celebrities from the community are slut-shamed, trolled and face threats and fatwas by clerics for their 'un-Islamic' behaviour. Some like Zaira wilt.
Interestingly, Indian cinema was once ruled by Muslim women like Nargis, Madhubala, Meena Kumari and Waheeda Rehman, who were loved, respected and held as role models for their generation. The conflict between religion and cinema that's now being talked about was not even a footnote in the early history of Indian cinema.
They wore saris, 'sindoors' and sang songs with their on-screen beaus and were never censured for their choices or talent.
A history of conflict
Recently, clerics issued a fatwa against Trinamool Congress MP, Nusrat Jahan, for wearing sindoor and bindi during her oath-taking ceremony. Others railed against her for marrying a Hindu, some went to the extent of calling it null and void under Islam. On social media, trolls went berserk, asking Jahan where her allegiance lay, a crude call for declaring her religious identity after her inter-faith marriage.
Jahan shut her detractors up in a scathing tweet, stating that she stood for an "inclusive India which is beyond the barriers of caste, creed and religion".
Paying heed or reacting to comments made by hardliners of any religion only breeds hatred and violence, and history bears testimony to that.. #NJforInclusiveIndia #Youthquake #secularIndia pic.twitter.com/mHmINQiYzj

— Nusrat (@nusratchirps) June 29, 2019
On September 8, 2005, tennis sensation Sania Mirza, then 18, and one of the leading players in the world, faced a fatwa by a Muslim cleric of the Sunni Ulema Board for wearing short skirts and "revealing tops" during her matches. The fatwa stressed that Mirza was a corrupting influence on others and demanded that she covers herself up while playing.
Mirza, later in her autobiography 'Ace against Odds', released in 2016 recounted how the fatwa and the media narrative built around it affected her personal life and her game.
"September 8, 2005 will always remain etched in my memory because the events of that day virtually transformed the course of my life. That was the day when a "fatwa" was reported to have been issued against me for the clothes that I wore on the tennis court. The world's perception of me changed overnight," she wrote.
She blamed the media for blowing the issue out of proportion and commentators for drawing hasty conclusions on the 'fatwa', the discussions mostly revolving around the threat to her life.
She recounted how appalled she was to find a barrage of security personnel stationed at the airport to receive her when she reached Kolkata to play in the Sunfeast Open WTA tournament on September 15 and that the indoor stadium looked like a "war zone".
"I felt suddenly vulnerable and insecure and immediately called my father, who was taking a week off at home after the long American tour … I was hardly in the ideal state of mind to play after all this and not surprisingly, I had an up-and-down tournament. In the second round, I won the first set at love and then went on to lose the match," she wrote in her book.
Sania, however, stood her ground, and silenced her detractors.
Also read: Zaira Wasim quits acting because of religion, draws respect, criticism